Cards inch closer to postseason behind three homers
Magic number for postseason berth down to one after big night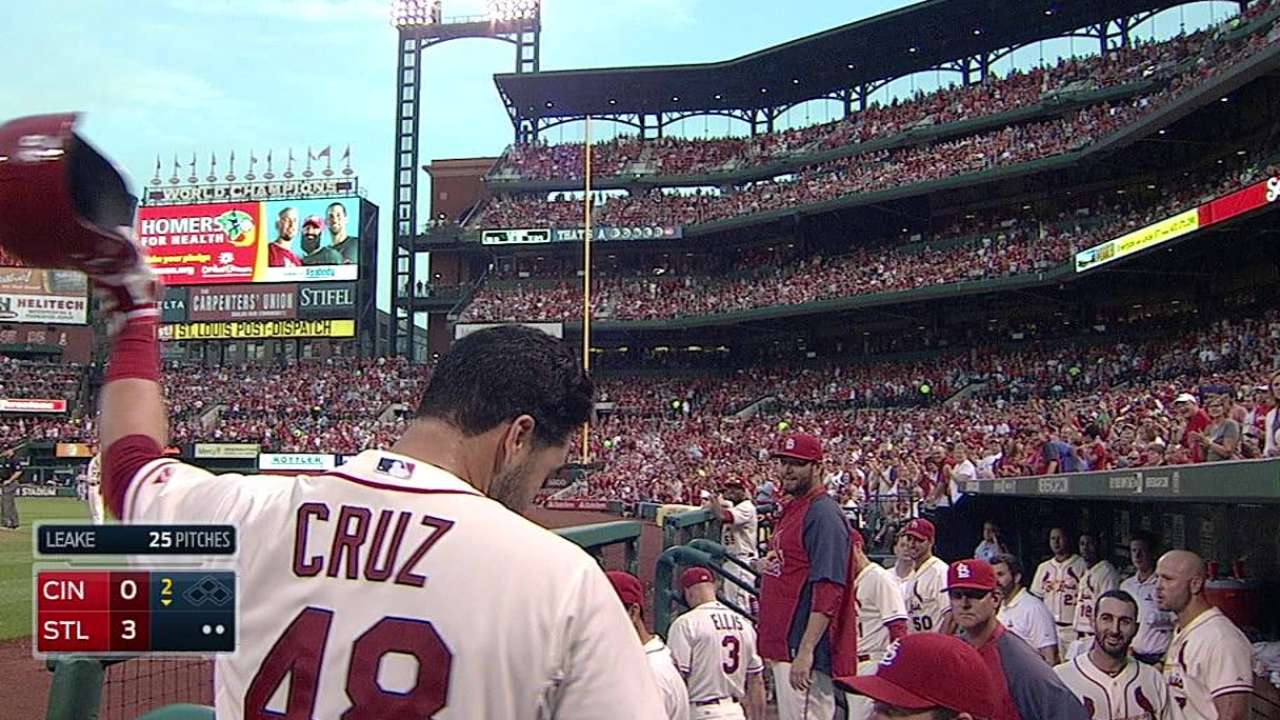 ST. LOUIS -- With a show of power unseen at home this season and a good-enough return from Michael Wacha, the Cardinals put themselves on the cusp of ensuring at least game No. 163.
An 8-4 victory over the Reds in front of a home sellout crowd on Saturday reduced the Cardinals' magic number for a postseason berth to one. A Brewers win postponed a clinch, setting the Cardinals up to celebrate a fourth straight trip to the playoffs on the day of their regular season home finale.
Of course, the club has grander sights than a Wild Card game and will carry a National League Central lead of 3 1/2 games into the final eight days of the season. A combination of five Cardinals wins and Pirates losses would secure a second consecutive division title.
"With only seven games remaining, it's coming up pretty close," said Randal Grichuk, one of three players to homer as the team improved to 7-1 on this homestand. "It's exciting to be a few games up."
The Cardinals have played themselves into this position without much of a lift from the long ball, though Saturday served as an anomaly in that regard. For the first time this year, the Cardinals blasted three homers in a game at Busch Stadium.
Those were nice, but the focus of the night was on Wacha, whose status leading into the playoffs remains ever evolving.
There were positives, most notably that he felt strong throwing 78 pitches and that his fastball command was crisper than it had been his last two times out. He felt he responded well to the extended break that preceded this outing, too. Wacha had last pitched on Sept. 9.
"My arm felt great, body felt great," Wacha said afterward. "The pitches were coming out how I wanted to."
But?
"But the command was just a little bit off."
Therein lies the question mark, as the Cardinals continue evaluating how Wacha could factor into their postseason plans. He wasn't exactly fooling the Reds' hitters, as he recorded one strikeout and allowed more hard-hit balls than the six hits they tallied off him in 4 2/3 innings would indicate.
He also stayed mostly away from his changeup, his most effective pitch when healthy. Wacha threw 12 in total -- seven as balls, three as called strikes, one hit for a double and one that turned into a groundout. That accounted for 15 percent of his 78 pitches, a percentage well below his career average of 22.
"I'm definitely still searching for it right now," Wacha said of the pitch. "It's definitely still not where I want it to be. It still doesn't have the action that I really want it to yet."
Though manager Mike Matheny pulled Wacha one out shy of him qualifying for the win, the Cardinals were able to push him to a pitch count Wacha hadn't touched since his return from injury. He had previously maxed out at 70.
"Michael was better," Matheny said. "I think we've all seen him even at another notch, and that is his frustration right now. He wants it to be there. I think he took a step in the right direction today and hopefully that's something to build on for next time."
Time, however, is not on Wacha's side. He'll have a chance for only one more start before the end of the month. Still, the intrigue of what he could bring in the playoffs is enough for the Cardinals to keep the possibility open.
"Look at what he did last year in the postseason," catcher Tony Cruz said. "Not to say that no one else can step up here, but I think he's a huge piece for us. When he is right, he can shut down the other team."
The Cardinals staked Wacha to an early 5-0 lead and went on to score in five different innings. Cruz, making his first start since Aug. 27, began the home run fun with a three-run blast off Reds starter Mike Leake, who had allowed the preceding two hitters to reach with two out. Cruz entered the night 4-for-7 against the righty.
It was Cruz's first career home run at Busch Stadium, an accomplishment the fans recognized by drawing him out for a curtain call.
"If you only have three career homers, I think you know where you hit them," said Cruz, before reminding that the first two came in Miami and Cincinnati. "[The curtain call] was neat. It was pretty amazing."
Kolten Wong blasted his 12th homer of the season to push the score to 5-0 in the third, and Grichuk homered for the second time in as many nights with his pinch-hit shot to open the sixth. Matheny subbed Grichuk in for Oscar Taveras upon the Reds' decision to have lefty reliever Ryan Dennick relieve Leake.
Wong, hitting in the two-hole for the first time since Sept. 3, reached base in four of his plate appearances and finished with a three-hit night.
"I just tried to stay really short tonight and tried to get the barrel to the ball," Wong said. "I feel like the last couple games I was getting a little too big. Today was huge. … I think I might have figured something out."
Jenifer Langosch is a reporter for MLB.com. Read her blog, By Gosh, It's Langosch, and follow her on Twitter @LangoschMLB. This story was not subject to the approval of Major League Baseball or its clubs.