Leake off his game as Reds fall to rival Cards
Righty gives up six runs (five earned) over just five innings in loss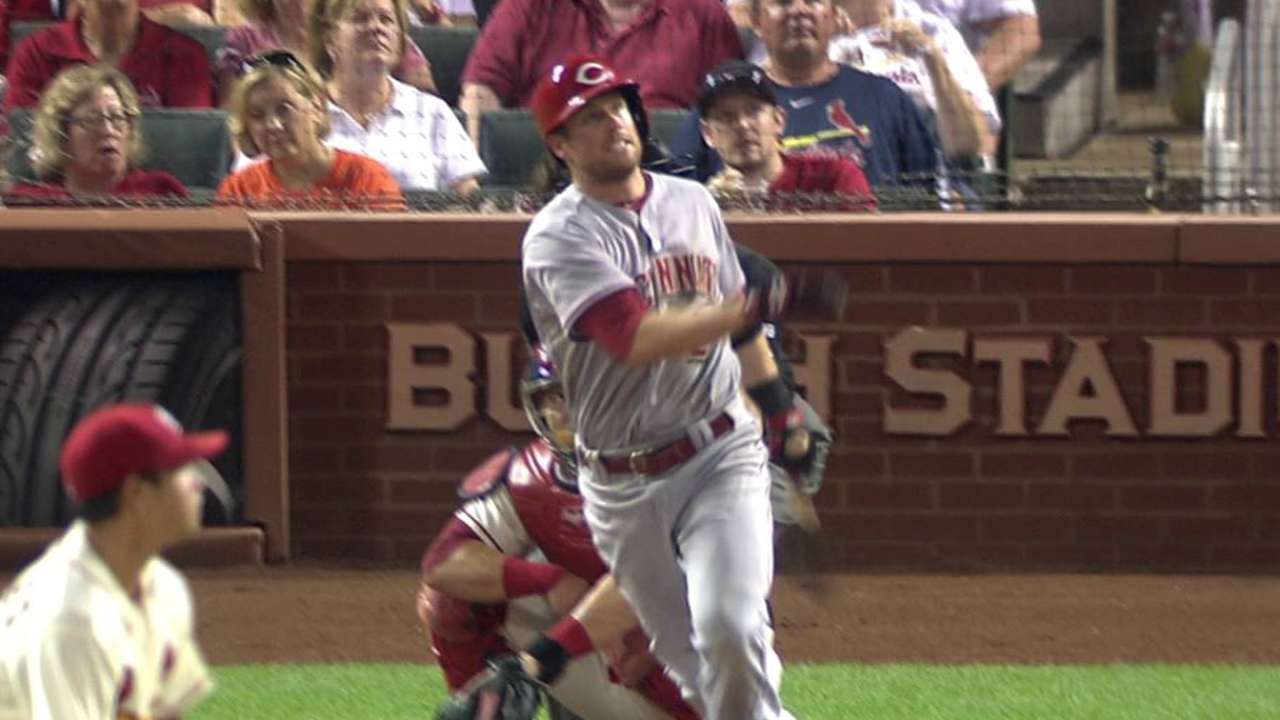 ST. LOUIS -- Reds starting pitcher Mike Leake has largely been dependable this season, but like the rest of his club, he is not really winding down 2014 in robust fashion.
In an 8-4 loss to the Cardinals that stretched the Reds' losing streak to six games and seven of the last eight, Leake was beat up for six runs (five earned) and six hits over five innings. That included two early home runs that had Cincinnati trailing by a 5-0 score after only three innings.
"He didn't pitch a great game," Reds manager Bryan Price said. "He's been such a big part of our rotation, I hate to spend any time being critical because he goes out there to compete and to win every time he takes the ball. There is no quit in the kid. It just wasn't his day today."
Now 11-13 with a 3.78 ERA in a career-high 32 starts and 207 1/3 innings, Leake has a 7.71 ERA over his four September starts while not lasting more than six innings in any of them.
Considering the offense gave the Reds a total of two runs over the previous four games, Leake's performance on Saturday was poorly synced with the lineup that provided some run support.
A grounded double play by Oscar Taveras in the second inning had Leake one out away from a scoreless second inning. Then, Yadier Molina lined a double to right field and Daniel Descalso walked on five pitches before No. 8 hitter Tony Cruz hit a 3-2 curveball for a three-run homer to left field. It was the .205-hitting Cruz's first homer of the season.
"The three-run homer really put us in a position where it was going to be an uphill battle," Price said.
In the third inning with a runner on first base, Leake's 0-2 fastball was lifted into the right-field seats by Kolten Wong for a two-run homer that made it 5-0.
"Two bad pitches and they happened to be home runs," said Leake, who walked two and struck out four. "They take advantage of bad pitches and put themselves in a good spot."
Leake complained of a "dead-arm" feeling after laboring for six innings at Milwaukee on Sunday. This time, it was not an issue.
"My arm felt fine," he said. "I was trying to put the ball where I wanted. It just happened to be a couple of pitches they took advantage of."
The Reds chipped away against Cardinals starter Michael Wacha and subsequent relievers with one run each in the fourth through seventh innings. Brandon Phillips' RBI single in the fourth inning scored Todd Frazier. In the fifth, a two-out RBI double by Kristopher Negron scored Zack Cozart before Wacha exited upon reaching his pitch limit.
Reds pitchers couldn't keep St. Louis off the scoreboard as it added on one run in the fifth, sixth and seventh innings. Lefty reliever Ryan Dennick replaced Leake and saw his first pitch of the Cardinals' sixth inning hit to left field for a pinch-hit homer by Randal Grichuk. Another run scored in the bottom of the seventh.
Now 71-84 overall, the Reds are 20-40 since the All-Star break.
"For us right now, it's the ugly side of baseball," Price said. "Just having to go out there and struggle mightily to find a way to win a ballgame. Certainly, nobody is enjoying this current part of our schedule the way we've played for the last 60 games. It's been miserable."
Cincinnati extended its franchise record with 45 consecutive losses (dating back to last season) when it has allowed at least six runs.
"It's been a year to forget," Leake said of the team's performance. "All you can do is try to play hard for the last seven games for your self-pride and try to put yourself in a good happy spot going into the offseason. You just have to chalk this season up as a loss and be ready to go next year."
Mark Sheldon is a reporter for MLB.com. Read his blog, Mark My Word, and follow him on Twitter @m_sheldon. This story was not subject to the approval of Major League Baseball or its clubs.