Niese's luck turns around as Mets win series
Starter allows two runs in 7 1/3 and gets plenty of offensive help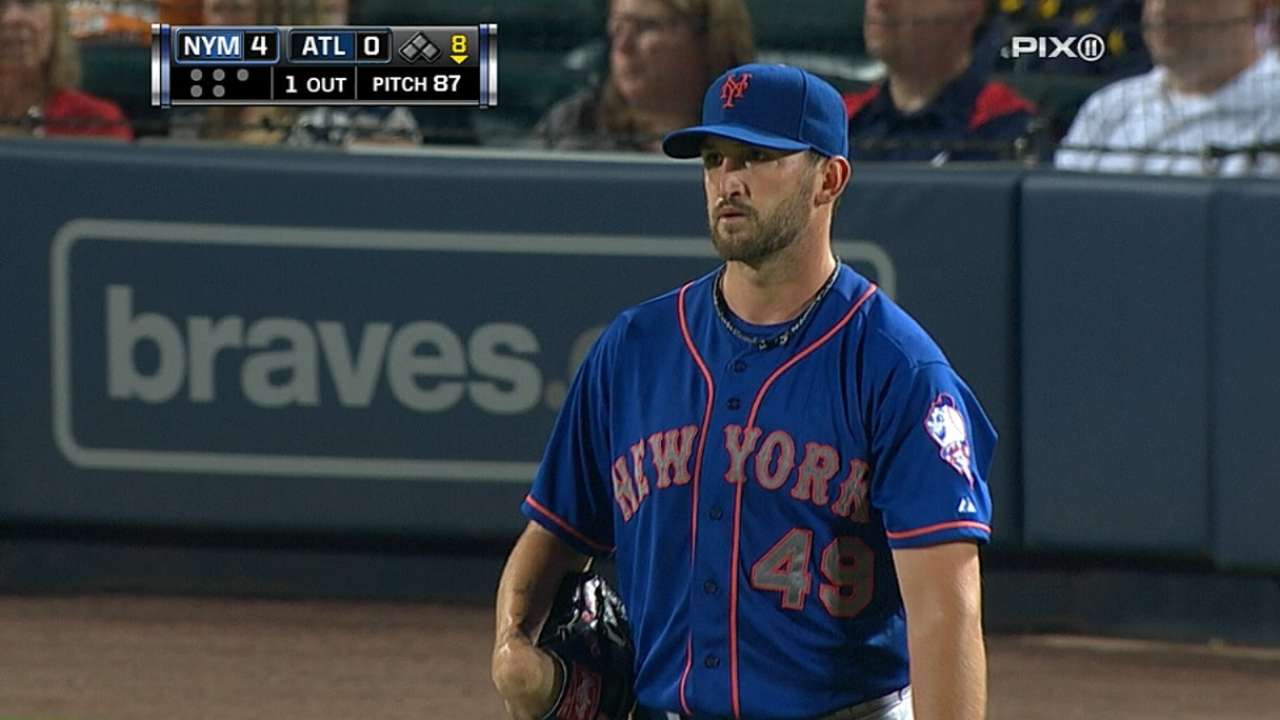 ATLANTA -- In case there was any doubt, Jon Niese is back.
"That's the Jon Niese we know," said Mets manager Terry Collins following Saturday night's 4-2 victory over the Atlanta Braves at Turner Field. "That's a guy that pitches to contact, makes pitches, locates it, moves it around, changes speeds. He pitched a nice game. I don't know if he ran out of gas in the eighth but he really pitched a good game for us."
Niese hadn't had a lot to smile about since coming back from a shoulder problem on July 21, as he entered Saturday night's start against the Braves with three wins in 11 starts. Throw in his career 5.68 ERA at Turner Field and an 0-2 record against Atlanta in 2014 (despite a 2.70 ERA) and Saturday night seemed like a recipe for disaster.
It turned out to be a recipe for success, as the Mets changed things up, spotting Niese (9-11) a 1-0 lead before he threw a pitch and a 3-0 lead in the second inning. Niese responded by throwing 7 1/3 innings of two-run ball.
The win evened the season series between the teams at nine wins apiece and at Turner Field, where each team has won four times, with one game remaining Sunday.
"For the most part, I was able to throw all my pitches for strikes today. I was able to mix it up well," said Niese, who allowed two runs and seven hits, striking out five while walking one and throwing 64 of his 95 pitches for strikes. The 7 1/3 innings were a career-best at Turner Field and he raised his career record to 3-2 in Atlanta, recording his first win in the Braves' home park since Sept. 28, 2012.
Getting some runs to play with was a nice switch for Niese, who entered Saturday having gone 3-7 with a no-decision in the 11 starts since coming back from the shoulder issues on July 21, but having received two or fewer runs in all seven losses and only three in the ND.
"It's great. I like early runs," he said. "I don't want to say it helps me relax but it's nice to have that run support. It's a good feeling knowing that one mistake won't cost me the game."
Niese made few mistakes, continuing a trend that has seen him pitch to a 2.14 ERA over his last three starts (5 ER in 21.0 IP) and go at least six innings in 10 straight starts, with eight of those being quality starts.
"I'm feeling better, just kind of taking it easy in between starts," he said. "I'm not trying to overdo it and kind of giving the shoulder a break and I think it's helping out a lot."
Niese limited Atlanta to four hits and allowed only one runner as far as third base until the eighth, when, with one out, the Braves got three consecutive hits to load the bases.
"I kind of missed my spots a couple of times and they just hit holes," he said of the eighth. "It is what it is."
After reliever Josh Edgin allowed a two-run single to Freddie Freeman, plating the first Braves runs in the series and snapping a streak of 18 scoreless innings by Mets pitchers, Carlos Torres put out the fire. Torres induced a pair of groundouts, the first one on a fine play up the middle by Ruben Tejada, who had entered the game in the sixth, following an injury to second baseman Dilson Herrera.
"He's one of those guys in that bullpen, every team's got to have one," said Collins of Torres. "Every team's got to have that guy who if you need him to spot-start he's there. If you need him to pitch long he's there. If you need him to pitch short he's there. He's really important to the bullpen."
Jenrry Mejia pitched a scoreless ninth to record his 27th save.
The long ball was a key weapon for the Mets, as Herrera blasted his third homer of the season, a two-run shot in the second off reliever David Hale, and Curtis Granderson added his 19th of the year and fifth against the Braves, a solo shot off reliever David Carpenter leading off the eighth. First baseman Lucas Duda's long sac-fly netted the Mets' first run in the top of the first off Braves starter Mike Minor (6-12), who left after the first inning with left shoulder discomfort, took the loss.
The homers, especially Granderson's, proved big as the Mets, who were out-hit 9-8, went only 2-for-12 with runners in scoring position, stranding 10 baserunners.
"We had a couple opportunities," said Collins. "When you leave 10 guys on, we had some chances to put this thing away."
Herrera, who had two hits on the night, had to leave the game in the top of the sixth with a right quad strain, suffered as he beat out an infield hit. He is out for Sunday's series finale and beyond that, his status is uncertain.
"He won't be in there tomorrow. I can assure you that," said Collins. "We'll see how he is in a couple of days but you have to be very careful with any of those leg injuries. It's too bad. We'll make the adjustments."
Granderson also had two hits for the Mets, who are now only a game-and-a-half behind Atlanta for second place in the East.
"It's great," said Niese. "We want to finish strong. We know we have a good team and that's what we want to do. We want to finish strong."
Jon Cooper is a contributor to MLB.com. This story was not subject to the approval of Major League Baseball or its clubs.