Archer finds holes in White Sox
Allows two hits, walks four over 6 1/3; Franklin hits two-run homer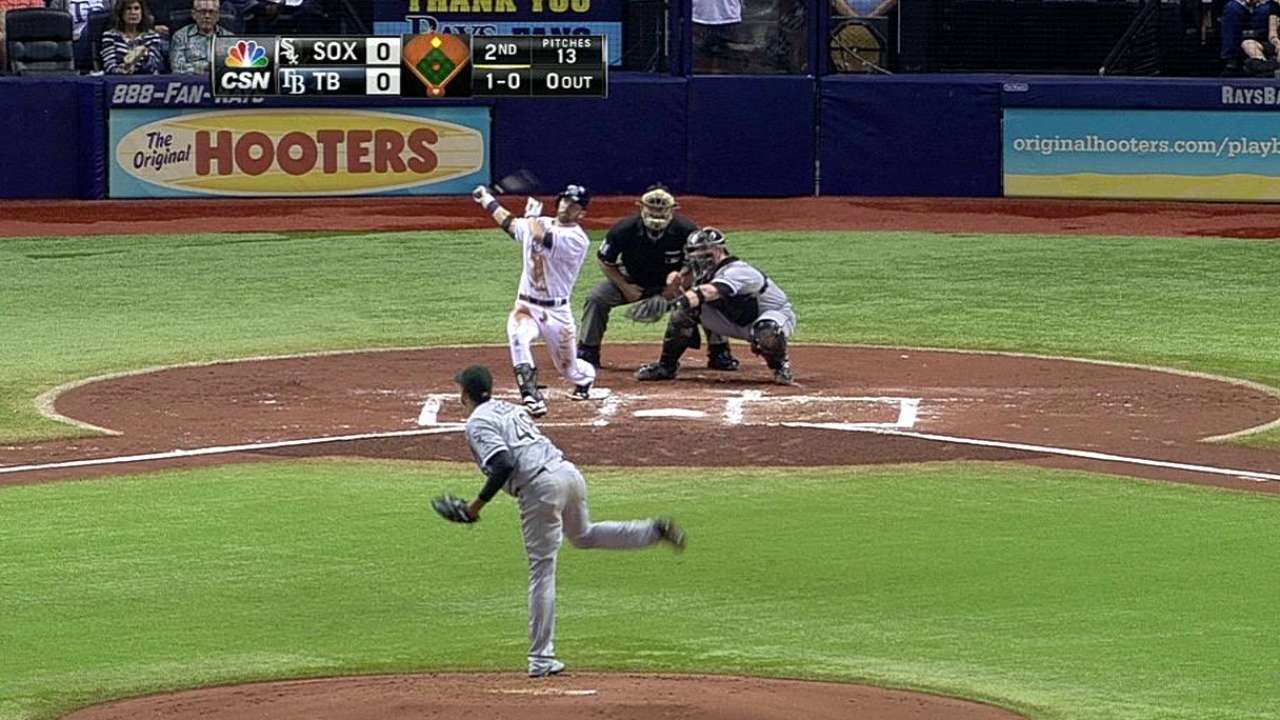 ST. PETERSBURG -- A quality start by Chris Archer and a long ball from the new guy paved the way for a 3-1 Rays win over the White Sox on Saturday night at Tropicana Field.
Though eliminated from making a postseason appearance, the Rays (75-80) can still cling to the thin hope of finishing with a winning record. The Rays won for the fourth time in six games, but they need to win all of their remaining seven games to finish with a winning record. One loss will snap their streak of six consecutive winning seasons.
Archer started for the Rays and held the White Sox scoreless on two hits and four walks through 6 1/3 innings to earn his 10th win and 19th quality start of the season.
"I really wish I could've gone deeper into the game," Archer said. "But we played great defense, and that just gives you confidence to keep filling up the strike zone. ... A little unfortunate I couldn't go at least seven, but it's a win. The team won, we played great defense, had timely hitting and our pitching only gave up one run, so you've got to be happy about that."
Archer is 2-0 with a 1.83 ERA over his last three starts after going 0-2 with an 11.70 ERA in his previous two. Offensively and defensively, the second inning brought several highlights for the Rays.
In the top half of the inning, the White Sox had a runner aboard with one out when Andy Wilkins hit a deep drive to right that looked like trouble. But right-fielder Matt Joyce made a leaping catch at the wall to rob Wilkins of extra bases.
James Loney doubled off White Sox starting pitcher Hector Noesi to start the Rays' half of the inning, bringing Nick Frankin to the plate.
Franklin came to the Rays in the three-way deal with the Mariners and Tigers that sent David Price to the Tigers on July 31. After spending August and the first part of September with Triple-A Durham, Franklin joined the Rays on Monday.
Noesi fell behind 1-0 to Franklin, who followed with his first home run of the season, a sky shot to right that hit off one of the catwalks to stake the Rays to a 2-0 lead.
Rays manager Joe Maddon likes what he's seen of Franklin thus far, particularly the power.
"He's got real power, and yeah, you can see the ball come off his bat. That ball came off hot. ... It's one of those things you can hear on the field."
Franklin noted that he didn't get all of the pitch.
"You know, I just missed it, actually," said Franklin of his home run, which stood following a crew-chief review. "I got underneath it a little bit. I wasn't sure whether it was going to get out."
Noesi told reporters he was not happy with his outing.
"Every pitcher makes mistakes," Noesi said. "I made a few mistakes, but I made one mistake that cost the game and that was the pitch to Franklin. I was trying to go outside and then the ball just went to him. ... He hit the ball good and it was a home run."
Ben Zobrist's single in the fifth scored Yunel Escobar to push the lead to 3-0.
After Archer left with one out in the seventh, Joel Peralta got the final two outs in the seventh and the first out in the eighth for his fourth consecutive scoreless appearance. Jeff Beliveau and Grant Balfour finished out the eighth, leading to Jake McGee in the ninth.
McGee gave up a run on one hit and a pair of walks in the ninth inning before stranding runners on first and second, earning his 18th save of the season.
Over their last five games, Rays relievers have combined for a 0.57 ERA.
"It was a really nice, clean game, they made it a little difficult at the end," Maddon said.
Bill Chastain is a reporter for MLB.com. This story was not subject to the approval of Major League Baseball or its clubs.