Lack of offense nullifies Noesi's quality start
Righty allows three runs over six innings; Semien plates lone run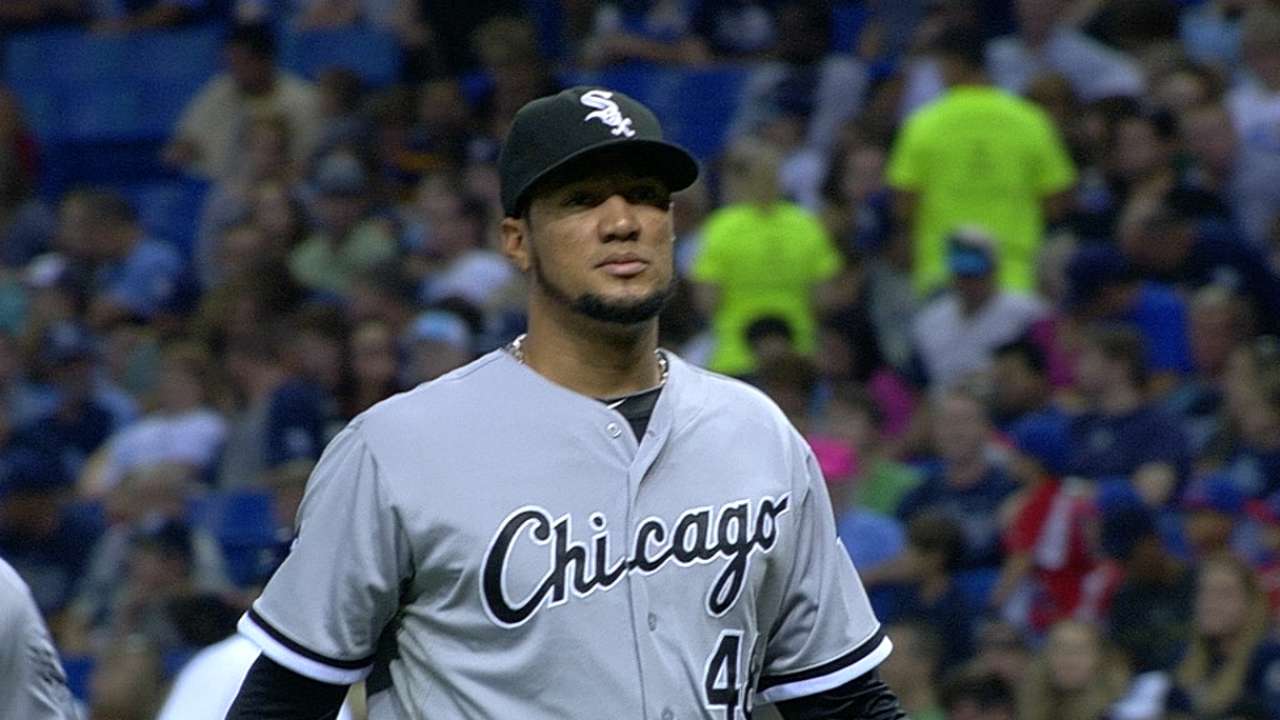 ST. PETERSBURG -- In the ninth inning of a game in which they had been on the verge of being shut out, the White Sox found themselves with a chance. And, of course, it was Paul Konerko stepping to the plate with a chance to be the hero.
But Konerko -- pinch-hitting with two on, one out, and Chicago trailing the Rays, 3-1, a day after his return to the lineup from a left hand fracture -- flew out to center field, and a batter later, the White Sox lost Saturday night's game at Tropicana Field.
"Oh, he blew it," manager Robin Ventura joked after the game. "I don't know if I'm gonna play him anymore."
Of course, Konerko will continue to play as he wraps up his 18-year career over the next week -- he's scheduled to play Sunday's series finale against Tampa Bay, in fact -- and Saturday's loss wasn't on his shoulders.
The White Sox had fewer hits against Chris Archer and the Rays' bullpen all night than they did in one inning against Jeremy Hellickson on Friday. They've only scored in one inning in each of the series' first two games, although that one was enough to win them Friday's series opener -- Chicago touched up Hellickson for six hits and four runs in the fifth inning and rode it to a 4-3 win.
The Sox couldn't come up with enough offense Saturday, though. They did threaten in the ninth, when Rays closer Jake McGee walked a pair and allowed Marcus Semien's pinch-hit RBI single, but after Konerko's flyout, Tyler Flowers struck out to end the game.
"I wouldn't say [he's] checked out," Rays skipper Joe Maddon said of McGee, who has struggled lately after being lights-out almost all season, as the Rays have been well out of contention. "I just think he's expended a lot of emotional bullets."
Chicago managed just three hits, singles by Abreu, Avisail Garcia and Semien. The visitors' best-struck balls of the game turned into outs, when Matt Joyce snared Andy Wilkins' deep line drive with a leaping catch at the right-field wall in the second inning and Ben Zobrist ran down Dayan Viciedo's long fly near the warning track in deep left-center field in the seventh.
Before the ninth, the White Sox had a few scattered opportunities, twice putting runners on the corners with one out but coming away empty. In the first, Conor Gillaspie bounced into an inning-ending double play, and in the seventh, Rays reliever Joel Peralta induced a foul popout to third from Wilkins and the deep flyout from Viciedo to escape any damage.
"I think Archer was just so good that we couldn't get anything going, even with him walking guys," Ventura said. "He'd spot us two guys on base and we couldn't do anything with it."
Chicago starter Hector Noesi wasn't bad, going six solid innings in putting together a similar effort to Jose Quintana's seven-inning, three-run outing that had earned him a win Friday night. Noesi, like Quintana, gave up three runs, on a two-run homer to Nick Franklin in the second and an RBI single to Zobrist in the fifth. The right-hander allowed six hits, compared to Quintana's nine.
The difference, of course, was the run support. Noesi didn't get any. That stuck him with his 11th loss despite his recording a quality start.
"He actually threw all right," Ventura said. "He gave up the home run early in the game and just battled his way through it. He wasn't sharp, but he was able to stay in the game. I think he got some guys on base, and he wiggled out of it, did what he had to do."
The White Sox tried to catch a break on Franklin's long ball, with Ventura asking the umpires to check the replay, as the ball had hit one of the Tropicana Field catwalks over fair territory. But after the crew-chief review, the home run stood, and with the White Sox bats mostly silent, the Rays didn't need much else.
"I made a few mistakes, but I made one mistake that cost the game. It was the pitch to Franklin," Noesi said. "I tried to go outside and then the ball just came to him, you know? It was bad because it was down, but inside. He hit the ball good, and that was a homer."
David Adler is an associate reporter for MLB.com. This story was not subject to the approval of Major League Baseball or its clubs.