Five homers propel Astros to blowout of Mariners
Keuchel allows one run over eight; Altuve sets Venezuelan hit mark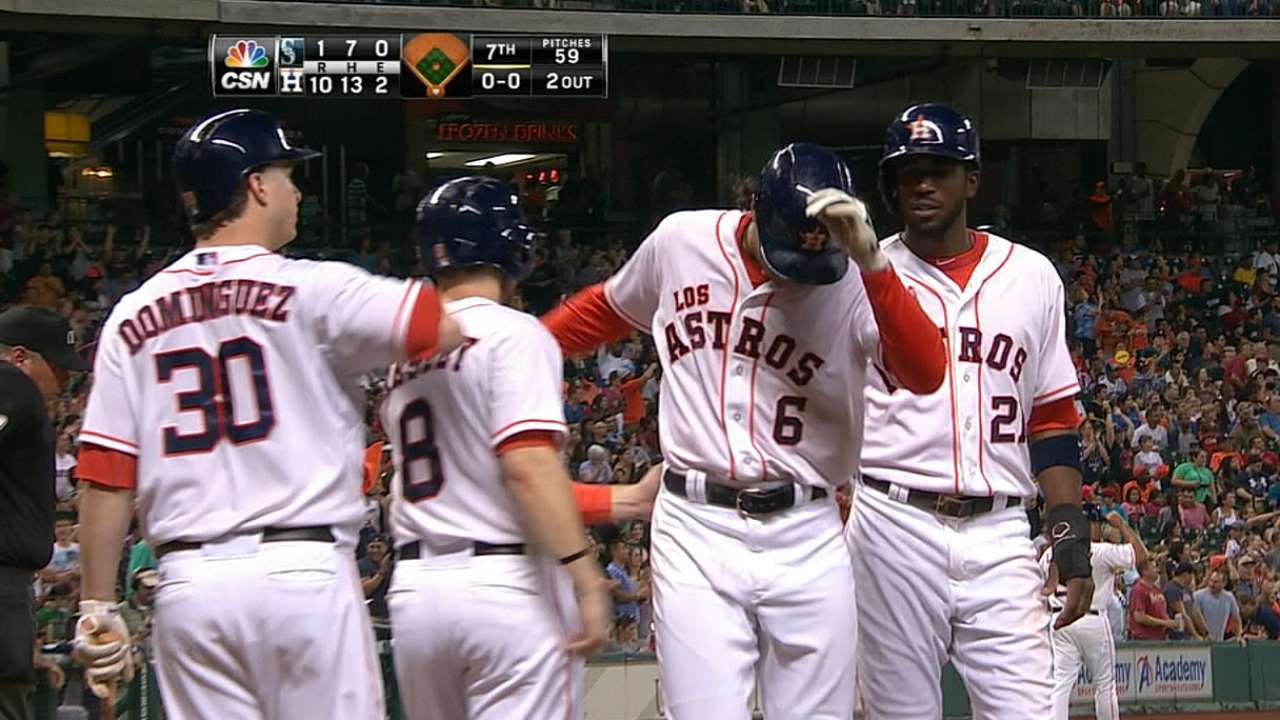 HOUSTON -- For a team that hasn't been hitting home runs lately, the Astros came out bashing Saturday night.
Chris Carter and Alex Presley hit two-run home runs in the first inning off Seattle's Chris Young, propelling the Astros to a 10-1 blowout at Minute Maid Park with the roof open, a rarity in Houston in September.
And starter Dallas Keuchel reached a milestone, going eight innings, giving him exactly 200 innings this season. Keuchel (12-9) allowed only one run and seven hits as the Astros snapped a four-game losing streak.
"That was pretty easy," said Houston interim manager Tom Lawless. "Just watching Dallas go out there, and the offense scoring bunches of runs early in the game.
"All we had to do was sit back and watch and try to nurse him to give him his 200 innings."
There was plenty to watch from the standpoint of the Astros, who had seven extra-base hits among their 13 hits.
The slugfest didn't stop after the first inning for the Astros, who tied a season-high with five homers. Matt Dominguez opened the Houston fourth with his 16th home run. The next batter up was Carlos Corporan. And the next pitch Young threw was belted out by Corporan, giving the Astros a comfortable 7-1 lead. It was also the last pitch thrown by Young (12-9), who gave up four home runs among his eight hits allowed, in addition to two wild pitches.
Dominguez and Corporan became the fourth pair of Houston hitters to hit back-to-back home runs this season.
And for good measure, Jake Marisnick's three-run home run in the seventh gave the Astros a commanding 10-1 advantage.
"We came prepared to win and we did it," said Corporan. "Dallas was outstanding, we hit, we played defense. We pitched. We did everything right.
"Hitting is contagious. This is what's all about, everybody rooting for everybody, and everybody is playing for everybody."
Given a large cushion to work with, Keuchel took advantage. The left-hander allowed only one third-inning run. He struck out Chris Taylor three times among his eight strikeouts.
"I'm happy the roof was open," said Keuchel. "Kept me warm in the game because it was so humid."
Keuchel has not allowed more than three earned runs in any of his last seven starts.
"He pitched well," said Seattle manager Lloyd McClendon, who earlier this season said Keuchel had average stuff. "He had a good sinker. Listen, everybody was up in a huff last time about what I said. I wasn't trying to downplay the kid. He's got average stuff. He knows how to pitch. He doesn't have David Price-type of stuff.
"That's just a fact, not a knock on the kid. He's 88-90 [mph], but he pitched well. He sunk it, he did a nice job."
Carter's 37th home run, deep to left field, was his first since Sept. 5 at Oakland. The blast scored Robbie Grossman, who led off the first with a single, then stole second base. Presley's sixth home run, a drive to right field, scored Dexter Fowler, who doubled immediately after Carter's homer.
Dominguez hadn't homered since Aug. 14 at Boston. Before Saturday, the Astros had gone deep only once in their previous 13 games.
The Astros went ahead 5-0 in the second on Jose Altuve's 217th hit. Altuve's single scored Gregorio Petit, who had doubled. With his RBI single, Altuve set the mark for most hits in a season by a Venezuelan player, surpassing Magglio Ordonez's 2007 total.
"It means a lot," said Altuve, who went 2-for-4 to raise his American League-leading batting average to .344. "A lot of good players have 200 hits back in my country.
"It says a lot to be one of those. It's an honor for me, and at the same time you're getting a hit, which means you're helping the team."
Altuve is tied for the most hits by a second baseman in a single season since 1937.
Dexter Fowler had three hits and scored twice for the Astros, who led 4-0 after one inning and 7-1 after five innings.
Keuchel, who had only one fly-ball out, pitched out of a potential messy situation in the fourth, getting out of a bases-loaded, no-out situation with Houston leading, 5-1.
After Logan Morrison, Corey Hart and Mike Zunino each singled, Keuchel got a big strikeout in Taylor. Then Austin Jackson hit into an inning-ending 1-2-3 double play. Jackson became the third out when it was ruled he ran inside the baseline. Corporan's throw from home plate had hit Jackson.
Richard Dean is a contributor to MLB.com. This story was not subject to the approval of Major League Baseball or its clubs.