Vogt named A's Catfish Hunter Award winner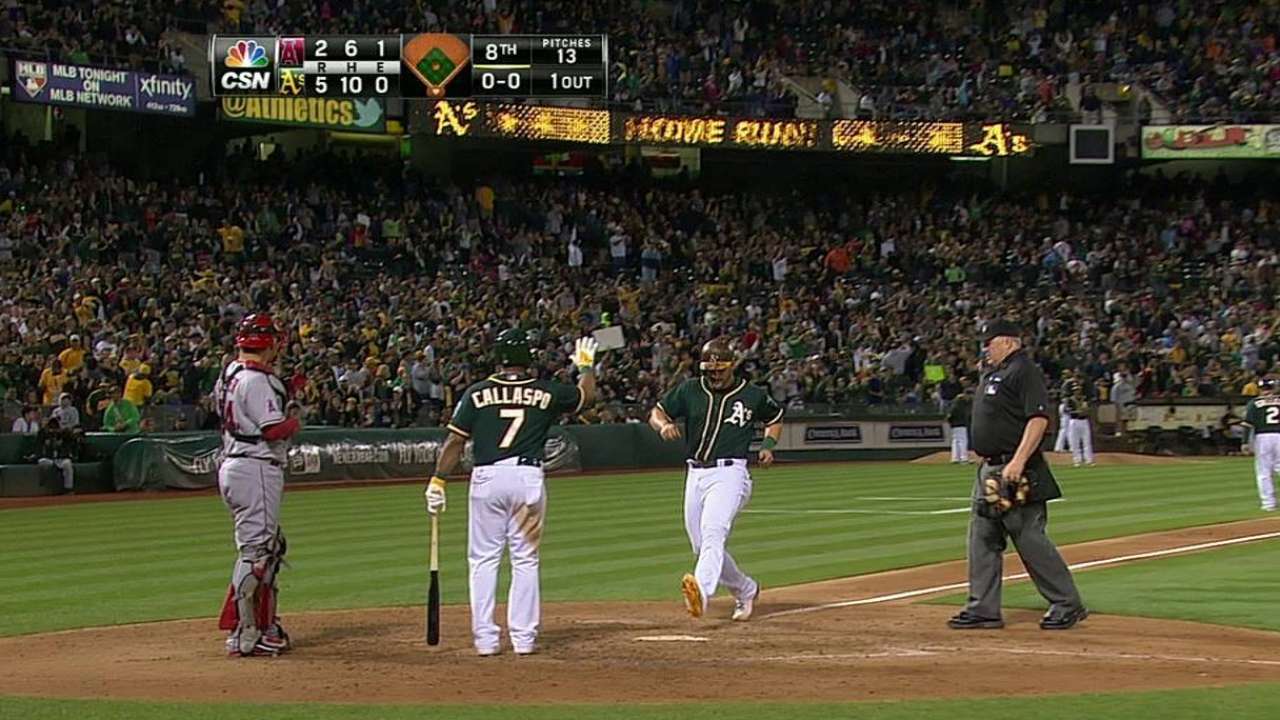 OAKLAND -- Stephen Vogt has been named the recipient of the 2014 Jim "Catfish" Hunter Award, which annually honors an A's player whose competitive and inspirational spirit best reflects that of the late Hall of Fame pitcher.
"That's terrific," said A's manager Bob Melvin. "We probably have several candidates for it, but you certainly can't go wrong with Stephen. He really embodies the whole spirit of the award. For us, such a versatile guy, one of those grinders. He's out there wanting to win, no matter how you do it. Apropos that he got it."
That the award was voted on by his teammates and coaches made it that much more special for the always upbeat Vogt, who has started games at five different positions for the A's this season while carrying a .300 batting average entering Saturday following his June 1 callup, despite battling multiple injuries.
"There are things you hear playing in this organization about Catfish, so to have your name mentioned with his is an honor all by itself," Vogt said. "But to have your teammates and coaches think of you in that regard, it's the highest honor you can have as a ballplayer.
"I literally am kind of at a loss for words just because it means so much to me personally. And just to have my friends and teammates and coaches vote me into this, it's so cool."
Vogt's inspiring style of play has been on display since he arrived in Oakland, where he made his A's debut in June last year and, four months later, delivered the walk-off RBI single in Game 2 of the 2013 American League Division Series against Detroit.
The 29-year-old spent five years in the Minors before finally making his big league debut with Tampa in 2012. He began his career 0-for-32 before notching his first hit, a homer, with the A's last year.
"For me, the way my career has gone, it is an inspirational story for a lot of people," Vogt said. "For me, it's just my life. I haven't really thought of it as this huge inspirational story. But when I kind of look back on it, the way I kind of see it is for me, if one kid looks at Stephen Vogt and says, 'Wow, if that guy can play in the big leagues, I think I can,' that's kind of what you want."
Previous winners of the award, to be presented to Vogt in an on-field presentation prior to Sunday's matinee with the Phillies, include Tim Hudson ('04), Mark Ellis ('05, '07), Jason Kendall ('06), Mike Sweeney ('08), Kurt Suzuki ('09), Ben Sheets ('10), Josh Willingham ('11), Jonny Gomes ('12) and Coco Crisp ('13).
Jane Lee is a reporter for MLB.com. Read her blog, Major Lee-ague, and follow her on Twitter @JaneMLB. This story was not subject to the approval of Major League Baseball or its clubs.