Ynoa seizing his Major League opportunity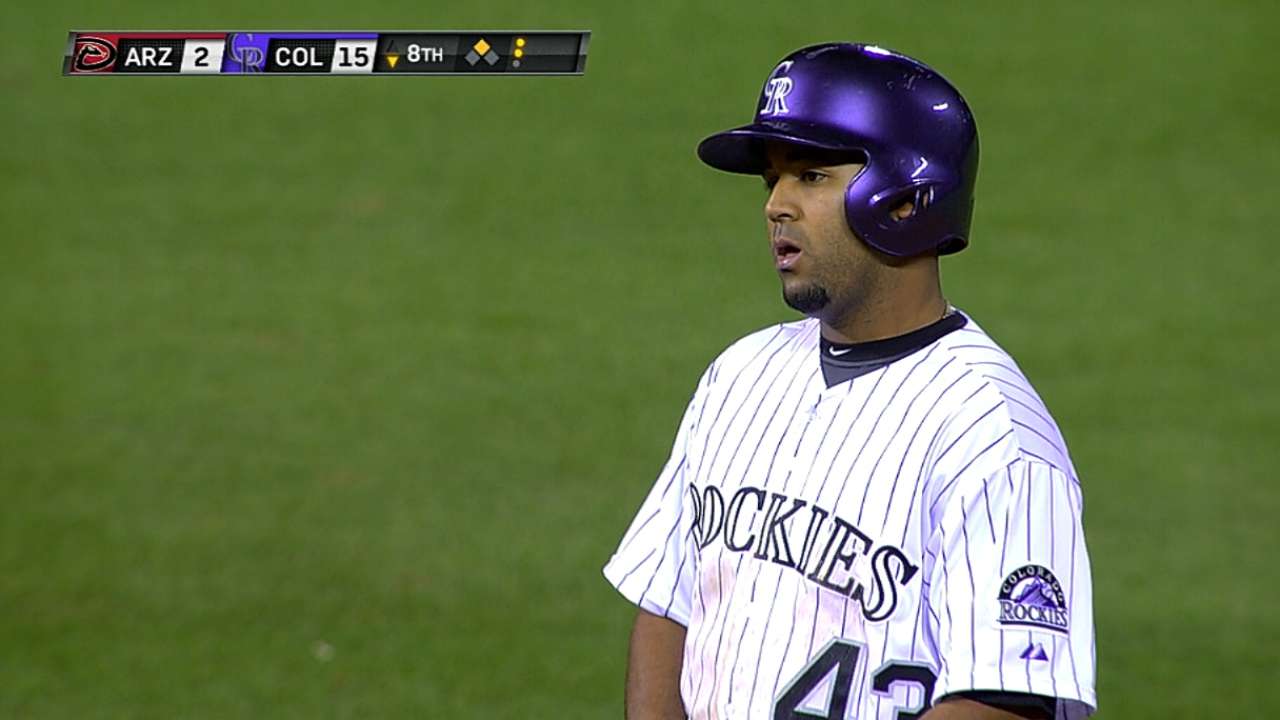 DENVER -- When you spend nine seasons in the Minors, you better not waste your big league chance when you get it.
Rafael Ynoa falls into that category, and he certainly has taken advantage of his opportunity. If you need proof, just look at his inside-the-park homer attempt in Friday's 15-3 win over the D-backs.
Unfortunately, D-backs shortstop Chris Owings ended up gunning him out on the relay throw, forcing Ynoa to settle for a two-run triple. But the all-out effort was there -- so much so that Ynoa incorrectly tried to call time following the tag by D-backs catcher Miguel Montero.
"He should have called time right after [third-base coach Stu Cole] starting sending him," manager Walt Weiss said. "I told him his legs are way too short to run that far."
What Ynoa isn't short on is versatility -- and that aspect of his game has made quite the impression on Weiss so far.
Friday's 4-for-5 performance, which included two doubles and three RBIs, brought Ynoa's average up to .417 (15-for-36) in the 11 games since his Major League debut on Sept. 1. He's done it all -- bouncing around the diamond between second, shortstop and third, where he made his second straight start on Saturday.
"He's been a good pickup for us," Weiss said. "He's come up here and taken advantage of the opportunity, especially with Nolan [Arenado] being down."
Ynoa also offers something the Rockies have lacked all season: a switch-hitter.
In his debut, Ynoa became only the fourth switch-hitter since 1974 to get hits from both sides of the plate in his first two big league at-bats. This backs up the ability he displayed in the Minors at Triple-A Colorado Springs this season, as he batted .309 (102-for-330) as a left-handed hitter and .288 (38-for-132) as a right-handed hitter.
Weiss compared Ynoa to Jonathan Herrera on Saturday, another switch-hitting utility man who carved out a nice niche in five seasons with the Rockies. If Ynoa keeps it up, he'll make a strong case to be a part of the Rockies' bench next season.
"He gives us some versatility," Weiss said. "We didn't know a whole lot about him when he came to Spring Training. But our pro scouts did a really good job finding him. He went down and had a nice year for us in Triple-A. He played really well toward the end of the season to put himself in the mix."
Cody Ulm is an associate reporter for MLB.com. This story was not subject to the approval of Major League Baseball or its clubs.