Hamstring sidelines Ellsbury; timetable not set
Yankees hope outfielder can return soon despite mild strain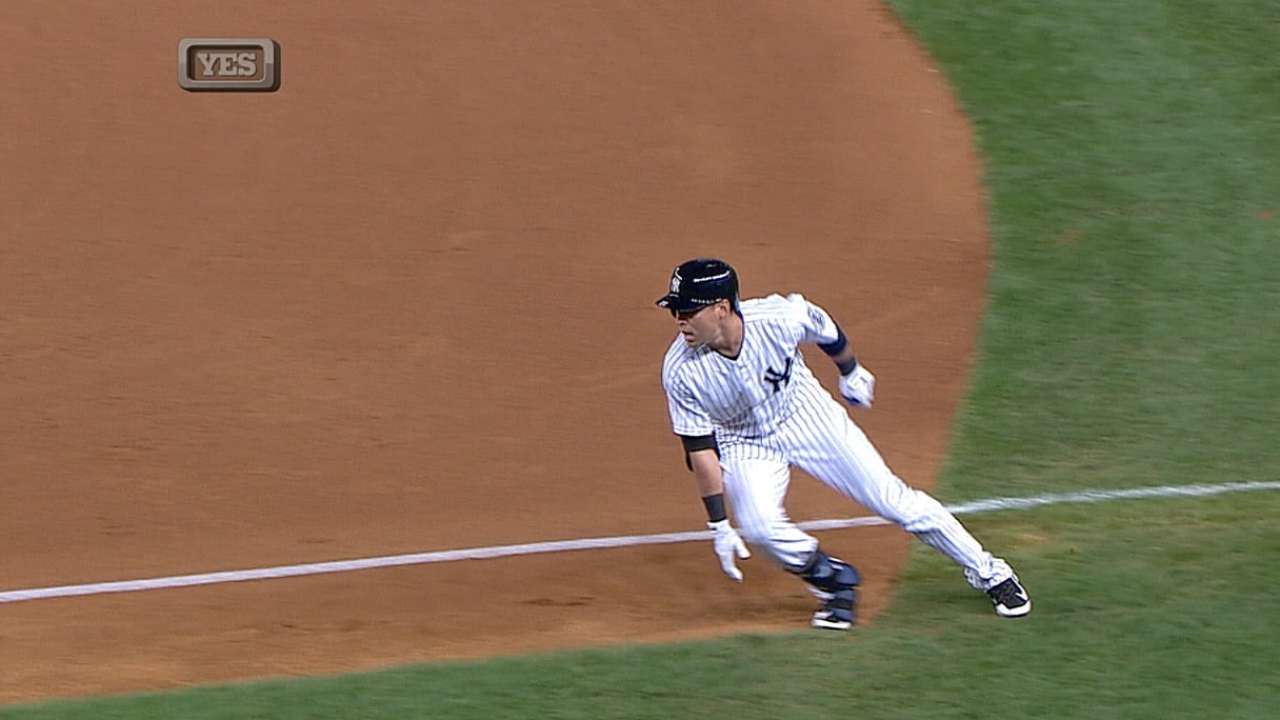 NEW YORK -- A sprint to first base in the middle of a strong game quickly changed the outlook on the rest of Jacoby Ellsbury's season.
After beating out an errant throw from Jose Reyes with the bases loaded in the fourth inning of the Yankees' 5-3 victory over the Blue Jays on Friday, Ellsbury returned to the bag in some pain. He remained in to run the bases, but manager Joe Girardi pulled Ellsbury before the fifth inning. An MRI exam shortly afterward revealed a mild right hamstring strain, but the center fielder is hopeful he can return before the end of this homestand, if not the season.
"I hope so," Ellsbury said. "I'm going to do everything I can to be back as soon as possible. [Saturday], we're just basically going to do as much treatment as possible and see how it responds.
Ellsbury doubled and scored in the first inning and belted a go-ahead two-run homer in the third. His grounder in the fourth led to two more runs -- with the help of Reyes' throwing error -- and padded the Yankees' lead. Brett Gardner moved to center to replace Ellsbury on Friday night, and he started there on Saturday, batting leadoff.
"Obviously, we'll give him a few days off to see where he's at," said Girardi. "It's not what you want, but we've got to deal with it.
"It's frustrating. Jake's played through a lot this month, with a bad ankle that he hurt in Toronto, and found a way to get through it for us. It's frustrating. You lose [Martin] Prado, who's playing well, and you lose Jake."
Ellsbury has been durable this season -- the first of a seven-year contract he signed last offseason -- hitting .271 with 16 homers, 70 RBIs and 39 stolen bases in 149 games, the outfielder's highest total since his career year of 2011. Even with the Yankees' chances at the postseason unlikely, it stings to lose arguably the team's best player without knowing the severity of the injury.
"You could hit Ells anywhere and he's going to be productive," Girardi said. "That's the type of player he is. He's got great speed. He's really a smart baserunner. He knows how to steal bases. He knows how to get himself into scoring position. He's a great player -- offensively, defensively -- there's nothing that this kid can't do. He's meant a whole lot to our club."
Jake Kring-Schreifels is an associate reporter for MLB.com. This story was not subject to the approval of Major League Baseball or its clubs.