Zimmerman returns from DL, continues to test hammy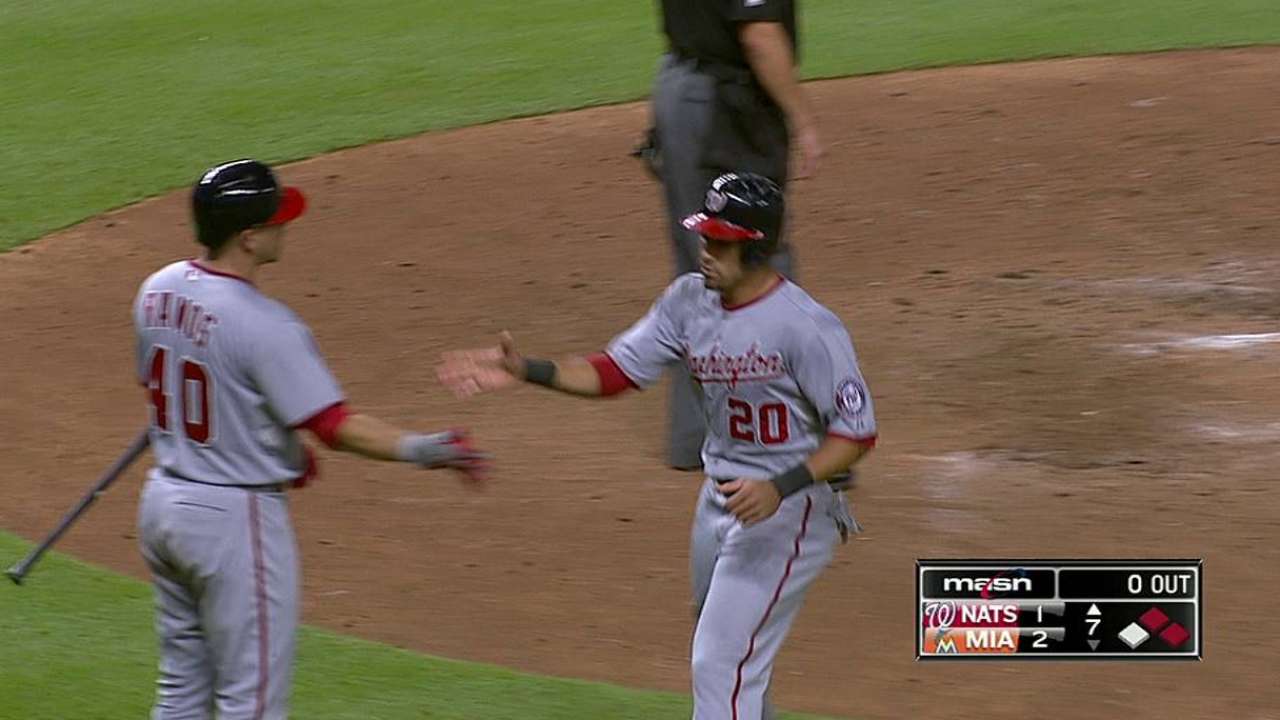 MIAMI -- Given all the time he's missed, the likelihood that Ryan Zimmerman could come back from his Grade 3 hamstring strain in time to help out the Nationals as they try to secure home-field advantage in the postseason seemed pretty dim. But in a flurry of rehab activity over the last week, Zimmerman made a convincing case for Washington to activate him from the disabled list in time for Saturday's game at Marlins Park.
And he immediately made an impact, going 2-for-3 and tying the game on an RBI triple from the sixth spot in the lineup in the Nats' 3-2 comeback win over the Marlins. Statistically, he was able to pick up where he left off before landing on the DL; he was hitting .362 with 16 RBIs in his last 16 games.
But running around the field wasn't easy for the 29-year-old. Zimmerman wasn't able to attempt to run out a grounder in the fourth inning, and he jogged around the bases on his triple, which likely would've been a single had Miami right fielder Reed Johnson not make an unsuccessful diving attempt, allowing the ball to roll past him. Then Zimmerman tried to score on a high chopper to third base, but he pushed himself so hard that he and the Nationals decided he'd tested his hamstring enough for the day. Nate Schierholtz took over in the outfield in the bottom of the seventh.
"It's just one of those things where instincts [dictate] I go," Zimmerman said. "And I went and probably shouldn't have gone, but everything is fine. Nothing happened, but looking back on it, it probably wasn't the smartest thing to do."
Zimmerman had missed the Nats' previous 55 games, so manager Matt Williams knew he had to be cautious playing him. The team will have to continue to monitor the veteran as the regular season draws to a close. But Saturday's performance was enough to reassure everyone that, with some more time, Zimmerman could be ready to play in October.
"It's instinct," Williams said of the seventh-inning forceout. "The ball gets hit and it's a high chopper, and ordinarily he would be able to score there. I guess it's part of the testing that has to go on. Given all of that, I didn't want to push any of it."
It'll be hard for Zimmerman to start every one of the Nats' eight remaining regular-season games, as he's still at about 85 percent with his running. As far as Zimmerman returning to third base, that might not happen until the latter part of the week. The reactionary nature of the position could prove too difficult for Zimmerman to handle, and he needs to ease into defensive work, considering he spent most of his rehab assignment at the Nationals' Spring Training facility in Viera, Fla., playing left field.
Zimmerman will play first base, left and pinch-hit too, but Williams insisted that he needs to get as many at-bats as possible to get into postseason form.
Despite not experiencing any setbacks in the recovery process, Zimmerman wasn't certain he'd be able to rejoin his team until he began his rehab assignment in Viera on Tuesday. He'd been swinging for a few weeks, so he's not too worried about building up his strength, though he will have to adapt to hitting Major League pitchers.
What does concern Zimmerman is running at full-speed, but he's confident he can move fast enough to "be useful" -- something he tested on Saturday night.
"Had plenty of tests. Made some good decisions, some not-so-good decisions," Zimmerman said. "My second at-bat, the one I hit off the end, that's a ball that I think about beating out sometimes. But I did the right thing and didn't try.
"This is the reason why we tried to get me back with one week left, because these are things we need to test and the answers that we need to know. In the playoffs, those games, every run matters. You need to be able to do things hopefully in the next eight or nine days."
Maria Torres is an associate reporter for MLB.com. This story was not subject to the approval of Major League Baseball or its clubs.