Butler stymies D-backs to pick up first win
Rookie allows one run over six; Dickerson, Rutledge drive in two apiece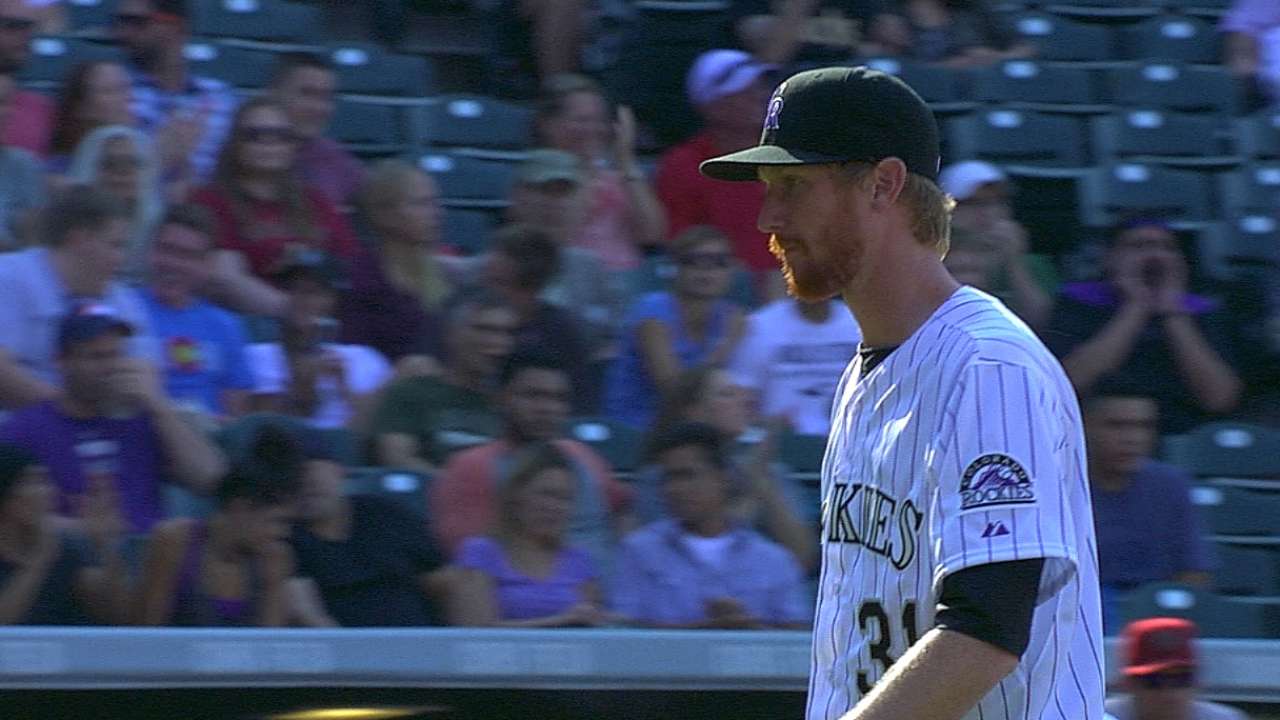 DENVER -- Although Saturday certainly had the feel of a do-over for Eddie Butler, they don't give out mulligans for Major League debuts. That didn't stop the Rockies' right-hander from taking advantage of his second chance.
Butler looked the part of the Rockies' No. 2-ranked prospect in a 5-1 victory over the D-backs at Coors Field, as he secured his first Major League win in his second career start.
"It was a nice bounceback after having one start and missing a lot of time," manager Walt Weiss said. "Going out there today and putting us in a position to win the game, he did a nice job."
Butler's first crack at the rotation came on June 6. But after surrendering six runs on 10 hits to the Dodgers in 5 1/3 innings, he landed on the disabled list with right rotator cuff inflammation. The Rockies then decided to send Butler back down to Double-A Tulsa to continue to hone his craft, before recalling him earlier this week.
The extra fine-tuning apparently paid off in a big way, as Butler baffled the D-backs for six innings, scattering five hits and a walk. One of those hits was a solo homer by Jake Lamb. It would end up being the only run Butler would allow over 81 pitches.
"I wasn't quite as anxious," Butler said. "[Catcher Michael McKenry] had a good game plan, and I just followed him around all day."
Butler was aggressive early and often against Arizona, attacking in with his two-seamer while elevating the occasional four-seam fastball.
"He mixed it up, and I don't think we made some adjustments we needed to make," D-backs manager Kirk Gibson said. "Gotta give him credit."
Corey Dickerson gave the rookie some run support in the first, as his two-out triple scored Justin Morneau. Dickerson would also blast a solo shot in the fifth for his team-leading 24th homer. He finished the day 2-for-4 with two RBIs.
Josh Rutledge homered off D-backs right-hander Trevor Cahill in the third, as the Rockies jumped out to a 4-0 lead.
Cahill struck out eight, while walking none, during his five innings of work. But the Rockies reached him for five runs on 10 hits -- including six of the extra-base variety.
The win moved the Rockies' record to 16-5 over their last three homestands. It also put the team two games ahead of the D-backs in the race to stay out of the National League West cellar, a small "consolation" for Weiss in an otherwise frustrating season.
"Any way you slice it, it's not going to be a very good season," Weiss said. "But we talked about just playing to the finish line and playing to the last out in L.A. And that's what guys are doing. It's good to see."
Cody Ulm is an associate reporter for MLB.com. This story was not subject to the approval of Major League Baseball or its clubs.