Cahill struggles in D-backs' loss to Rockies
Righty gives up five runs over five innings, despite striking out eight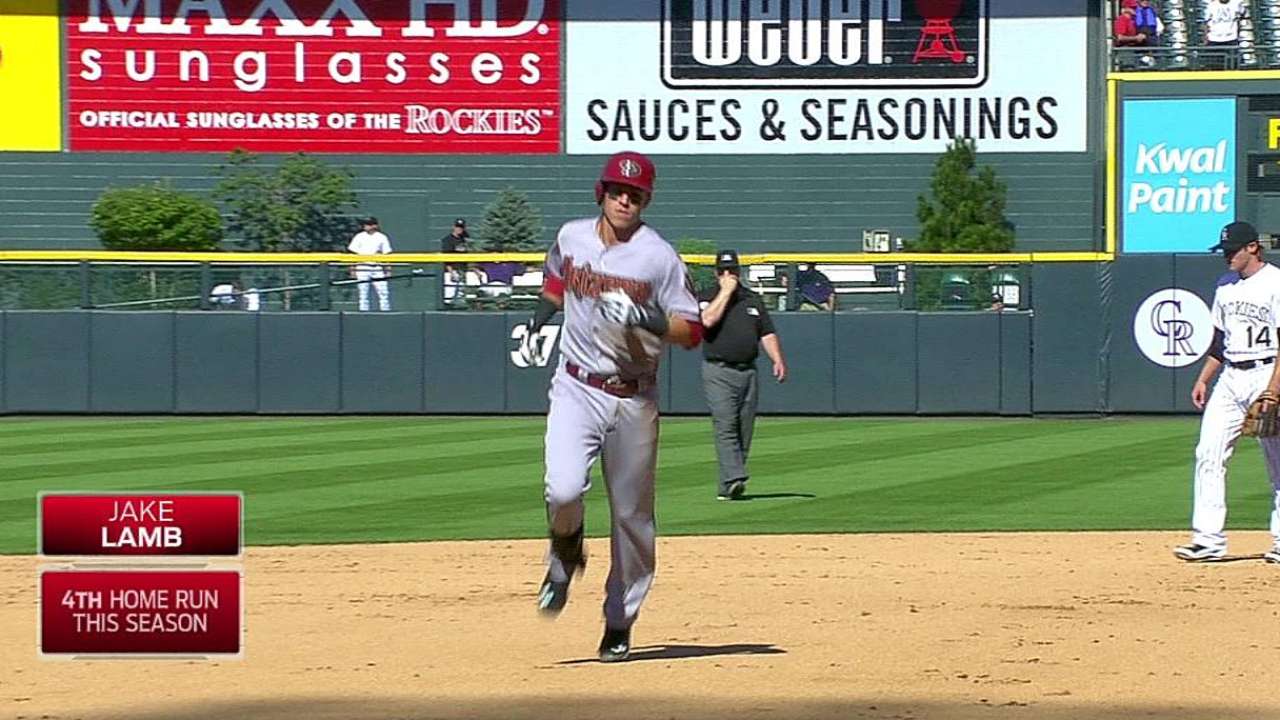 DENVER -- On the plus side for D-backs right-hander Trevor Cahill, he did not walk anyone on Saturday afternoon.
Still, his outing did not go the way he wanted it to, as the Rockies beat the D-backs, 5-1, at Coors Field. Colorado now holds a two-game lead over Arizona in the battle to stay out of last place in the National League West.
"I felt a lot better," Cahill said. "Obviously, the results weren't there. But as far as everything else, I felt a lot better. It's just really frustrating. You give up five runs in five innings and you feel like you had better control of the game. I felt like it was one of my better games."
Cahill (3-12) allowed five runs on 10 hits in lasting just five innings. He did strike out eight, which matched his season high.
D-backs manager Kirk Gibson agreed with Cahill's assessment.
"Actually, I thought it was one of Trevor's better games," Gibson said.
It has been a miserable season by any measure for Cahill, who was counted on to be one of the anchors of the rotation. Instead, after struggling in April, he found himself in the bullpen -- and then all the way down in Class A to work on his mechanics and command.
"I thought he was more consistent with his delivery," Gibson said. "More command of his pitches, a lot of strikes."
As a team, the D-backs threw plenty of strikes, as Cahill combined with three relievers to fan 16, while not issuing a walk. Included in those strikeouts were four in the seventh inning by reliever Oliver Perez to tie a Major League record for strikeouts in an inning.
Offensively, though, the D-backs could do little with Rockies rookie right-hander Eddie Butler, who was making just his second big league start.
"I was definitely [trying] to keep it simple," Butler said. "We attacked a lot of guys in, used sinkers as well and elevated it sometimes. It worked out well."
Butler (1-1) allowed just one run over six innings.
"He mixed it up, and I don't think we made some adjustments we needed to make," Gibson said of Butler. "Gotta give him credit."
The D-backs did have plenty of opportunities, but were 0-for-11 with runners in scoring position. Not coming through in the clutch was a problem for them on Friday night, as well, when they were 1-for-9 in those situations.
"We're just really struggling with that," Gibson said.
Cahill fell behind early, after Corey Dickerson's first-inning triple scored Justin Morneau.
The Rockies scored three runs in the third inning, all of which were earned. But, in fairness, only two should have scored.
Josh Rutledge delivered the big blow that inning, with a two-run homer to right.
"It was a curveball," Cahill said of the pitch to Rutledge. "It was 1-0 and I was trying to steal a strike. I didn't think it was that bad of a pitch. He put a good swing on it. It's one of those ones I don't feel too bad about, you just tip your cap to him."
One batter later, Morneau lifted a fly ball to right that David Peralta lost in the sun for a double. Cahill retired the next two batters, but instead of being out of the inning, he had to face Ben Paulsen. Paulsen collected a broken-bat RBI single to give the Rockies a 4-0 lead.
The D-backs finally got on the board in the fifth, when Jake Lamb hit a solo home run, his fourth of the year.
Steve Gilbert is a reporter for MLB.com. Read his blog, Inside the D-backs, and follow him on Twitter @dbackswriter. This story was not subject to the approval of Major League Baseball or its clubs.