A's can't gain in Wild Card with shutout loss
Pomeranz strong in spot start but bats held silent by Phillies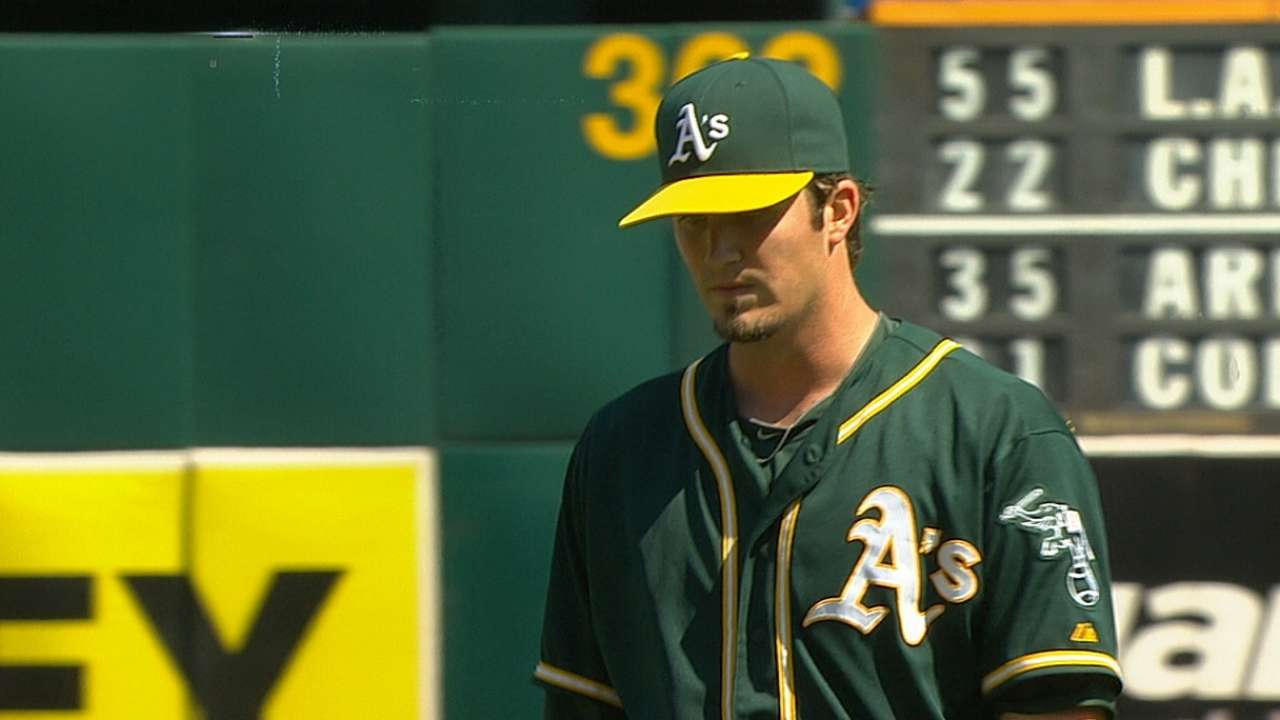 OAKLAND -- Desperately needing to carry over every bit of momentum gained Friday by a Jon Lester-fueled win, the A's instead left it to dry in a 3-0 loss to the Phillies at the Coliseum on Saturday afternoon, continuing a weary stretch of inconsistent, uninspiring play.
Just when they appear destined to right the ship, as they did last weekend in Seattle, when they took two of three from the Mariners, and again Friday with a victory behind Lester, the A's manage to find a new low. They're 1-4 on this homestand and 12-26 since Aug. 10 -- yet still cling to a half-game lead over the Royals for the top American League Wild Card spot, with Seattle a half-game behind Kansas City for the second Wild Card.
"I think you can sit here and talk all day long about the things we haven't been doing well," said Derek Norris, "But one thing that we do well is, when we think we've hit rock bottom, we've come back with a vengeance. We control our own destiny. I think, if we play the good baseball that we know how to play, we're going to be there at the end."
"It's just a matter of time before everything clicks," said Dan Otero. "Hopefully that's sooner rather than later."
It has to be, or else.
Even if the A's find their way into the postseason, it's a wonder how they'll score any runs. On Saturday, it was Jerome Williams who blanked them with ease, allowing just four hits through seven scoreless innings for his third win in as many uniforms against the A's this season.
Going back to the second inning of Friday's win, when they plated three, the A's have not scored in each of their last 15 innings -- but not without opportunities to do so. They were unable to score with the bases loaded twice on Friday and again in the second inning Saturday, when Norris grounded into an inning-ending double play following three singles from Adam Dunn, Josh Reddick and Jed Lowrie.
"I just didn't let it travel far enough to hit it in the hole where I was trying to hit it for a base hit in right, and I just hit it right at him," Norris said. "No excuses. Just gotta be better in situational hitting, get a ball more elevated next time."
Since Aug. 1, around the same time this collapse took form, the A's are batting just .196 with the bases loaded, bringing their season average down to .280 in such situations. More recently, they're 0-for-11 with the bases loaded.
Hitting, in general, has been a laboring act for this club. Oakland has scored three runs or fewer in nine of its last 10 games, batting .182 as a team with just 19 runs scored in that span, essentially forcing the pitching staff to be perfect.
Drew Pomeranz, filling in for new dad Jason Hammel on Saturday, gave the A's all he had in a gritty performance, bouncing back from a long, 32-pitch first inning to get through five total on 86 pitches in his first appearance since Sept. 2 and first start since Aug. 27. The lefty allowed just one hit and walked two with six strikeouts.
The Phillies broke through in the seventh on a two-run homer from Freddy Galvis off Otero, and got one more in the eighth on Marlon Byrd's RBI single against Fernando Abad.
"I was trying to throw a fastball in and it just kind of tailed over the middle of the plate, didn't really have that sink to it, and he put a good swing on it," Otero said. "It's very unfortunate. I feel terrible.
"Right now, we know every pitch matters, whether it's in the first inning, the ninth inning, extra innings, it doesn't matter, especially with eight games left. Every pitch matters. You never know which one is going to impact the game."
"When we start nitpicking about one pitch, it means you're not doing anything offensively to help out on the other end," A's manager Bob Melvin said. "That's what it's been lately. One or two pitches within a game have been magnified because we're not giving them enough support.
"The production across the board from everybody was much better in the first four months or so and hasn't been since, and when you continually struggle, it can affect your confidence, but that's not an excuse. We should have confidence based on the amount of runs we scored early in the season. To go through as deep of a drought as we have, that's the question -- why is it so severe the past month and a half?"
Jane Lee is a reporter for MLB.com. Read her blog, Major Lee-ague, and follow her on Twitter @JaneMLB. This story was not subject to the approval of Major League Baseball or its clubs.