Galvis helps Williams earn historic 'W' over A's
Shortstop breaks up scoreless affair with two-run shot in seventh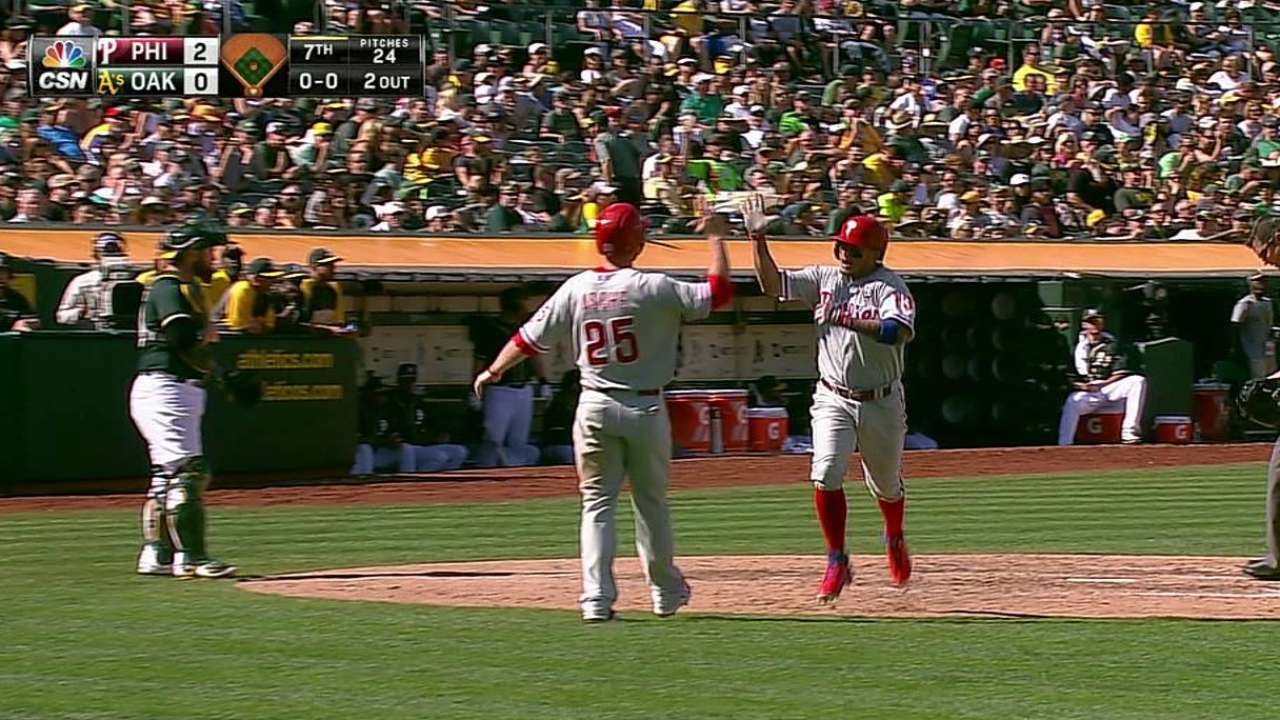 OAKLAND -- There has not been much to smile about lately for the Phillies as they approach the end of their second straight losing season. Saturday's 3-0 win over the A's, however, was peppered with bright spots.
Ken Giles, the team's possible closer of the future, earned his first career save on his 24th birthday. Jerome Williams made baseball history, becoming the first pitcher to earn three wins against the same opponent as a member of three different teams. And Freddy Galvis continued to make the most of his time as the starting shortstop, hitting a two-run homer to break a scoreless tie in the seventh.
"Starting pitching, the bullpen, some good defense out there, one swing of the bat for the home run and then an add-on run," said manager Ryne Sandberg. "A solid game and a lot of good stuff in a tight game."
Giles was dominant as ever in his first save opportunity, throwing 10 pitches -- nine strikes -- in a 1-2-3 ninth. The Phillies would have liked to give Giles a save chance sooner with Jonathan Papelbon serving a suspension, but the birthday boy was simply thrilled to achieve the milestone.
"It's awesome. I'm going to remember it forever," Giles said. "I've been waiting for my time to come. I'm blessed that I got the opportunity to get it on my birthday."
In order for Giles to get his chance, Galvis first had to play hero. Until the seventh inning, it was a war of offensive attrition at O.co Coliseum between two floundering offensive clubs, and the Phillies had just one hit when the seventh began.
But Cody Asche lofted a one-out double down the left-field line, and Galvis -- a switch-hitter batting left-handed -- took reliever Dan Otero deep. The pitch -- a 3-2, 91 mile-per-hour sinker -- was belted over the right-center-field wall.
"I went to 3-1, 3-2, then he threw me a fastball in the middle," Galvis said. "I was trying to hit it hard on the ground or a line drive. I hit it for a homer."
Galvis has started all 12 games at shortstop since Jimmy Rollins strained his left hamstring, going 11-for-38 (.289) with three home runs, three doubles, seven RBIs and eight runs scored.
"He seems to be a guy who comes up in that situation, that spot, and he has a chance to drive one," Sandberg said. "Surprising power at times for a little guy.
"He's really improved his offense this year going back to Triple-A. He did a nice job working on some things and he hit for average there. He's brought that here with him. He's getting some time here at shortstop. Probably goes a long way with getting him at-bats at this level and making some adjustments. He's come up with some big hits for us."
For the season, Galvis is still batting just .165 in 97 at-bats -- though 12 games ago that number was a paltry .085.
He helped Williams make history by beating the A's for the third time this year -- once with the Astros, once with the Rangers and once with the Phillies.
Williams threw seven scoreless innings and held Oakland to four hits, and he has not allowed an earned run in 14 2/3 innings over his last two starts. In eight outings since joining the Phillies, he is 4-2 with a 2.45 ERA.
"He's been solid since he's come over, with quality outings, good stuff," Sandberg said. "He hits his spots real well with moving stuff, so he's effective in the strike zone and really does a good job working well with the catcher."
Williams induced a double play with the bases loaded to end the second inning, and it was smooth sailing from there.
"I don't think anything changed [after the second]," Williams said. "It's just I had a couple pitches I left over the plate and I wasn't attacking the zone. I think after that I just started attacking the zone, keeping the ball down, getting key ground balls when I needed them."
Marlon Byrd added a two-out RBI in the eighth to give the bullpen a three-run cushion.
The Phillies improved to 2-4 on their final road trip of the year and set up a rubber match against the A's on Sunday.
Aaron Leibowitz is an associate reporter for MLB.com. This story was not subject to the approval of Major League Baseball or its clubs.