McCann gets ribbing for around-the-horn throw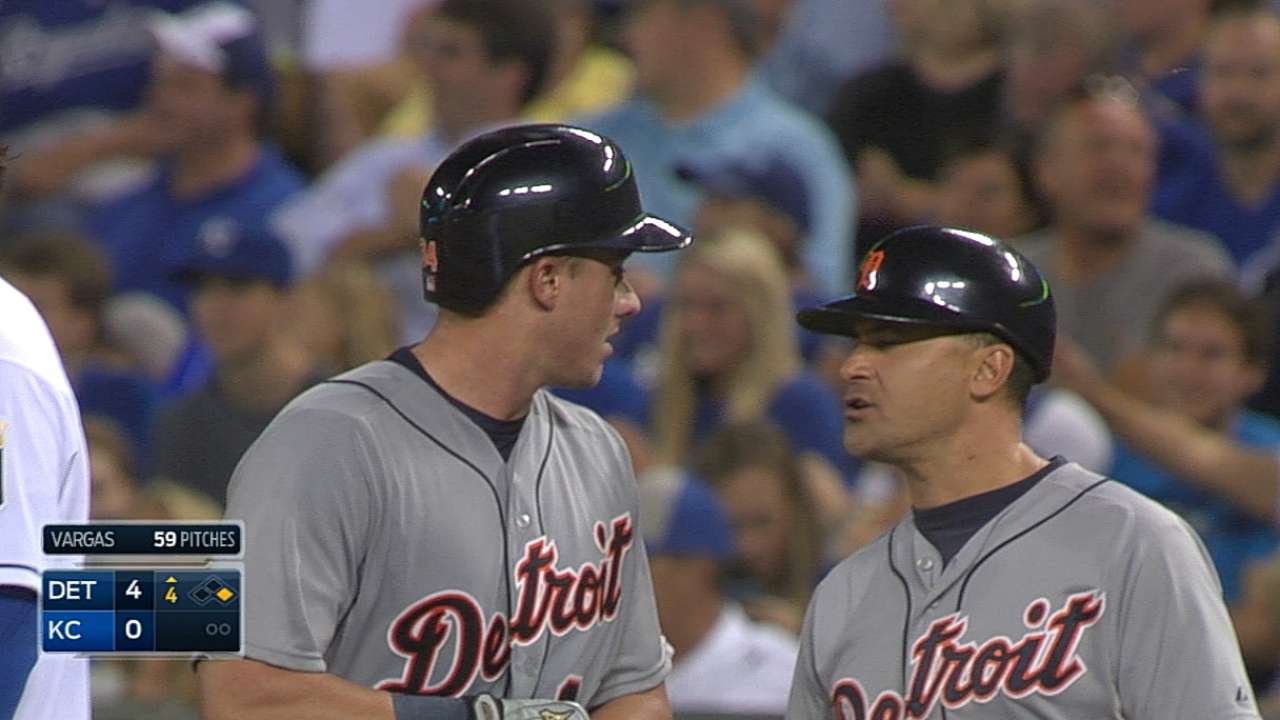 KANSAS CITY -- Tigers catcher James McCann received the ball from his first Major League hit and the praise from Justin Verlander for his efforts behind the plate Friday night in his second big league start. McCann, who had two hits and his first stolen base in a 10-1 win over the Royals, also had a few friendly reminders from teammates that a Major League inning consists of three outs.
That wasn't entirely clear when he started to throw the ball around the horn upon Raul Ibanez's swing and miss to end the seventh.
"What it was, I had a moment," McCann said. "[Third baseman] Nick [Castellanos] was running across the field to get in the shift defense. So I was sitting there thinking, 'Man, if we strike someone out in this situation, do I throw it around to short or I throw it to first?' So that was the last thought in my mind.
"I knew there were two outs, but that was the last thought. So as soon as [Verlander] struck him out, I said, 'OK, I'll throw it short.'"
Eugenio Suarez took the throw. Verlander, who had taken a step, paused for a second in confusion.
"I think everybody got him pretty good in the dugout," Verlander said. "Everybody was like, 'We play three outs in this league.' I told him that too."
The Tigers do not have a kangaroo court for such matters, so McCann eluded a fine for his throw.
"No fine," regular catcher Alex Avila said after a long laugh, "but a lot of ribbing."
Jason Beck is a reporter for MLB.com. Read Beck's Blog and follow him on Twitter @beckjason. This story was not subject to the approval of Major League Baseball or its clubs.