Adrian's two homers squandered as 'pen crumbles
Dodgers build five-run lead before Howell, Wilson allow six to Cubs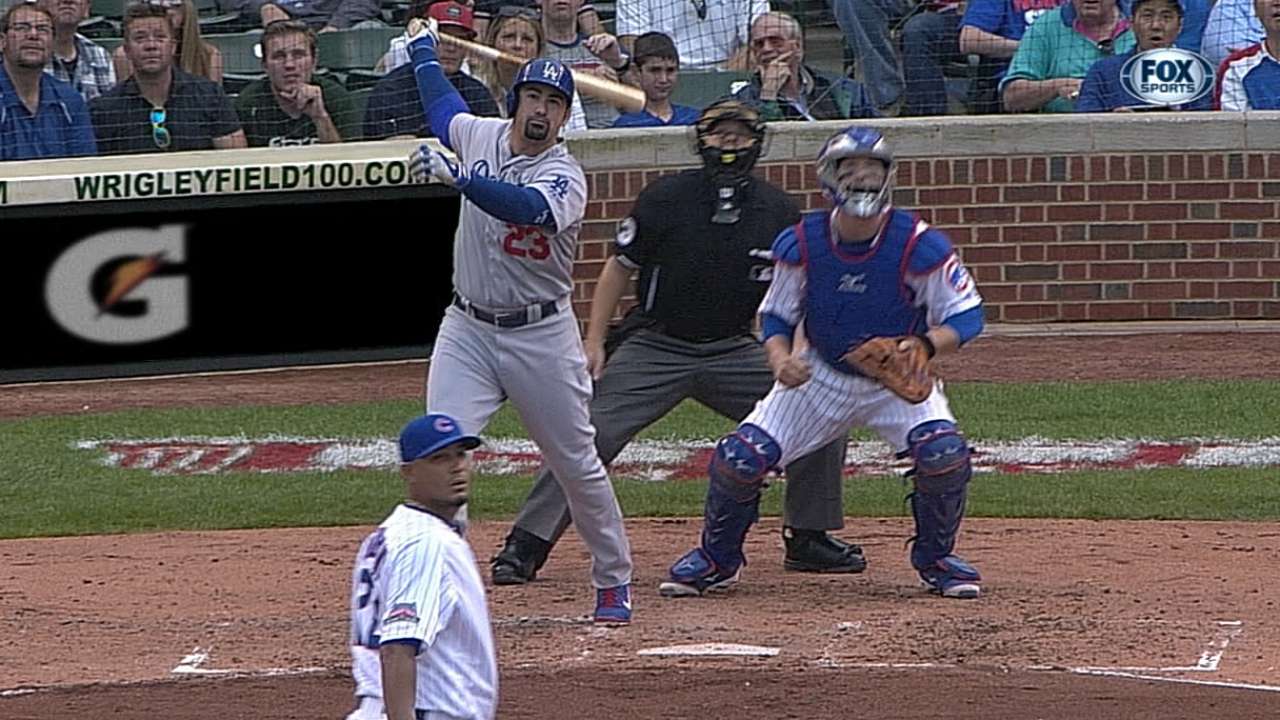 CHICAGO -- Clubs scouting for the ideal method of beating the Dodgers in the postseason will drill down on Saturday's game, because if the last-place Cubs can do it, why not a playoff team?
Two home runs from Adrian Gonzalez, a dynamic diving catch by Yasiel Puig and a five-run lead in the seventh inning weren't enough, as the Cubs battered the bullpen late in an 8-7 Dodgers loss.
Still, the Dodgers' magic number to clinch the National League West fell to five and their division lead remained 3 1/2 games after the Giants lost, 3-2, in San Diego.
With the wind again blowing out of Wrigley Field, Chris Coghlan homered twice for the Cubs, leading off the first inning against starter Roberto Hernandez and finishing off the comeback with a two-run killer shot in the eighth to pin the loss on Brian Wilson. Coghlan went 4-for-4.
"Personally I always like playing the Dodgers just because of their franchise and how good they are," said Coghlan. "You always enjoy competing against the best, and they're one of the better teams in baseball."
The Cubs, who trailed, 7-2, going into the bottom of the seventh, scored four times that inning off J.P. Howell, including a crushing three-run homer by Arismendy Alcantara, the first home run Howell has allowed this season.
Wilson and Howell, the veterans setting up closer Kenley Jansen most of the season, each took responsibility for not finishing off his inning.
"I was bad, they were good, a little of both," said Howell. "I missed location. I didn't get ahead, they took advantage, got a pitch to hit and didn't miss. Just an ugly day."
"It's 100 percent my fault," said Wilson, who heard Howell's confessional from his nearby locker. "I'm the one to blame for this game."
Howell noted that the Dodgers' bullpen was 19th (now 21st) in ERA, which he called "unacceptable."
Manager Don Mattingly wasn't about to bury either of them. He said he knows Wilson didn't hit 90 mph with a pitch in this game, but Wilson indicated that he's been a cutter pitcher all season after being unsuccessful early in the year when he occasionally amped up to the mid-90s. He said he didn't locate the home run pitch, he's not hurting and that velocity is not a correct barometer for his season.
"It's what he's been doing all year," Mattingly said. "Nothing different than all year. Not trying to change anything, this is what we've been doing to get us here. Today it didn't work out."
Except that by the time Wilson had come in, Mattingly had used lefties Howell, Paco Rodriguez and Daniel Coulombe. Scott Elbert and his delicate arm were used Friday, so Wilson faced the left-handed-hitting Coghlan. Lefties are hitting 52 points higher than righties against Wilson, which is why Mattingly has been setting up with both when possible to avoid these kinds of vulnerable matchups.
All of this was set into motion when Roberto Hernandez's start turned into a bullpen game one day before Mattingly was expecting to need one. Hernandez went four-plus innings and was charged with two runs in his third consecutive start of 4 1/3 innings or fewer. Pedro Baez, however, virtually assured himself of a postseason role by bailing fellow rookie Coulombe out of a no-out mess.
Mattingly said he wasn't comfortable Friday with an 8-3 lead because of the way Wrigley Field plays with the wind blowing out, and he said that using Howell with a five-run lead illustrated that he wasn't at ease Saturday either.
"When the wind's blowing, it's a small park," he said, agreeing that back-to-back series at Coors Field and Wrigley Field can damage the psyche of any bullpen.
Until the bullpen meltdown, the Dodgers had some highlights to enjoy. Gonzalez raised his numbers to 25 homers and 111 RBIs, while Puig made another ridiculous diving catch to turn fellow Cuban Jorge Soler's bid for extra bases into a run-saving, inning-ending double play that no doubt will get more airtime than Gonzalez's homers. Dee Gordon extended his hitting streak to 13 games, his streak of multi-hit games to eight and stole his 64th base.
Puig appeared to injure his throwing shoulder diving on the rain-slicked grass, but he stayed in the game and doubled moments later.
Along with taking responsibility for the loss, Wilson tried to put it in perspective after watching the Dodgers' offense score at least seven runs for the fifth time in the last eight games.
"We have to accept the loss, but we're still clicking on offense and pitching, and now we have to focus on going out tomorrow and do what we've been doing the past couple of days," he said. "I hope we end the series and the trip on a good note and go home to a much-needed break.
"Everybody wants to play at Dodger Stadium. On a positive note, we're clicking at the right time. I wouldn't let this take away from our identity as far as making a surge to the best record in the National League and taking the division."
Ken Gurnick is a reporter for MLB.com. This story was not subject to the approval of Major League Baseball or its clubs.