Undaunted Cubs rewarded by Coghlan's blistering bat
Outfielder's two HRs help erase five-run deficit; Rondon stifles LA stars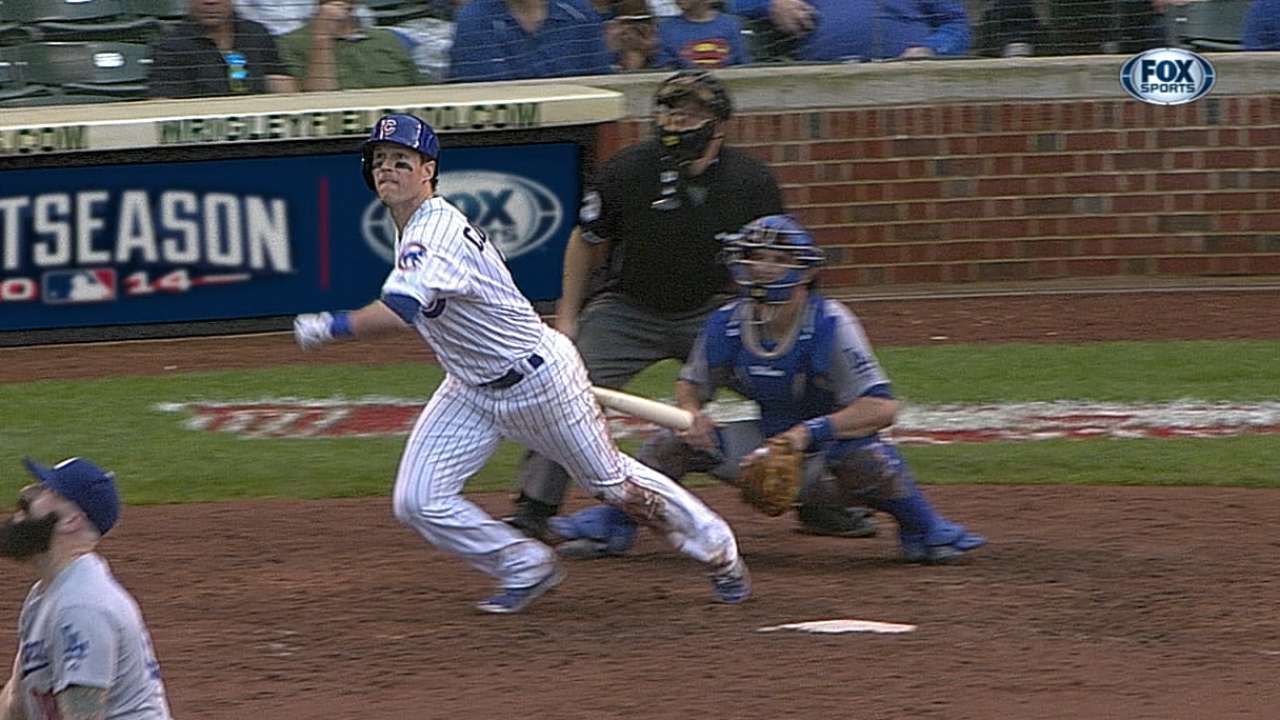 CHICAGO -- With all the hype of the Cubs' mega-prospects and potential offseason acquisitions, two current, yet unsung, players helped lead the team to one of its most monumental wins of the year on Saturday afternoon.
Chris Coghlan went 4-for-4 with two homers, including a go-ahead two-run shot in the eighth, and Hector Rondon picked up his 26th save against the Dodgers' star sluggers, as the Cubs rallied from a five-run deficit for an 8-7 win at Wrigley Field.
"They've just continued to develop a mentality of playing for each other and grinding," Cubs manager Rick Renteria said. "Hopefully that mentality doesn't leave them. It's something that they develop. If you start winning some ballgames, you start getting some situations where you feel some consistency with the guys that you have around you, you can build on that.
"This one was a tremendously well-fought ballgame in terms of them keeping themselves in the ballgame and doing what they did."
Signed to a Minor League contract last offseason after a slew of injuries over five years with the Marlins, Coghlan has emerged as a reliable leadoff man -- hitting .283/.349/.449 with 39 extra-base hits and 45 runs scored.
He smacked the go-ahead homer into the right-field bleachers on a 1-2 changeup from Brian Wilson and rounded first with his fist raised high.
"It's definitely one of those days where everything goes right," Coghlan said. "Sometimes, I guess, if you play long enough, you have those days where the wind is blowing out and you hit some balls in the air, and you find holes wherever they are. Just grateful to contribute."
Said Wilson: "It's 100 percent my fault. I'm the one to blame for this game."
Rondon, a 2012 Rule 5 Draft pick by the Cubs, was never officially ruled the team's closer, but he has satisfied that role this summer.
He's allowed one earned run in 16 appearances since Aug. 8, good for a 0.56 ERA with 12 saves, including Saturday. On just 13 pitches, Rondon shut down the cogs of the Dodgers' lineup -- Yasiel Puig, Adrian Gonzalez and Matt Kemp, the latter striking out to end the game.
"The ability he has right now and the confidence that he has to take the ball right now in the ninth to close out a ballgame is pretty impressive," Renteria said. "He's got good stuff, and I think he's really taken to it."
Trailing, 6-1, before their third at-bat -- having also fallen into a 6-0 gap Friday -- the Cubs proved resilient in the seventh, scoring four runs on a single by Anthony Rizzo and a three-run homer by Arismendy Alcantara, his 10th in 63 games.
A Cubs starter left early for the second straight afternoon, as Fleix Doubront allowed six earned runs, six hits and three walks in 2 1/3 innings.
Gonzalez accounted for five of those runs on a pair of homers in his first two at-bats. The left-handed first baseman was batting .196 against southpaws entering Saturday.
"I knew from the beginning that I would have to start with my ball down, fastball down, sinker down," said Doubront, who threw 58 pitches. "Like I said, mistakes and balls up and they just hit it up. The wind helped. It's not an excuse, but it was blowing pretty good."
The Cubs' relievers -- Carlos Villanueva, Blake Parker, Wesley Wright, Justin Grimm and Rondon -- allowed a combined one earned run, five hits, two walks and five strikeouts the rest of the way.
Renteria's past two starters, Doubront and Edwin Jackson, have tossed just a combined three innings, forcing the bullpen into action much earlier than hoped.
"We're going to try and figure out how we kind of get through it," Renteria said of Sunday's pitching corps. "The first two games have put us in a little bit of a bind, but we had a lot of guys that didn't throw today also, so we should be OK."
Daniel Kramer is an associate reporter for MLB.com. This story was not subject to the approval of Major League Baseball or its clubs.