Royals keep running behind first-place Tigers
Shields tagged for go-ahead runs in 7th after KC loses one in 6th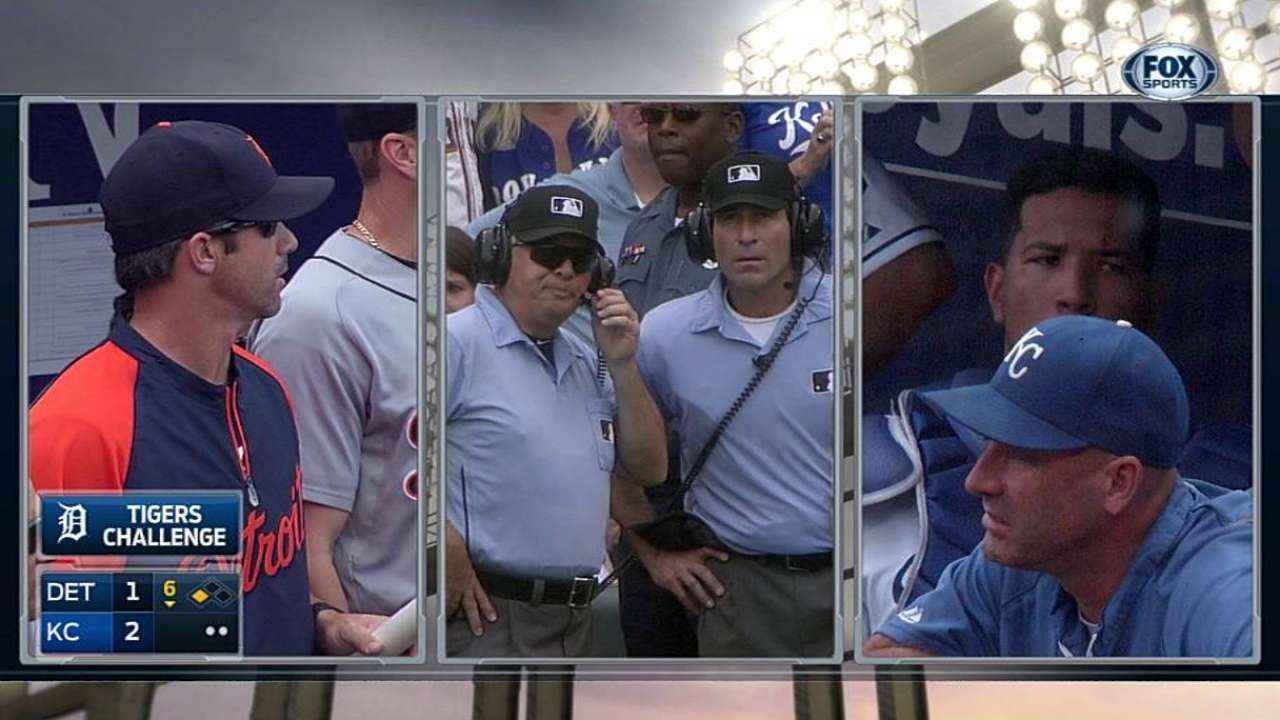 KANSAS CITY -- A run that wasn't a run because of a non-reviewable play that nevertheless was changed made all the difference in the Royals' 3-2 loss to Detroit on Saturday afternoon at Kauffman Stadium.
And when all the layers of confusion were peeled away, the Tigers had increased their lead over the Royals to 2 1/2 games by taking a second straight victory in their showdown series in the American League Central.
This one seemed to be more painful than the 10-1 pounding that Kansas City absorbed on Friday night.
"Today, flat-out, we should have won the ballgame," said losing pitcher James Shields. "There are no excuses. We didn't do our job. Period."
Royals manager Ned Yost was wondering if the umpires did their job, or at least how they approached it, after a strange incident that took a run away from his club in the sixth inning.
Salvador Perez seemingly had scored after a line drive was caught by Tigers second baseman Ian Kinsler and his throw in an attempt to double up Eric Hosmer sailed past shortstop Eugenio Suarez. The Tigers appealed, saying that Perez had not tagged up after the catch. Initially, third-base umpire and crew chief Larry Vanover denied the appeal, calling Perez safe.
"Larry called him safe," Yost said. "[The umpires] got together and then they talked. Then they came over to the review headset -- that play is not reviewable. I think New York told them it was not reviewable. They got back together and talked, and called him out."
Basically, they got it right because later Perez admitted he did not tag up after the catch.
"I think everything was too fast for me," Perez said. "When Kinsler caught the ball, I came back to the base and he threw the ball to Suarez, and he missed. ... I never thought about tagging, only if [the throw] came toward the base I'd put my foot on the base. But as soon as he dropped it, I just want to score for the team and that's what I did, go to home plate."
Yost wondered why the umps just didn't go with Vanover's original safe call which would have put the Royals ahead, 2-1. But they didn't.
Yost also explained that he didn't file an official protest at that point because it was a judgment call and that can't be the basis to play a game under protest.
That ended the inning and got Tigers pitcher Max Scherzer out of hot water.
"It's like they always say in baseball: Something happens every day that you don't really ever see and that's another one," Hosmer said.
Immediately thereafter, in the top of the seventh, the Tigers scored twice against Shields to take a 3-1 lead.
J.D. Martinez singled between two outs and Suarez walked, both runners moving into scoring position on Shields' wild pitch. Tyler Collins, batting for Bryan Holaday, singled up the middle to score Martinez. Rajai Davis followed with a soft line-drive single to right that scored Suarez.
"I think what got me right there was the walk to Suarez," Shields said. "I thought two, maybe three of those pitches were close to being strikes right there, but I can't walk him in that situation, put him in scoring position and allow him to score a run right there. On Rajai, I made my pitch, he just jammed himself."
The Tigers' first run off Shields came on Torii Hunter's leadoff homer in the fourth inning. The Royals tied the score on Jarrod Dyson's double and Alcides Escobar's single, one of his four hits.
Scherzer was finished after seven innings and the Royals cut the lead to 3-2 with a run in the eighth off Joba Chamberlain. Perez singled with two outs. Lane Adams ran for him, took second on a wild pitch and scored on Hosmer's single to right.
All of which set up a promising albeit futile ninth-inning threat by the Royals against closer Joe Nathan. Dyson lined a one-out single to center. Escobar drilled a single to left and Dyson took second.
By now the joint, filled with 37,074 fans, was jumping.
The Tigers huddled; after all, it was Nathan who picked Dyson off second base in a crucial situation at Detroit. Yost said Dyson wasn't about to attempt a steal of third.
"Nathan was one-flat [second] to the plate. Dyson will take advantage, but that's pushing it right there," Yost said. "Nathan was extremely quick to the plate."
Effective, too. Nori Aoki bounced out, moving both runners into scoring position, leaving matters to Raul Ibanez, who pinch-hit for Josh Willingham. But he rolled out to first, ending the game.
Oakland, the leader in the AL Wild Card race, also lost on Saturday so the Royals remained a half-game behind the A's and are a half-game ahead of Seattle for the second spot.
"The good news is we're still in this thing," Shields said. "We're still up on the Wild Card and we've just got to put together some games here, and we've got to definitely win this next game tomorrow, avoid the sweep and have a really good road trip."
Dick Kaegel is a reporter for MLB.com. This story was not subject to the approval of Major League Baseball or its clubs.