Tigers put pinch on KC to stretch AL Central lead
Collins' go-ahead single in 7th helps push Royals 2 1/2 games back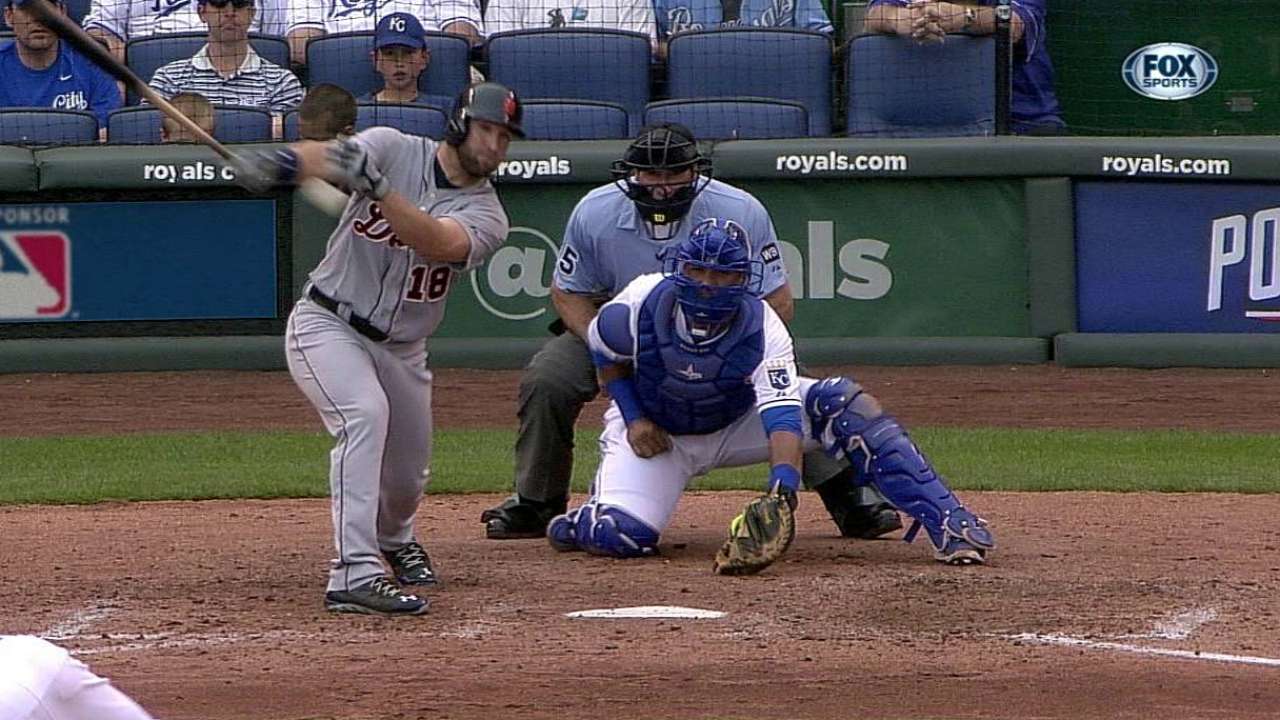 KANSAS CITY -- Hernan Perez and Tyler Collins have been late-inning situational players since joining the Tigers as September callups. The rookies combined for one plate appearance and zero innings in the field on Saturday. But in a two-inning stretch, they might have sent Detroit on its way back to the postseason -- one from the bench, the other coming off the bench.
If a 3-2 win over the Royals sends the Tigers towards a fourth consecutive American League Central title -- they're up 2 1/2 games on Kansas City pending Sunday's series finale -- then Perez and Collins deserve some extra consideration when postseason shares are decided.
"Nobody said anything yet," Perez said when asked if anyone had offered to buy him dinner after he spotted Salvador Perez not tagging at third base on his way to what would've been the Royals' go-ahead run in the sixth after the umpires reversed a safe call without replay.
Max Scherzer is on it.
"Oh yeah, whatever he wants," Scherzer said. "In that situation, he can have dinner, lunch, breakfast, drinks, you name it."
Hopefully, someone took care of Collins' meal, too. After all, it was his pinch-hit RBI single in a two-run seventh inning -- and manager Brad Ausmus' decision to trust a rookie in a big situation -- that put the Tigers ahead for good. Yet it was the appeal at third base on a potentially devastating defensive miscue that kept the game tied.
The play in question began when Omar Infante lined out to second baseman Ian Kinsler with runners at second and third and one out in a 1-1 game. Kinsler, seeing Eric Hosmer scrambling to get back to second, immediately looked for a chance to double him off and end the threat.
Shortstop Eugenio Suarez, making his first start in a week, was late getting to the bag. Suarez dashed over as the throw went behind him and into short left field. Salvador Perez, who was headed back to third, took off for home.
Perez scored easily, but he never touched third base before doing so.
"I was at the end of the dugout, so I could see the third baseman and second base," Hernan Perez said. "I was looking at the play at second and when I saw that Suarez missed the ball, I saw Perez, he didn't go back to the base. When that happened, I ran to [first-base coach] Omar Vizquel and told him to appeal at third base."
Vizquel told Ausmus, who appealed to third-base umpire Larry Vanover. However, Vanover told Ausmus the play couldn't be challenged. Ausmus gave the umps enough doubt to confer with each other, and eventually check with replay officials in New York.
They were told they couldn't review replay, even though a replay showed twice on Kauffman Stadium's giant videoboard behind them in center field as the crowd of 37,074 groaned. But they could confer, which they did twice.
"We started talking about what happened. We walked through the play," Vanover said. "We took a consensus of the information, out of that crew consultation. We came up with the answer that he didn't tag up. He didn't touch the base."
Ausmus lost the merits of his argument, but he won the ruling. However, he credited Perez.
"He's got great instincts around the game, and he was paying attention, much to his credit," Ausmus said. "And I'll give him the credit."
The Tigers, held to a Torii Hunter solo homer over the first six innings against James Shields, took advantage in the seventh. To do so, they had to turn to Collins, who had never faced him.
Hunter's 331st career home run -- tying him with Tigers Hall of Famer Hank Greenberg on Major League Baseball's all-time list -- was the lone run in a 16-inning stretch for Shields against Detroit until the seventh. Shields recovered from J.D. Martinez's one-out single to strike out Nick Castellanos, but the right-hander walked Suarez on four pitches to bring up Bryan Holaday.
"I thought two, maybe three of those pitches were close to being strikes right there," Shields said, "but I can't walk him in that situation."
Ausmus, who had hesitated to pinch-hit in the seventh inning earlier in the week, took his shot. On came Collins, whose RBI chance became easier once a Shields wild pitch advanced the runners.
"I just think of all the left-handed hitters we have in terms of needing to produce a run, he's probably the best suited for it," Ausmus said.
Collins followed with a ground ball through the middle, scoring Martinez easily. Rajai Davis' ensuing line drive into right field scored Suarez as an insurance run that became the difference once Hosmer lined a two-out RBI single off Joba Chamberlain in the eighth.
A game turned by two rookies ended with 39-year-old Tigers closer Joe Nathan facing 42-year-old Raul Ibanez with the winning run in scoring position. Nathan, with Joakim Soria warming up and his ninth-inning role potentially on the line with the division race, escaped with a groundout to first.
Jason Beck is a reporter for MLB.com. Read Beck's Blog and follow him on Twitter @beckjason. This story was not subject to the approval of Major League Baseball or its clubs.