MLB.com Columnist
Tracy Ringolsby
Kershaw's 20-win mark under unusual circumstances
Dodgers ace just second pitcher to reach milestone in 27 or fewer starts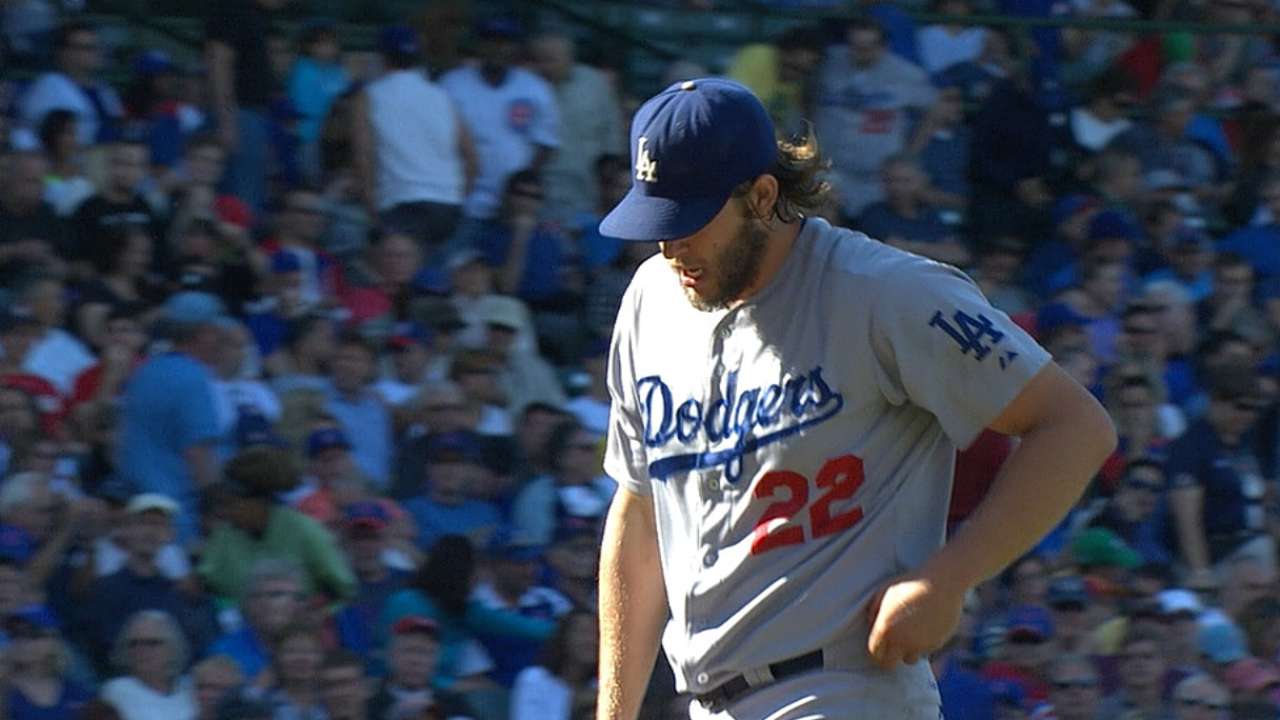 Clayton Kershaw winning 20 games is no surprise. He did it before, winning 21 games as a 23-year-old three years ago. And Kershaw will do it again.
What's impressive about this season is that Kershaw is 20-3 and missed a month. He has one start left, so he will win at least 20 games -- possibly 21 -- in 27 starts. Kershaw is only the second Major League pitcher to win 20 games in a season of 27 or fewer starts, according to Stats Inc., advance leaders search.
And the other?
Frequently mentioned in the same sentence as Sandy Koufax, Kershaw now finds himself in the history books with Ernie "Tiny'' Bonham, a 6-foot-2, 200-pound pitcher who went 20-5 in 27 starts with the 1942 New York Yankees. Bonham did have one relief appearance that year, but he did not have a decision in that game.
Bonham was bothered by back problems throughout his pro career, and his 27 starts in 1942 were the most he made in any of his 10 big league seasons. After going 79-50 with a 2.73 ERA in seven years with the Yankees, he was dealt to the Pirates and was 24-22 with a 4.11 ERA in three seasons in Pittsburgh.
Struggling to compete in 1949, Bonham told teammates he was going to retire after the season. He never got to the end of the season, tough. Bonham made his final start on Aug. 27, 1949, and then, on Sept. 5, he was admitted to a hospital for what was supposed to be an appendectomy.
When doctors opened Bonham up, they discovered he had intestinal cancer. He died on Sept. 15 that year from what was officially listed as irreversible shock and cardiovascular failure, according to SABR BioProject.
Bonham's wife, Ruth, became the first widow to collect death benefits under what was a new pension plan at that time. She received $90 a month for 10 years.
Making a pitch
Kershaw is definitely a National League MVP Award candidate, an honor a pitcher has not won in the NL since Bob Gibson in 1968. The argument against him will be that starting pitchers only contribute once every fifth game. But they do account for a lot of activity in those appearances.
Consider that Kershaw has faced 718 batters in his 26 starts, and he went into Saturday ranked 66th in that category among big league pitchers. David Price, now with Detroit, is No. 1 with 947 batters faced.
Tigers second baseman Ian Kinsler, meanwhile, leads Major League position players with 688 plate appearances.
Yes, pitchers do have the Cy Young Award, but hitters have the Hank Aaron Award. Both of those are based on who had the best season. The MVP Award can have a deeper significance if a voter takes into consideration the meaning of valuable.
Waiting game
With nine days remaining in the regular season, 12 teams were within four games of a postseason appearance, including the Orioles, Angels, Nationals and Dodgers, who have clinched four of the 10 postseason spots.
Is there about to be a fresh face hoisting the World Series trophy in late October?
Only three of the 12 teams have won a World Series since the A's beat the Giants in the earthquake-shaken 1989 World Series. The Giants were World Series champions in 2012, the Cardinals in '11 and the Angels in '02.
Three of the 12 teams have never won a World Series. The Brewers did lose to the Cardinals in the 1982 Fall Classic, but the Mariners and Nationals have never made it to the World Series. The Brewers have made four postseason appearances in their first 45 years -- 1981, '82, 2008 and '11. The Nats, who were created as the Montreal Expos in 1969, lost in the NL Division Series in '81, when they were in Montreal, and in 2012. The Mariners, who are in their 38th year of existence, were eliminated in the postseason in 2000, '01, 1995 and '97.
Among the other six, the Dodgers won the World Series in 1988, the A's in '89, the Royals in '85, the Tigers in '84, the Orioles in '83 and the Pirates in '79.
Century mark
Two teams could lose 100 games this season: Arizona and Texas. The Rangers need to win three games to avoid losing 100 for the first time since 1973 and the seventh time in franchise history. The D-backs need one victory to avoid the second 100-loss season in their history.
Only two franchises have never lost 100 games in a season -- the Rockies, who lost a club-record 98 games in 2012, and the Angels, who lost a franchise-record 95 games in 1968 and '80.
Traveling men
The Mariners faced a tough road in their late-season bid for an American League Wild Card spot. It is not just that they are in the midst of a three-city, 11-game road trip before finishing at home with three games against the Angels. The trip that started in Anaheim has them in Houston and then takes them to Toronto.
They will fly 5,662 miles during the trip, the final leg of a Major League-leading 51,540 air miles for the season. The Mariners petitioned MLB to change the schedule a year ago twice and were denied.
The teams aren't much help either. The Halos refused to play a day game on Thursday, which led to the Mariners getting into Houston around 5 a.m. Friday morning, and Toronto was reluctant to play a day game next Thursday, but did finally agree to a 4 p.m., start, which will make for a late arrival back in Seattle for that season-ending series against the Angels.
Tracy Ringolsby is a columnist for MLB.com. Read his blog, Write 'em Cowboy. This story was not subject to the approval of Major League Baseball or its clubs.