Matheny aggressive deploying 'pen in ninth inning
In tight game, Cards manager uses three pitchers to get through final frame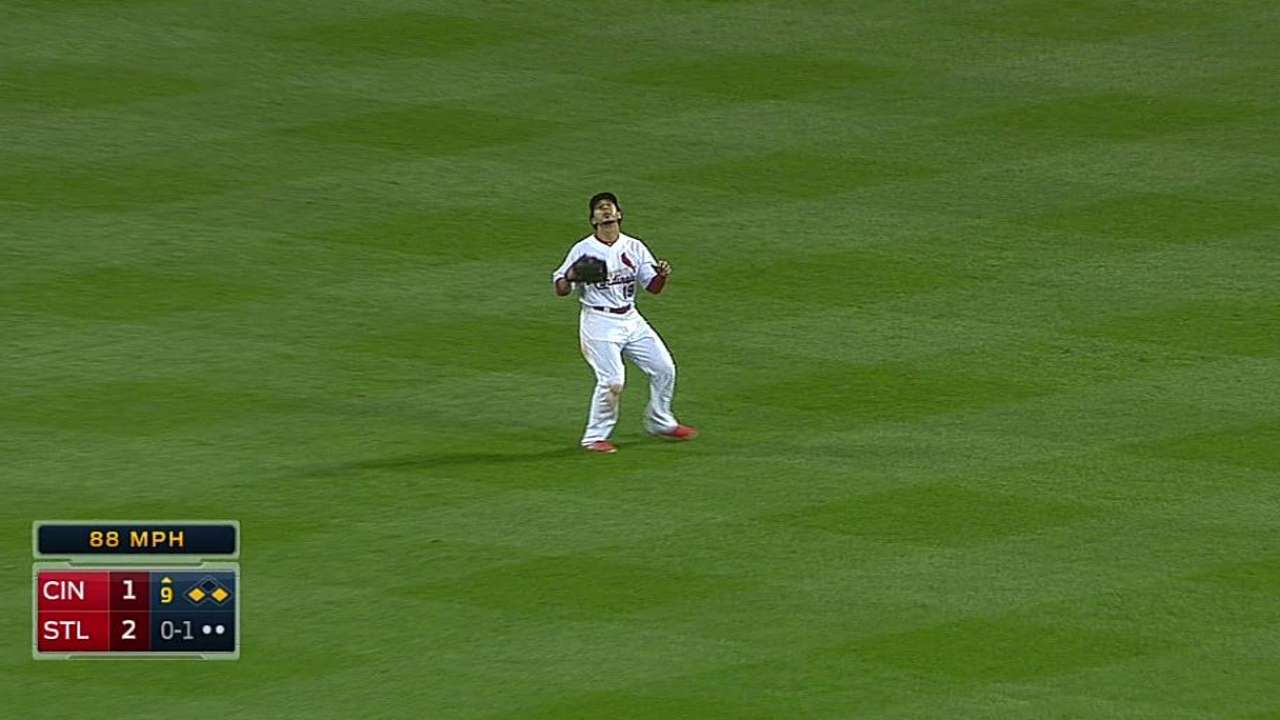 ST. LOUIS -- There was a time earlier this season when Cardinals manager Mike Matheny, asked about not having a reliever warming up behind Trevor Rosenthal, asserted his hesitation in creating the perception that he didn't trust his closer to work through the ninth.
Urgency and circumstances altered that approach significantly on Friday, where Matheny not only had two relievers up and throwing as Rosenthal entered, but also went to both in helping him get through the final inning. It was a maneuver that worked, too, in sealing a 2-1 win over the Reds at Busch Stadium.
Having used Rosenthal in four of the team's previous six games, Matheny had hoped to stay away from him on Friday. But with both Pat Neshek and Carlos Martinez shelved (also due to usage concerns), Matheny once again turned to his 24-year-old closer, but with a short leash.
"I put him in a tough spot today. I really did," Matheny said. "We had worked him really hard. We were able to back him off [recently] and we saw some benefits. And now we're obviously right near that finish line where we have to push. I pushed him hard. I knew it was going to be a stretch to get him in there today and have him right."
After working ahead in the count, 1-2, Rosenthal walked Todd Frazier to lead off the ninth. A one-out single by Brandon Phillips was enough to draw Matheny to the mound.
"I felt good and went out there and gave it my best," Rosenthal said. "I thought I made some good pitches. Obviously, the walk is a problem."
Matheny summoned lefty specialist Randy Choate to face Jay Bruce, who was 1-for-11 with seven strikeouts against the veteran left-hander. Choate, after working the count full, made it eight to keep the tying run frozen at third.
"I was telling somebody that I can't remember the last time I had that much adrenaline," Choate said. "I was really worked up. That was definitely a rush. I haven't really been in that spot a whole lot this year, and to be able and come in and strike him out in that situation was real nice. That was probably the biggest spot so far [for me] this year."
"He knows his craft," Matheny added. "He knows what he needs to do. He even gets deep in the count and I don't think anyone on our side is sweating it because he's constantly cat-and-mouse. He's got a real good idea of where he's been before with the big left-handers in the league."
With Seth Maness recording the final out, the Cardinals actually had five different pitchers garner the final five outs. A 13-man bullpen allowed Matheny to be as aggressive as he was in deploying relievers.
Jenifer Langosch is a reporter for MLB.com. Read her blog, By Gosh, It's Langosch, and follow her on Twitter @LangoschMLB. This story was not subject to the approval of Major League Baseball or its clubs.