McCann catches on quick with first MLB hits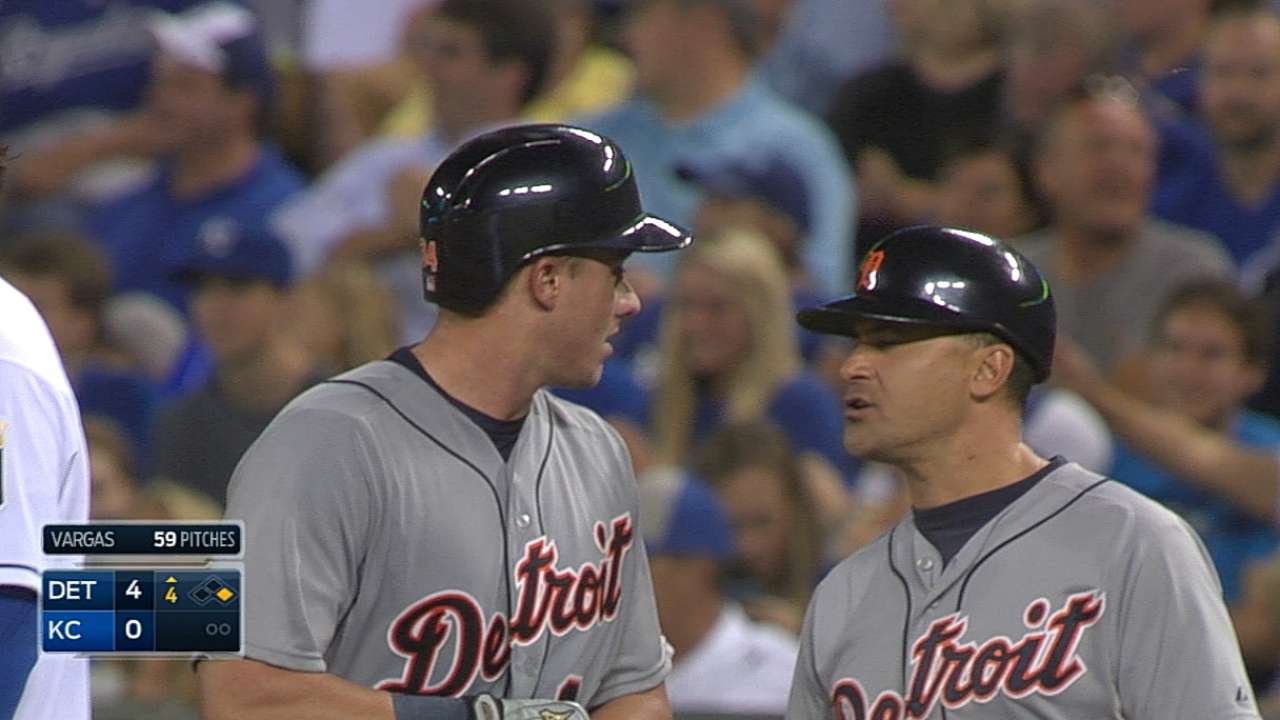 KANSAS CITY -- James McCann is viewed as a very realistic candidate to take over the Tigers' front-line catching duties one day. The audition period, however, has arrived sooner than anyone thought.
With Alex Avila sidelined with after-effects stemming from a concussion, the Tigers need a contingency plan as the playoffs near. McCann, who just a couple of weeks ago was a mere September callup, can expect to see significantly more playing time moving forward, starting with his two-hit performance in Friday night's 10-1 win over the Royals.
In his sixth Major League game and second start, McCann experienced a series of firsts -- his first hit, first stolen base, and, perhaps most significantly, his first time being paired with veteran Justin Verlander. Oh, and this was, by all accounts, a very big game, considering the first-place Tigers were visiting the second-place Royals with the division title within reach for both teams.
Nope, no pressure there.
The game wasn't close as the Tigers were already ahead 10-0 by the fifth inning, but it's likely McCann, the club's second-round pick in the 2011 First-Year Player Draft, won't forget the experience. He also admitted that he can relax a little bit now that the first hit, a single to center in the fourth inning, is in the books.
"I think I had five [at-bats] coming in tonight," McCann said. "It definitely feels like a monkey off your back. The more at-bats you go without that first knock, the heavier it seems. Thankfully, it's over. The biggest thing is we're in a pennant race and we got a win tonight."
McCann drew praise from both manager Brad Ausmus and Verlander, who lauded McCann's defensive skills and expressed confidence in the 24-year-old rookie moving forward. It helped, of course, that Verlander yielded one earned run over 7 1/3 innings, walking none and striking out four.
Prior to this pairing, the only time Verlander and McCann had worked together was when Verlander threw a bullpen a few weeks ago.
"He did a great job," Verlander said. "I can't say enough about how he did back there. We were on the same page a lot tonight. What an incredible job he did for the first time he's caught me in a game situation. He just did all the little things right."
Alyson Footer is a national correspondent for MLB.com. Follow her on Twitter @alysonfooter. This story was not subject to the approval of Major League Baseball or its clubs.