Phillies bats stay quiet in loss to Oakland
Buchanan solid in start, but Howard's HR all offense can muster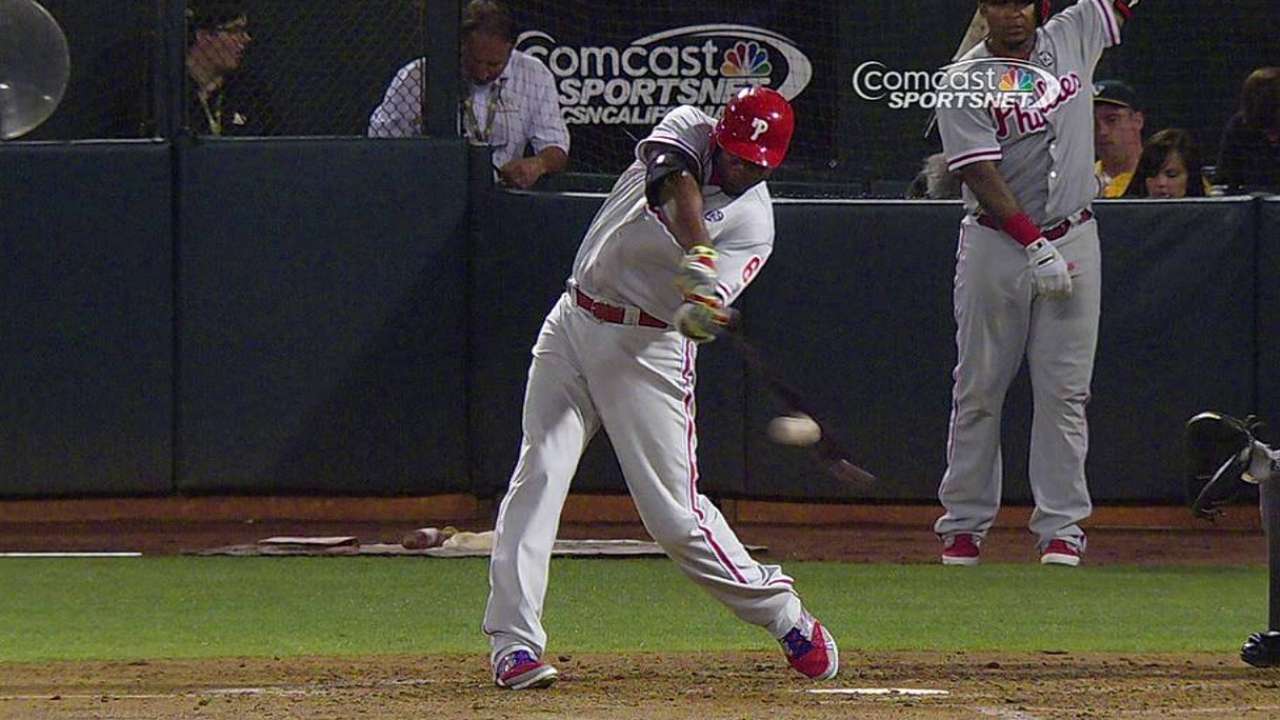 OAKLAND -- David Buchanan was good, not great, on Friday in the Phillies' first game at O.co Coliseum since 2008, but a three-run second inning by the hosts was enough to spell defeat against Jon Lester and the A's.
Philadelphia fell, 3-1, and has now dropped nine of its last 13 games on the heels of a 19-14 stretch. Over those 13 contests, the Phillies are averaging just 2.8 runs per game.
Buchanan lasted 6 2/3 innings and gave up three runs on six hits, striking out six and walking two. The rookie right-hander has now allowed three earned runs or fewer in 15 straight starts, though his record is 5-5 over that span.
"He's shown very good improvement," said manager Ryne Sandberg. "He's really making the most of this opportunity. He's come a long way in a lot of ways. He's very good with the running game, he's got some deception with his motion. He's gaining confidence as he goes along.
"As far as stuff, this could have been one of his better outings."
The Phillies' lone tally was a Ryan Howard solo shot off Lester in the fourth, continuing a season of strange offensive splits for the lefty. Ten of Howard's 22 home runs have come off left-handers, while his slugging percentage against southpaws -- .458 entering Friday -- is more than 100 points higher than his mark against righties.
"You got to hit lefties to get to the big leagues," he said. "Just got to continue to try to build on it."
Otherwise, the bats were quiet against Lester, who allowed five hits in seven frames to lift the free-falling A's to a much-needed victory. Lester's ERA is 1.68 over his last 18 outings, all of which have been quality starts.
"Using all his pitches, locating back and forth, in and out," said Marlon Byrd. "He used his breaking ball a lot more, so it's a little bit different than I remember him being in the past. He was changing it up, that differential -- 93 fastball to 77 for breaking stuff."
The Phillies forced Lester to throw 24 pitches in the first inning but were unable to capitalize.
"Early on it looked like he was missing on the corners," Sandberg said. "In some ways that would have been a good opportunity to take advantage of that, but he made some adjustments and started getting ahead of hitters."
Oakland mustered three RBI singles with two outs in the bottom of the second, and there was some tough luck involved for Buchanan. With runners on first and second, Derek Norris lined a base hit to right field that was bobbled by Byrd, allowing the slow-footed Adam Dunn to score easily.
Eric Sogard followed with a soft liner just past a diving Maikel Franco at third, and Coco Crisp added a perfectly placed grounder up the middle to plate the A's third run.
Other than that, the 25-year-old Buchanan was his usual solid self. He did not give up another hit until the sixth when Jed Lowrie led off with a triple, and Buchanan proceeded to fan Norris before Lowrie was cut down at home on a safety squeeze.
Justin De Fratus, called upon to retire Josh Donaldson with the bases loaded and two outs, did so with one pitch -- a popup to short.
Buchanan walked away with yet another quality start, though he claimed ignorance of the numbers.
"I don't even know those kinds of stats," he said. "I just try to go out there every time and throw up zeros, go out there for as long as I can."
The Phillies had a runner on third with one out in the eighth against Luke Gregerson, but Carlos Ruiz chopped one to third and Freddy Galvis was thrown out at the plate to kill the rally.
On Star Wars night at the Coliseum, the A's made the most of their second-inning chance, while the Phillies made little of their opportunities, going 0-for-5 with men in scoring position.
"That's how the game goes," Howard said. "I guess in the spirit of the Star Wars theme, the force was on their side."
Aaron Leibowitz is an associate reporter for MLB.com. This story was not subject to the approval of Major League Baseball or its clubs.