MLB.com Columnist
Barry M. Bloom
Timmy offers tested option to scuffling rotation
With Hudson fading down stretch, Giants have to consider Lincecum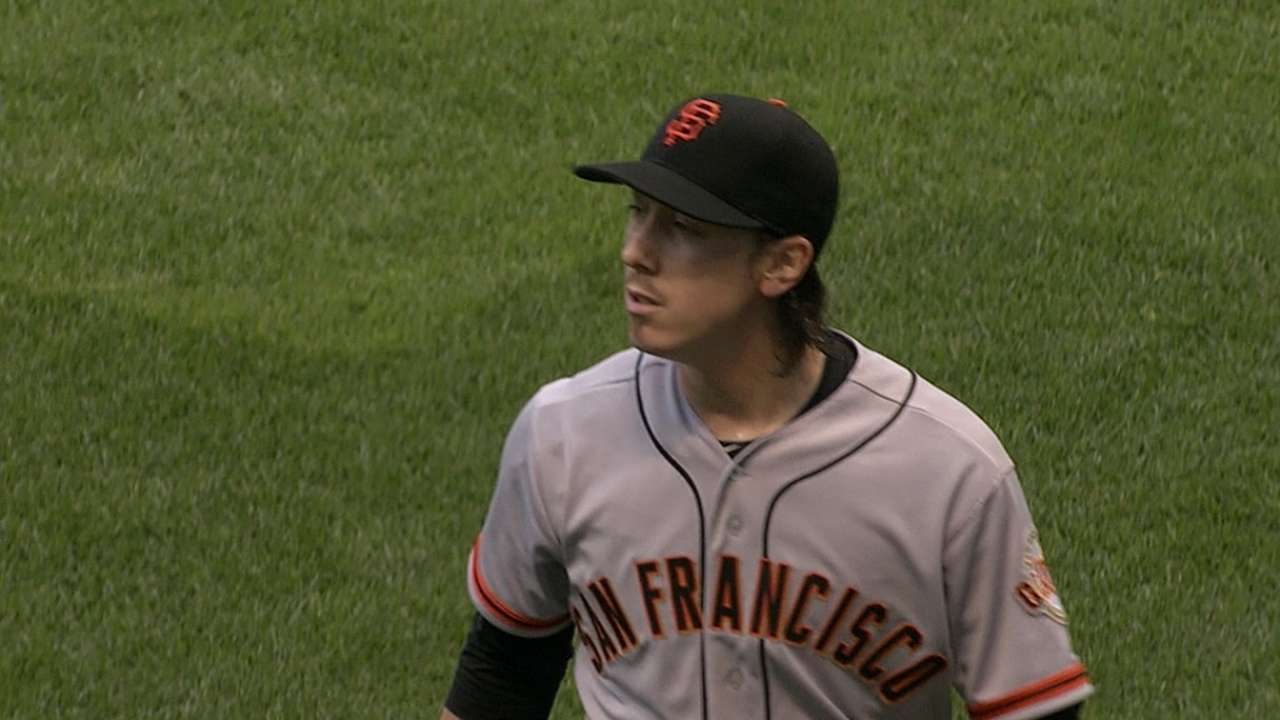 SAN DIEGO -- By virtue of Friday night's 5-0 loss to the Padres, it has become increasingly obvious that Giants manager Bruce Bochy and his staff have to consider replacing Tim Hudson in the rotation. Bochy might have found an alternative, and a tried and true one at that, in Tim Lincecum.
"I'd love the opportunity if it presents itself," Lincecum said after pitching two flawless innings in relief of the shaky Hudson on Friday night at Petco Park. "If people are pitching well enough, I'm not going to just try to sneak back in there. I feel like that's up to [Bochy], but I feel like I've got to deserve it as well."
Hudson certainly isn't pitching well enough. For the second consecutive start, the veteran right-hander imploded in the first inning. Six days after the Dodgers shellacked Hudson with six first-inning runs in what turned out to be a 17-0 loss, the Padres dinged him for four runs on four hits and a walk. The game was over just like that.
This time, Bochy let Hudson pitch into the fifth, but when Yasmani Grandal doubled with one out, Bochy went to the bullpen for Javier Lopez and Hudson was gone after 76 pitches. Lincecum worked the sixth and seventh, whiffing Cameron Maybin and Jake Goebbert to open the sixth.
Bochy said after the game he wasn't about to make any immediate decisions about the rotation.
"We'll talk about it, but we're not going to talk about it now," Bochy said. "It's always an alternative with Timmy. He was our starter for most of the year. He would be an option. Right now I just want to get him out there as much as I can so he can get his confidence back. He did a nice job those two innings and he should feel good about that."
Actually, save for a stint in the bullpen during the 2012 postseason, Lincecum has spent his eight-year career starting for the Giants, as 246 of his 252 appearances as a starter attest. During that span, Lincecum has pitched two no-hitters, won two National League Cy Young Awards and San Francisco has won the World Series twice. That's quite a resume.
No question, Lincecum has struggled with a lack of velocity and command for much of the past two seasons. He was taken out of the rotation this year after winning only once in eight starts after the All-Star break and hasn't made a start since losing to the Nationals on Aug. 23. Lincecum has been stuck on 99 career wins since defeating the Phillies six days earlier. The last time out, Lincecum followed Hudson in relief as the Dodgers continued their pummeling and the righty allowed five runs on seven hits in three innings.
In any event, the instant success on Friday night proved to be a big confidence builder for Lincecum. One has to figure that the Giants aren't committed to paying him $17 million for this season and $18 million next year to be lost in the netherland of middle relief.
"It felt good," Lincecum said. "It's nice to go in after a rough outing in L.A. and remind myself that I can still get outs. You get to that area of doubt where you wonder if you can still get outs. It just felt better, like I knew I was going to go out there and do something good."
The performance by the always likable and still boyish-looking Lincecum -- even at 30 -- couldn't have come for the Giants at a more propitious time. Though Bochy continues to say he's still going day to day, there are only nine games remaining and it is becoming increasingly likely that San Francisco will be playing in the NL Wild Card Game on Oct. 1.
Bochy will soon have set up his rotation accordingly, starting his ace, Madison Bumgarner, in that single-elimination tussle. That will skew the rest of the rotation if they ascend to the NL Division Series. In that best-of-five round, they'll need four starters, with Bumgarner unavailable until either Game 3 or 4. The opener would go to Jake Peavy, currently the second-best starter on the staff. Ryan Vogelsong would probably get Game 2. That would leave one of the next two starts either to Hudson, Lincecum or Yusmeiro Petit, who has pitched well since replacing Lincecum in the rotation.
There had been some talk that Lincecum might be left off the postseason roster, a la Barry Zito in 2010. But with Hudson suffering through a hip issue and having been pelted for 30 hits and 20 runs -- 18 of them earned -- in 16 1/3 innings during his last four starts, that talk has surely passed.
If the Giants make it that far, they're going to need every healthy, able-bodied arm they can get.
"He did a good job," Bochy said about Lincecum. "It was good to see Timmy go out there and pitch well."
Barry M. Bloom is a national reporter for MLB.com and writes an MLBlog, Boomskie on Baseball. Follow @boomskie on Twitter. This story was not subject to the approval of Major League Baseball or its clubs.