Francona sets AL record with pitching change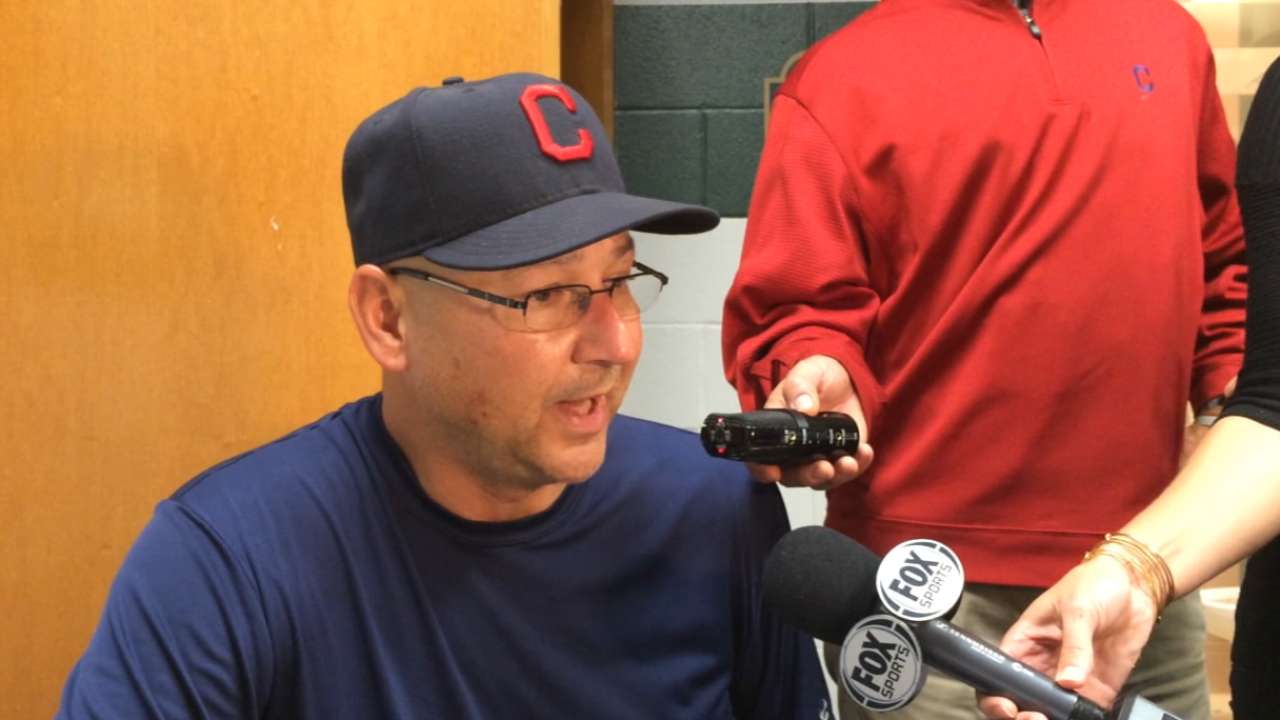 MINNEAPOLIS -- The phone inside the Indians' bullpen has rung more than any other in the history of the American League.
When Indians manager Terry Francona exited the visitors' dugout at Target Field and strolled to the pitcher's mound in the seventh inning on Friday night, he set a new standard for bullpen usage. Marc Rzepczynski's outing against the Twins marked the 541st relief appearance by Cleveland this year, setting a league record.
"That was not the goal going into the year," Francona said with a smirk prior to Friday's game. "What's amazing to me is, normally, if that's the case, your bullpen is getting roughed up. They just continue to be a weapon. That is all because of, not only their ability, but their work ethic."
Francona was asked if he knew who set the previous record.
"Tony La Russa?" asked the manager.
No, in fact, it was Francona who set the prior mark by calling Cleveland's bullpen 540 times during the 2013 season, when the Indians reached the AL Wild Card Game. This year, the Tribe is in the middle of the Wild Card hunt once again and the team's reliable relief corps has played an integral role in keeping the club afloat in the postseason chase.
According to baseball-reference.com, there had been 63 teams in the past 100 seasons to reach at least 500 combined relief appearances in a single season, entering Friday. Among those teams, Cleveland's 3.16 bullpen ERA ranked third overall and first among the seven AL clubs on the list. The Major League record is 588, which was set in 2007 by the Nationals under former manager Manny Acta.
Veteran Tribe reliever Scott Atchison said Francona, along with pitching coach Mickey Callaway and bullpen coach Kevin Cash, have done a good job of keeping a close eye on the relievers' respective workloads. To that point, Cleveland's 487 relief innings heading into Friday's action were ranked 52nd among the 63 teams with at least 500 relief appearances in a season.
"Some of it is a testament to how versatile our 'pen is," Atchison said. "We have so many guys that can do so many different things. ... They've used us the right way. If you're going to have this much use, they've used us all well and given us breaks. Everybody feels good and strong and healthy. Nobody is coming in every day saying, 'I can't go, because I've been used too much.' They monitor all that."
Helping to distribute the innings has been the fact that the Indians have carried at least eight relievers for most of this season. That, combined with the starting rotation's strong second half, has contributed to Cleveland's bullpen remaining a strength deep into September.
"We've asked a lot of them," Francona said. "We've tried to pitch them as much as we can without going too far. And part of what I think has helped is we trust every one of them to be honest with us [about how they're feeling]. ... They are answering the call and they complement each other."
Jordan Bastian is a reporter for MLB.com. Read his blog, Major League Bastian, and follow him on Twitter @MLBastian. This story was not subject to the approval of Major League Baseball or its clubs.