Lackey puts Cards close to postseason berth
Right-hander allows one run; St. Louis' magic number at two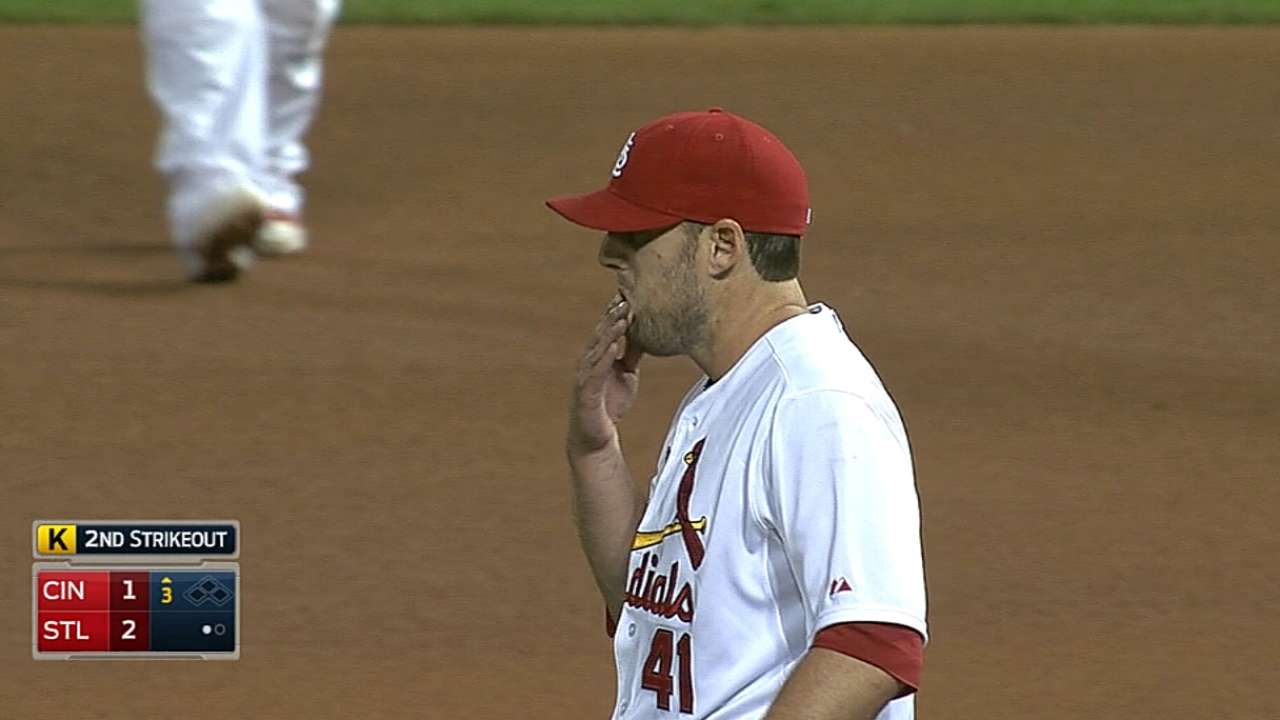 ST. LOUIS -- Whether John Lackey wanted the schedule change or not (and his postgame comments suggested that he most certainly did not), the Cardinals' decision to include a few extra days of rest before his first post-ejection start offered a huge payoff at a critical time on Friday.
Boosted by back-to-back homers in the first inning, Lackey, with the defensive aid of Jon Jay, dominated a Reds team that had pestered him his last time out. With his best start as a Cardinal, Lackey pitched the Cards closer to a postseason berth with a 2-1 win in front of the season's 50th sellout at Busch Stadium. The team's 30th one-run win was closed by committee, as four different relievers combined to record the final four outs.
Coupled with the Brewers' loss in Pittsburgh on Friday, the Cardinals positioned themselves for a possible clinch on Saturday. Their magic number for a division title sits at seven, but a repeat of Friday's result on Saturday -- a Cardinals win and a Brewers loss -- would ensure St. Louis of at least a Wild Card bid.
"We win a lot of close, low-scoring games," Lackey said afterward. "I think there is definitely a skill in winning tight games, and I think this team has it. That's kind of the way playoff games end up. We're going to have plenty of experience with that if we get there."
The win was on the precipice of dissolving in the ninth when closer Trevor Rosenthal, pitching for the fifth time in seven games, let two of the first three batters reach. It was a mess manager Mike Matheny chose not to let the young closer get himself out of. Lefty specialist Randy Choate entered to pitch in just the spot he was signed for, and he stepped up with a strikeout of Jay Bruce. Seth Maness secured the third out.
"Choate and Seth did an amazing job of coming in and getting those two outs," Rosenthal said.
The Cardinals' offense came quickly and compactly, as outfielders Randal Grichuk and Matt Holliday blasted homers off Reds starter David Holmberg in a span of four pitches. Grichuk, in the lineup because of his numbers against lefties, improved to 9-for-27 off them since returning from the Minors last month.
With his homer, Holliday now sits one shy of securing the ninth straight 20-homer season of his career. The back-to-back blasts were the second of the season for the Cardinals, with the others coming on July 5 when Allen Craig and Jhonny Peralta went deep against the Marlins.
"I tried to get in on Grichuk and left it over the plate. He took advantage of it," Holmberg said. "I left a changeup high enough for Holliday to get to it."
Holmberg wouldn't make any additional mistakes, though the Cardinals didn't need them, as Lackey was pitching with something to prove. Less than thrilled about appearing three days later than expected, Lackey wanted to prove himself the big-game pitcher that the Cardinals thought they had acquired in July.
He also wanted to showcase why he intends to figure prominently in the organization's October plans.
"I've got plenty of edge," Lackey said, "but there might have been extra tonight."
Starting the opener of the team's final regular-season home series and feeling refreshed after throwing only two innings over the last 13 days, Lackey had merely one hold-your-breath inning. That came in the second, and Jay helped snuff it out with a leaping catch at the wall to rob Ryan Ludwick of an extra-base hit with two on.
Jay would cheat Ludwick out of another hit in his next at-bat, too, with a basket catch as he leaped backward into the wall.
"You just want to contribute, especially at this time of year when every win is so important," Jay said. "I was happy I was able to contribute out there."
Lackey did allow an RBI single to Zack Cozart immediately after Jay's first web gem, but that momentum was squelched when Cozart was thrown out trying to advance an extra base on Grichuk's throw home. Reds manager Bryan Price challenged the call, but it would stand after replay review.
That ended the inning and the final threat of the night against Lackey. The Reds mustered three singles the rest of the way against the right-hander, who was removed with two outs in the eighth after allowing the last of those hits. Lefty reliever Sam Freeman closed out the inning for him with an assist from second baseman Pete Kozma, whose quick change-of-direction diving stop was enough to keep pinch-hitter Kris Negron from tallying a hit and the speedy Billy Hamilton from heading to third.
"That's a big play, a tough play to change direction like he did," Matheny said. "He's very athletic. You have Hamilton on base at that point, too, so who knows what is going to happen."
With the quality start, Lackey extended the rotation's run of starts with one or fewer earned runs allowed to eight.
"The ball was coming out better," said Lackey, who had allowed eight runs over his previous two starts (eight innings). "When you don't have to manufacture effort, it's easier to locate. I was locating the ball better tonight."
Jenifer Langosch is a reporter for MLB.com. Read her blog, By Gosh, It's Langosch, and follow her on Twitter @LangoschMLB. This story was not subject to the approval of Major League Baseball or its clubs.