Holmberg solid, but Reds can't snap skid
Offense unable to rally after lefty allows back-to-back home runs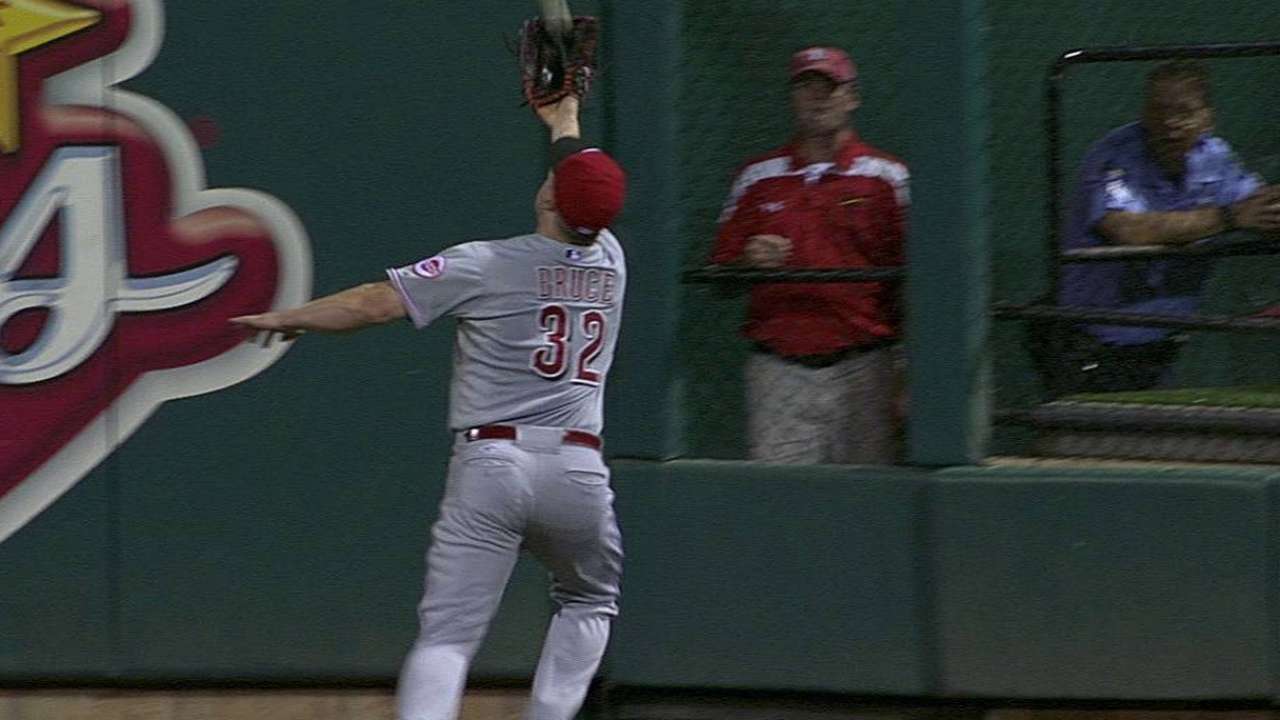 ST. LOUIS -- Reds manager Bryan Price has talked about wanting his club to finish the disappointing 2014 season strong. Playing only division rivals with playoff aspirations in the remaining games, Price would like to see Cincinnati play a spoiler role.
Wanting and hoping seems like a far cry from actually getting lately. The Reds dropped their fifth straight game and have lost six of their last seven with a 2-1 loss to the Cardinals on Friday at Busch Stadium. It extended their undesired Major League lead of 38 one-run defeats this season.
"To be honest with you, it's to the point where you get tired of talking about the same game," Price said. "Losing 2-1, 3-2, at some point in time we've got to do something to win some of these games. It's been a scuffle for everybody."
The Reds (71-83) have scored two runs over their last four games and four runs over the last five.
In another solid outing, rookie David Holmberg gave the Reds six innings and allowed two earned runs on five hits with three walks and three strikeouts. The game was essentially decided in the bottom of the first inning when Holmberg surrendered back-to-back home runs with one out.
Randal Grichuk lifted an 0-1 fastball to left field for his second homer of the season. On a 1-1 changeup, Matt Holliday launched a homer to center field -- his 19th of the season.
"I made a couple of mistakes," said Holmberg, who has given up three runs over his last 18 2/3 innings. "I tried to get in on Grichuk and left it over the plate. He took advantage of it. I left a changeup high enough for Holliday to get to it. I felt like after that, I was going to make sure I didn't make those mistakes again. I got the ball in on guys and sank it down and away."
It was the 11th time this season that the Reds' pitching staff gave up back-to-back home runs. After a Matt Adams two-out single in the first inning, Holmberg gave up only two more hits, including a Holliday double in the third inning.
Two runs allowed in the first inning usually doesn't spell doom, but it's felt like an insurmountable deficit for the Reds this season.
"It sounds like the same old story here," Price said. "It certainly could have been a lot worse if David didn't do his thing and give us a chance to win with six good innings of two-run baseball."
The Reds got one of the runs back in the top of the second inning against Cardinals starter John Lackey. Singles by Devin Mesoraco and Jay Bruce put runners on first and second base with one out. Ryan Ludwick was robbed of extra bases when his drive to center field was caught by a leaping Jon Jay at the wall. Zack Cozart drove in Mesoraco with an RBI single to right field, but he was the third out trying to advance to second base on the throw to the plate.
Lackey completed 7 2/3 innings with only 87 pitches and gave up six hits and no walks with five strikeouts.
The final five outs were strung together by five different Cardinals pitchers. In the ninth, closer Trevor Rosenthal walked leadoff batter Todd Frazier and was pulled after a one-out bloop single by Brandon Phillips. Lefty Randy Choate was called on to face the lefty-hitting Bruce.
Although Bruce was 1-for-11 with seven strikeouts lifetime vs. Choate, Price did not opt for a pinch-hitter. Bruce struck out on a full-count pitch away and outside the strike zone. Right-hander Seth Maness took over and got Ludwick to fly to center field for the final out.
"The matchups with Jay weren't great. But he's certainly one of our guys. He's been scuffling but he's one of our guys," Price said. "Luddy hits Maness pretty well. It's a broken record, as we're just not scoring enough runs."
Mark Sheldon is a reporter for MLB.com. Read his blog, Mark My Word, and follow him on Twitter @m_sheldon. This story was not subject to the approval of Major League Baseball or its clubs.