Bour homers, but Marlins can't bail out Koehler
Righty creates early hole with two-out runs; rookie hits first, plates two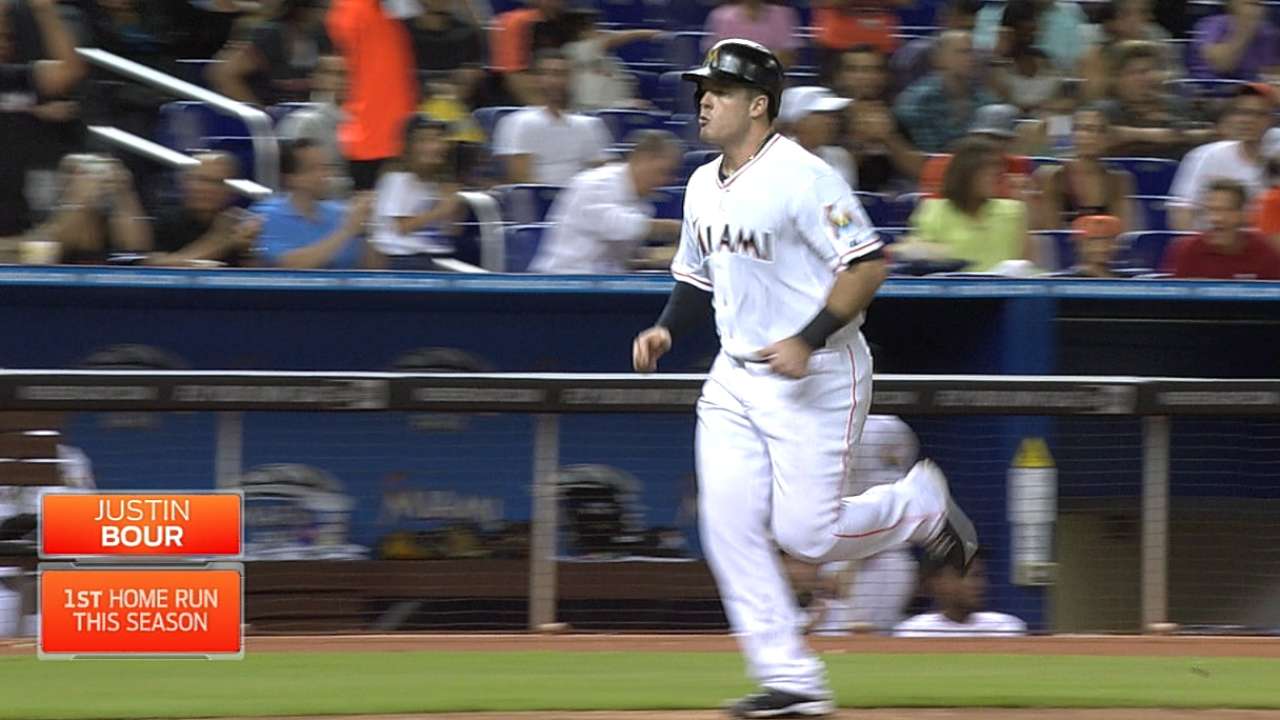 MIAMI -- The Marlins had moments to savor. Justin Bour blasted his first big league home run, showing the kind of power the team has seen in batting practice but not in a game until Friday night. And Tom Koehler worked out of a bases-loaded, no-out jam.
But it was the Nationals who did what was necessary to pick up another valuable win. Doug Fister allowed two runs in 6 2/3 innings and Adam LaRoche blasted a two-run homer as Washington edged Miami, 3-2, at Marlins Park.
"Those guys put the balls in the seats. That's what they do," Miami manager Mike Redmond said. "If you're at the middle of that order, they've got what, four guys with 80 RBIs? Those guys can do some damage."
The Marlins have dropped the first two in the four-game set, and they moved to the brink of being mathematically eliminated from the postseason. With Pittsburgh's win over Milwaukee on Friday night, Miami's elimination number is now one.
Even if the Marlins win on Saturday, they can be eliminated if the Pirates also win.
At 74-79 with nine games remaining, the Marlins are a half-game ahead of the Mets for third place in the National League East.
But Miami is showing flashes, and Bour was a bright spot. In his 46th MLB at-bat, the 26-year-old connected on his first home run. It was an impressive blast to right-center that reached the second deck. The ball deflected back onto the field, where right fielder Jayson Werth collected it and flipped it into the Marlins' bullpen, giving the Miami first baseman a keepsake.
"It's not as enjoyable as if we had won," said Bour, who belted 18 homers at Triple-A New Orleans this year. "But it's definitely very cool, and I'm very excited that it happened. It took a little longer than I thought it would. But I'm glad it did."
Koehler worked five innings, giving up three runs, but his night was over after 98 pitches. The Nationals grabbed the early lead against him on LaRoche's two-out, two-run homer to right in the first. Koehler was hurt by a two-out walk to Werth. LaRoche capped an eight-pitch at-bat with his 25th homer of the season, bumping up his RBI total to 88.
"First inning, a two-out walk, followed by going 3-2 to a guy and grooving him a fastball," Koehler said. "He hasn't missed many this year. I kind of put the team behind the eight ball right after the first."
Miami got on the board in the second when Marcell Ozuna tripled and scored on Bour's RBI groundout to third.
Because of his power potential from the left side, Bour is an interesting prospect for Miami. Down the stretch, he is expected to receive more playing time, which should help his overall development heading into Spring Training.
"This guy hit a lot of home runs in the Minor Leagues, and we'll see," Redmond said. "We'll try to get him as many at-bats as we can, and we'll see what he can do up here against big league pitching. He's a big strong guy. He has a lot of power. We'll see how it plays up here."
In the third, Koehler loaded the bases with no outs, but got out of the jam by striking out LaRoche looking at a breaking ball before Ian Desmond lined sharply to Enrique Hernandez. The Miami second baseman dashed to second to complete the inning-ending double play.
Washington, however, padded its lead to 3-1 in the fourth on Denard Span's two-out RBI single.
"I think it comes back more to the fact that I wasn't executing my pitches throughout the at-bats," Koehler said. "There were some situations where I made some pitches when I needed to get out of some jams, but I fell behind a lot. I didn't throw quality breaking balls for strikes. Any time you do that against a lineup like that, you're going to get in trouble. You've got to work harder."
Bour's homer was the last bit of damage the Marlins were able to do off Fister.
"I definitely wasn't as sharp as I should've been," Fister said. "There were some hard-hit balls that our guys made some great plays on. That's a tribute to our defense. Guys put together a lot of good at-bats today. We stuck together and played as a team, and it works for us. We grind out the one-run ballgames and make them work."
Joe Frisaro is a reporter for MLB.com. He writes a blog, called The Fish Pond. Follow him on Twitter @JoeFrisaro. This story was not subject to the approval of Major League Baseball or its clubs.