Broxton, Crew again on wrong end of replay
Reliever slow to cover first in eighth, allows go-ahead homer three batters later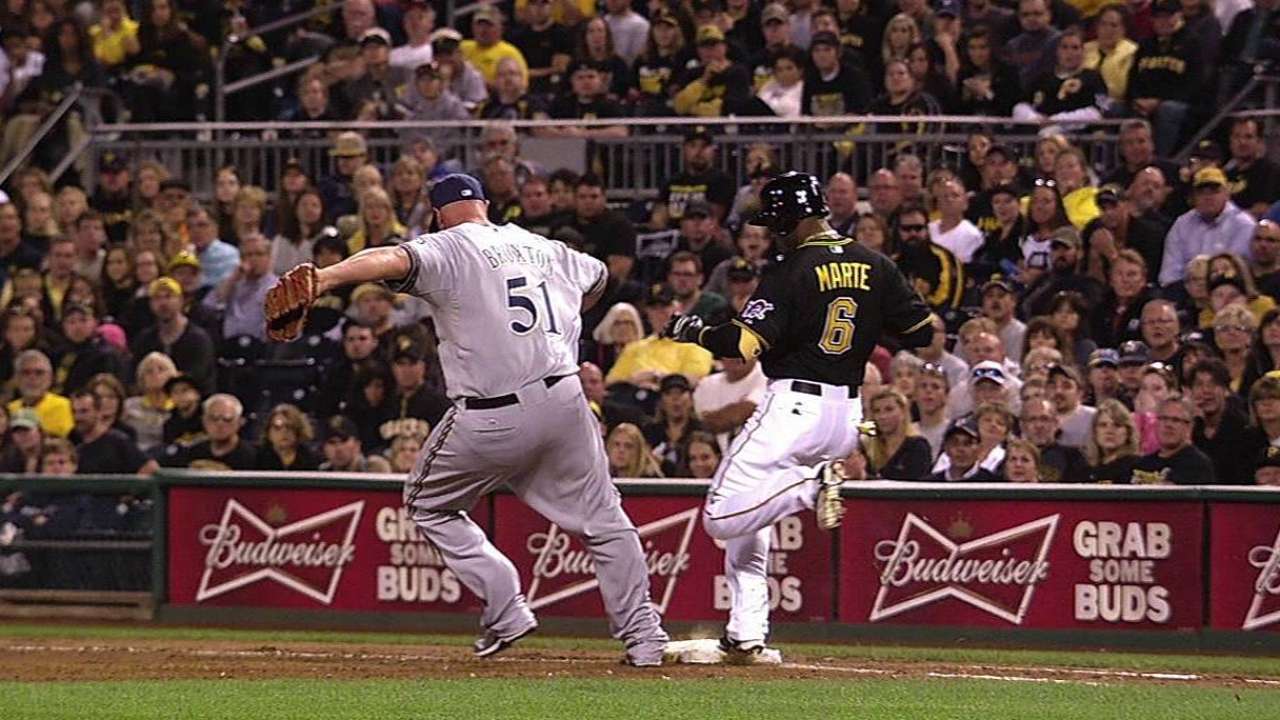 PITTSBURGH -- For the second straight night, instant replay didn't favor Brewers reliever Jonathan Broxton.
Burned by an overturned call during a Cardinals rally the night before, Broxton again surrendered a lead after a close call was confirmed during the eighth inning of Friday's 4-2 loss to the Pirates. Brewers manager Ron Roenicke challenged after speedy Pirates outfielder Starling Marte led off the inning with an infield hit, racing to the bag along with Broxton while Brewers first baseman Mark Reynolds made an underhand toss.
Marte was ruled safe by umpire Marty Foster, a call confirmed with a brief review. Three batters later, with two men aboard and one out, Pirates catcher Russell Martin connected against Broxton for a go-ahead home run in what became a 4-2 Pirates win.
"They got [the call] right," Roenicke said. "From what I saw, they got it right."
Roenicke suggested Broxton should have been quicker to first base on the play.
"We didn't make a play again. We got another jam-shot ground ball to first, and that should be an out," Roenicke said. "That changes the whole ballgame, if you get the first batter out."
The at-bat against Martin also changed when the veteran Pirates catcher checked his swing on an 0-and-1 pitch, according to the umpires. The Brewers believe it should have been the second strike.
"Sure it does [change the at-bat]; it's 0-2 and it makes [Martin] defensive, and we throw a different pitch," Roenicke said. "And he did swing on it. We're not getting calls, but let's make plays. Let's go! It shouldn't come down to that. Shoot, [Broxton] has got great stuff, he can get these guys out."
Including his four runs Friday, Broxton has allowed 20 earned runs, five home runs and 11 walks in 13 2/3 career innings at PNC Park.
"I haven't pitched very well here, but that's part of baseball," he said. "You have to pitch at every park."
On Thursday in St. Louis, Broxton was briefly out of a more tenuous jam in the eighth when Matt Holliday was ruled out on a headfirst slide into first base. But that call was overturned upon review, Holliday was credited with an infield single, and Broxton walked the next batter with the bases loaded to tie the game in what became a 13-inning Brewers loss.
Adam McCalvy is a reporter for MLB.com. Read his blog, Brew Beat, and follow him on Twitter at @AdamMcCalvy. This story was not subject to the approval of Major League Baseball or its clubs.