Papi passes Williams for most 30/100 seasons with Red Sox
Ortiz launches 33rd homer on Friday to touch century mark in RBIs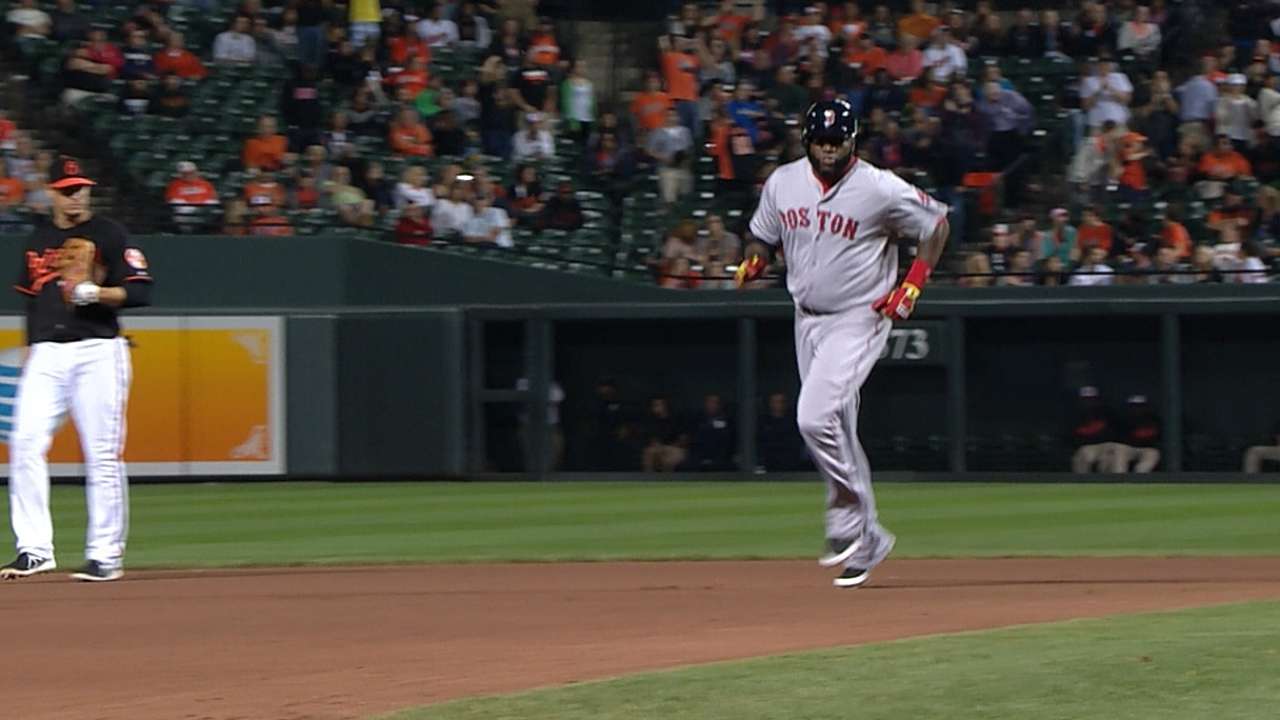 BALTIMORE -- When David Ortiz's 33rd home run of the season soared over the right-field wall at Camden Yards on Friday night, it gave him RBI No. 100, meaning the slugger had achieved yet another milestone.
The eighth 30/100 season allowed Ortiz to surpass the late, legendary Ted Williams for the club's all-time record.
"Just another season," said Ortiz. "Too bad we are in the situation we are in, but just like I always say, just a compliment when your name is attached to a legend like Mr. Williams. Something that is based on a lot of consistency and work."
Williams, however, still has the most 100-RBI seasons in Red Sox history at nine. Ortiz is tied with Hall of Famer Jim Rice with the second most.
At the age of 38, Ortiz is the oldest player to have a 30/100 season since Frank Thomas did it at the age of 39 in 2006.
"I don't know if you can say enough positives and accolades for what David Ortiz not only did tonight, but what he's done over an incredible career," said Red Sox manager John Farrell. "He comes up big twice again for us tonight, no bigger than in that 10th inning, and considering how many RBIs, how many home runs he contributed this year, I'd hate to think where we'd be without him."
Ortiz, it turned out, was just getting started. He ripped a single off the wall in right in the fifth and a two-run blast in the 10th that led the Red Sox to a 5-3 win.
"They call me Super Papi. That's right," quipped Ortiz. "Put it down like that. What else?"
Ian Browne is a reporter for MLB.com. Read his blog, Brownie Points, and follow him on Twitter @IanMBrowne. This story was not subject to the approval of Major League Baseball or its clubs.