Three-man rotation being considered for ALDS
Hamilton's status for postseason remains unknown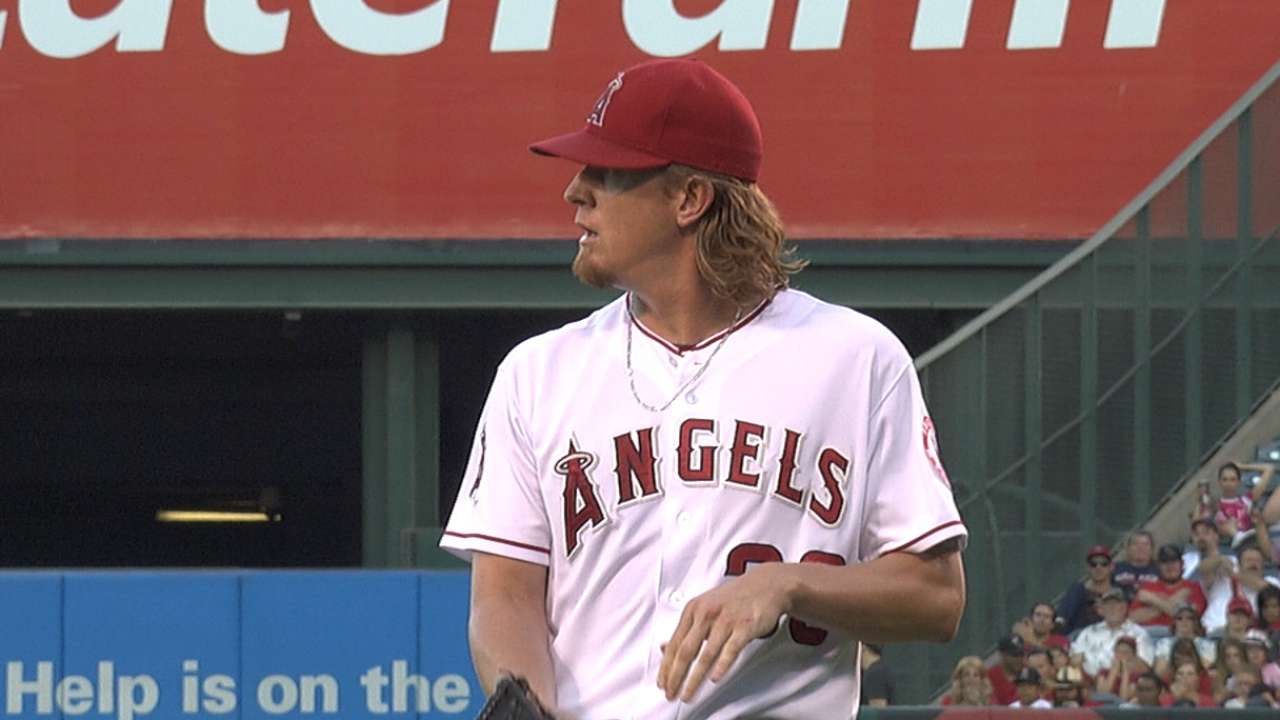 ANAHEIM -- For the first time on Thursday, the Angels' coaching staff went over their potential 25-man roster for the five-game American League Division Series that opens at Angel Stadium in a couple of weeks.
They'll meet one last time on Sept. 28, after their last game of the regular season from Oakland, and they'll spend the next nine days exploring multiple scenarios.
One suggestion that will get plenty of attention: Going with a three-man rotation, which would mean their ace, Jered Weaver, pitches on short rest in the ALDS.
"It's always something you consider in a short series," Scioscia said. "But we haven't made any decisions at all."
Weaver, who has accumulated 200 1/3 innings this season, was scratched from his Thursday start and will be on extended rest for each of his next three outings -- on six days' rest for Saturday, on five days' rest for the last Friday of the regular season and on five days' rest again for Game 1 of the ALDS on Oct. 2.
But that doesn't necessarily mean he'd be better suited to go on three days' rest thereafter, which would allow him to take the ball for Game 4 on Oct. 6.
"I don't know if you can bank rest," Scioscia said. "You run a marathon, but the fact you didn't run one two weeks ago means you should be able to run one the next day -- that's not the way it works."
Weaver has started on three days' rest only twice before, both times in 2011, when he gave up seven runs in six innings on Aug. 28 and two runs in six innings on Sept. 18. Riding a three-man rotation through the entire playoffs, like the Yankees did with CC Sabathia, A.J. Burnett and Andy Pettitte in 2009, is almost impossible now because there aren't enough off-days in between.
But it would make sense for the Angels in the first round.
They currently only have three healthy starters in Weaver, C.J. Wilson and Hector Santiago. And even if Matt Shoemaker's oblique strain heals before the end of the regular season -- as he expects it to -- Scioscia can keep Santiago in the bullpen to piggyback off a starter if needed.
"There are a lot of variables," Scioscia said, "a lot of hypotheticals that you can look at."
First Scioscia will see how his rotation shakes out, then he'll decide how many relievers he'll carry and then shift his focus to his position players.
In the meantime, he'll continue to monitor the progress of Josh Hamilton, who's nursing what the five-time All-Star described as "a sharp, stabbing pain" near his chest and right rib cage, underneath his armpit.
Hamilton underwent further evaluation on Friday, but Scioscia said "We're expecting him to be ready for the playoffs."
Still, Hamilton has only played once in the last 15 days, and hasn't been able to do much defensive work, and is at a point where even if he does make it back in time, he wouldn't have much time to establish any rhythm going into the postseason.
"I think there's some things that Josh brings," Scioscia said. "First of all, he's a tremendous defensive left fielder, which you would want him out there on the defensive side. If he doesn't have rhythm, then there's probably a way to find him a spot in the lineup where he can swing and still be that threat."
Alden Gonzalez is a reporter for MLB.com. Read his blog, Gonzo and "The Show", and follow him on Twitter @Alden_Gonzalez. This story was not subject to the approval of Major League Baseball or its clubs.