Naylor, Orimoloye among Canada's best youth players
Duo displaying their considerable talents in Tournament 12 at Rogers Centre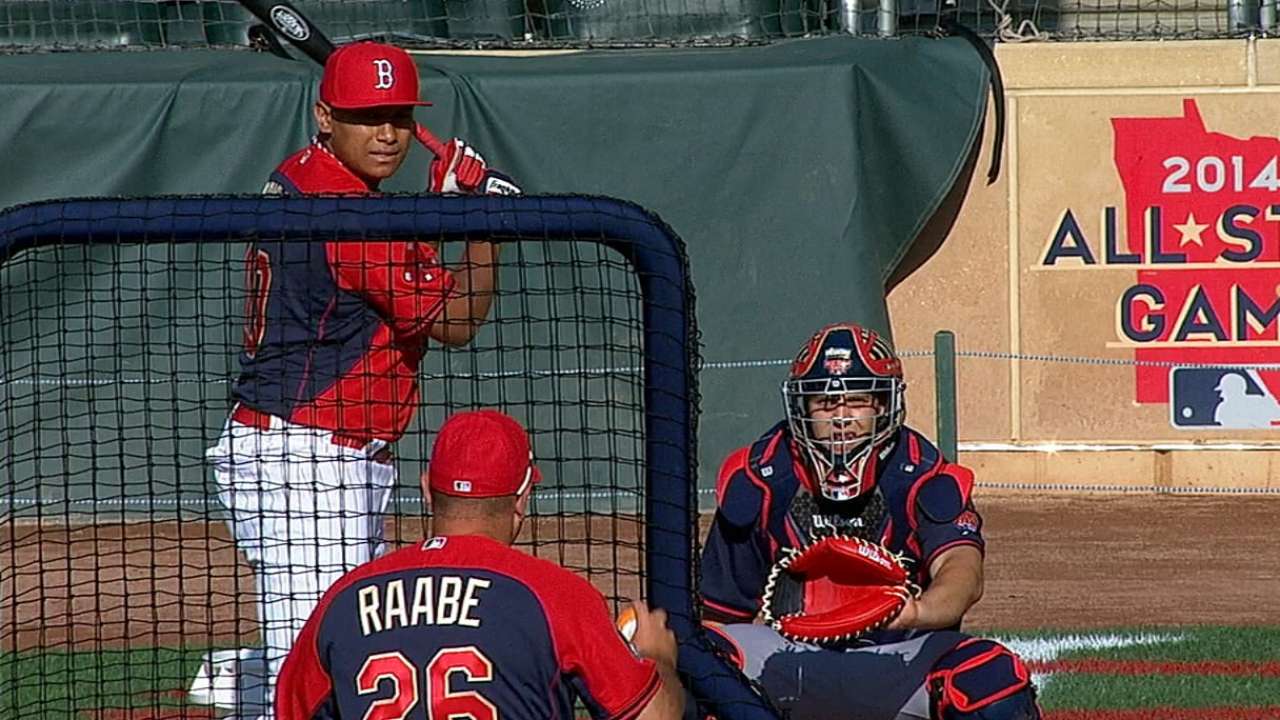 TORONTO -- The torch has officially been passed.
After Mariners farmhand Gareth Morgan -- a second-round pick in the 2014 First-Year Player Draft -- completed his last game for the Canadian Junior National Team at the 18U Pan American Championship in Mexico earlier this month, a clear-cut order was set in terms of the country's best youth baseball players.
The duo at the top are Josh Naylor and Demi Orimoloye and they appear destined to join Morgan in the professional ranks.
Naylor is best known for his power, while Orimoloye has received rave reviews for his athleticism.
"There are those two, and then there is everybody else," a scout for a Major League team said about the pair he considers potential first-round talent.
Orimoloye and Naylor were the headliners of Tournament 12, an amateur baseball showcase at Rogers Centre featuring 160 of the top draft-eligible players in the country. Both players missed the beginning of the event due to Hurricane Odile, which kept the Canadian Junior National Team stranded in Mexico for a few days. They arrived Thursday, working on little sleep, but the trip proved to be worth it.
Alongside Morgan, Naylor and Orimoloye propelled Canada to a bronze at the Pan American Championship, which helped the team qualify for the 2015 IBAF 18U World Cup in Japan.
"Gareth always says it's a grind, but if you want that to be your life occupation you have to do something to get better every day," Naylor said.
Asked what it's like to be considered one of the best amateur talents in Canada, Orimoloye's face lit up.
"It feels cool knowing that people think that," he said. "Me and Gareth are really close, so he has kind of guided me through this whole thing."
Greg Hamilton, the head coach of the juniors and director of the national programs, said Naylor has worked hard to improve his defense at first base. Another thing Naylor has going for him is that he's not short on confidence.
Hamilton said Naylor refuses to concede to more advanced players from countries like the United States. If he has a bad game against a polished pitcher throwing 95 mph, he doesn't make excuses.
"He has never done that," Hamilton said. "He goes out with the sense that he's an equal, if not better than he's facing. And then he has the ability to go out and back that up. There is no question that Josh will hit. He's fearless as a hitter and has complete belief in his ability."
Naylor, whom Hamilton describes as a pure hitter, backs everything up with his bat. It's that bat that has gotten him notice across the world stage.
The 6-foot-1, 225-pounder impressed at the prestigious Under Armour All-America Game at Wrigley Field in August. A month before that he was the runner-up in the Junior Select Home Run Derby, which took place during commercial breaks of Major League Baseball's Home Run Derby at Target Field.
"That was ridiculous; it was a big highlight," Naylor said. "Hanging out with Major Leaguers, you don't get to do that every day."
What impresses Hamilton the most about Naylor is that his power plays regardless of the competition, something the Canadian coach said is not frequent among amateur players.
"I think with a lot of young high school hitters that have power or plus-power potential, one of the greatest concerns you always have is whether they will get to the power enough," Hamilton said. "Will they make enough contact for that to come into play as they move up? He gets to his power consistently because he doesn't have trouble making contact. His hands are great and he sees the ball really well. It's a tool that I think that will carry all the way through."
Orimoloye, meanwhile, played in the same Under Armour All-America Game as Naylor, and the outfielder delivered a game-tying hit before scoring the winning run.
At 6-4, 225 pounds, it's easy to see why many across Canada see Orimoloye as a projectable prospect with a high ceiling.
"Demi began as an athlete playing baseball, not a baseball player who was an athlete," Hamilton said. "He's starting to put his game together. He has really made strides defensively and he has closed some holes offensively. From an athletic perspective, he has tremendous gifts. For him it's just a matter of putting those gifts into consistent performances."
Chris Toman is a contributor to MLB.com. This story was not subject to the approval of Major League Baseball or its clubs.