Lewis initiates contract talks with Rangers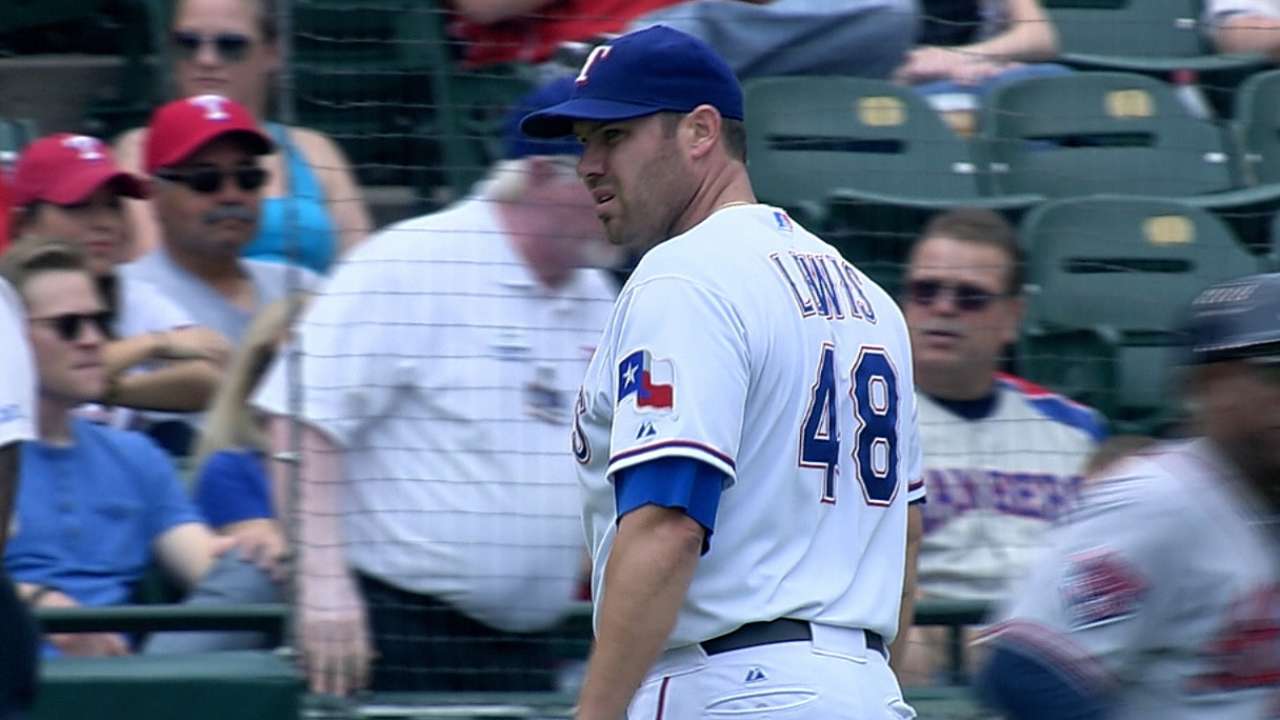 ANAHEIM -- The Rangers' two most prominent free agents this winter will be outfielder Alex Rios and pitcher Colby Lewis.
The Rangers are not expected to pick up their $14 million option on Rios for 2015. But they have already had informal conversations with Lewis about re-signing with the Rangers in 2015.
"I initiated it," Lewis said.
Lewis said he broached the subject with general manager Jon Daniels.
"He gave me a maybe yes," Lewis said.
Daniels said the Rangers expect to have more serious discussions with Lewis after the season. Lewis missed 18 months because of hip replacement and flexor tendon surgery but has shown that he is close to being the pitcher he was in 2010-11. He 10-13 with a 5.12 ERA in 27 starts this season but 4-7 with a 3.51 ERA in 11 starts since the All-Star break. He has two more starts: Saturday against the Angels and Thursday against the Athletics.
"I'm hoping they will put together some kind of offer that will make me want to come back," Lewis said.
The Rangers are going into the off-season looking for starting pitching, which is one reason they are expected to decline the option on Rios. The Rangers would like to re-sign Lewis and bring in at least one more veteran starter for depth.
Rios, who is sidelined with a bruised right thumb, has likely played his last game for the Rangers although he is still attempting to swing a bat. If the thumb feels 100 percent, he will try to play in the final week.
"I'm more concerned about my health," Rios said. "I want it to heal completely and I'm going to stick to that approach."
Rios has been bothered by the thumb and a sprained right ankle for much of the second half, which is why his numbers have fallen off since the All-Star break. He hit .305 with a .440 slugging percentage before the break and .211 with a .281 slugging percentage since then. His last home run was on July 6. He is tied for third in the league with eight triples but hasn't hit one since July 6.
"I'm not worried about the power numbers," Rios said. "I'm not a home run hitter but I can drive the ball. I think people know what I'm capable of bringing to the table."
Rangers manager Tim Bogar said Rios was having a "pretty decent season" before the injuries started limiting him.
"Everybody looks at Alex and says he should be driving the ball and hitting home runs," Bogar said. "But he was hitting for average, hitting in the middle of our lineup and helping out [Adrian] Beltre. He was doing the things he needed to be doing. He stayed out there [playing] longer than he should have with the thumb and that says a lot about Alex.
"I don't think it's fair to say Alex has to carry a team with power. There is more to Alex than that. I believe Alex can still drive the baseball once his physical ailments heal. The power is still there. He had to do some different things to protect himself with the thumb and ankle. But if you watch in batting practice, it's still there."
T.R. Sullivan is a reporter for MLB.com. Read his blog, Postcards from Elysian Fields, and follow him on Twitter @Sullivan_Ranger This story was not subject to the approval of Major League Baseball or its clubs.