Dodgers have bigger goals after clinching berth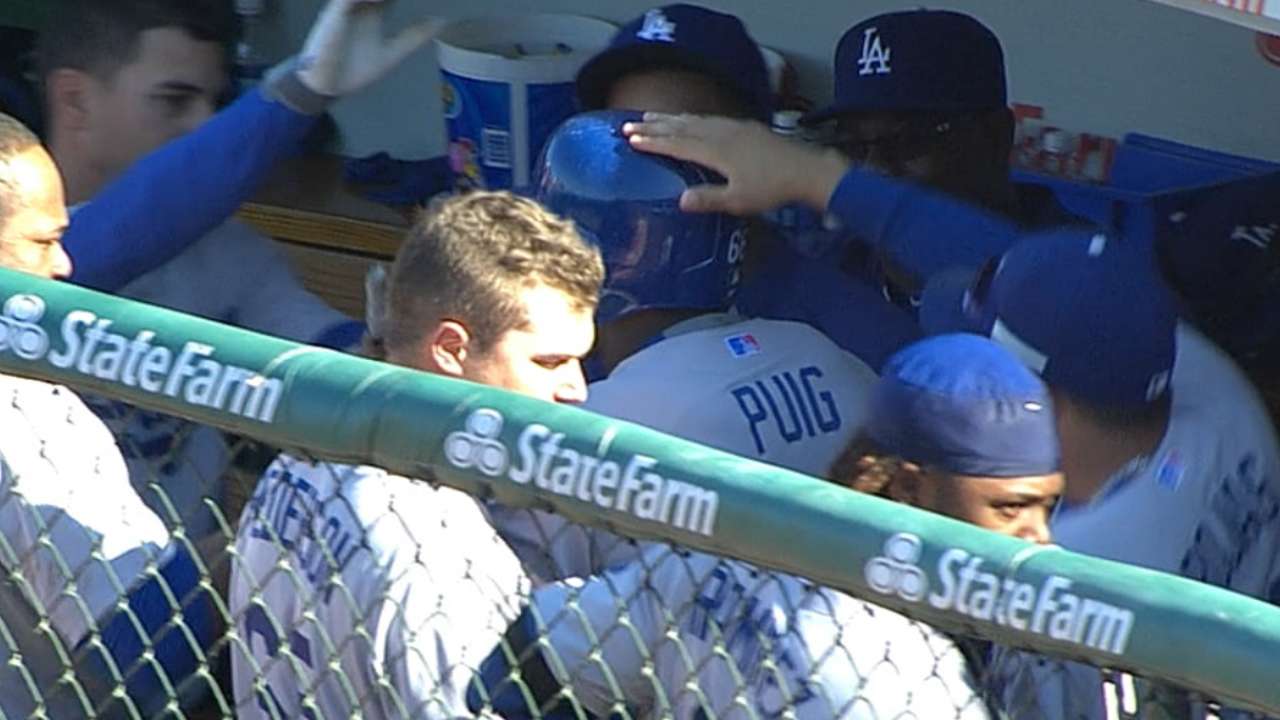 CHICAGO -- There's no swimming pool at Wrigley Field and Lake Michigan is too cold, even in summer, so whatever celebrating the Dodgers did Friday probably didn't require goggles or fins.
There was a team party planned long ago by club owner and Windy City resident Mark Walter. But it couldn't have been as wild as Chase Field's pool party last year when the Dodgers clinched the National League West.
Despite clinching a playoff berth with the Brewers' loss on Friday, the Dodgers don't seem to be in a celebrating mood for anything short of another division title, which they can't achieve until next week's final homestand.
"Obviously, making the playoffs is a starting point, but I don't know if there's necessarily a celebration for it," Clayton Kershaw said after becoming a 20-game winner in Friday's 14-5 win over the Cubs.
"[A Wild Card berth] would be something of a letdown now, maybe not something to really celebrate, but maybe a pat on the back."
Matt Kemp, after mashing a three-run homer in support of Kershaw, agreed with his ace.
"We want to go bigger than that," Kemp said of the Wild Card. "We want to win the National League West. It's good to know we made the playoffs, but I wouldn't mind the best record in the NL. We've still got to continue to play good baseball. I want to win the West, for sure."
That can't happen until at least next week, when the final homestand of the regular season opens, fittingly, against the second-place Giants for a three-game series beginning Monday.
That would allow general manager Ned Colletti to eliminate his former team. This is the fifth time in nine seasons as GM that Colletti's Dodgers have qualified for the postseason.
Manager Don Mattingly, who has taken the club into October in back-to-back seasons, was slightly more sanguine about locking up a Wild Card berth.
"Obviously, it's something at that point that at least it gives you a chance to play when only 10 teams are left," he said. "But all year we've thought -- if that's the only way, you're good with it -- but we feel winning the division is what we're trying to accomplish."
Nonetheless, just making the postseason is an accomplishment for a club that opened the season with the demands of traveling to Australia, lost Kershaw for six weeks to injury, fell 9 1/2 games behind on June 8 and was back in first place 22 days later.
If the season ended now, the Dodgers would have home-field advantage in the NL Division Series vs. the St. Louis Cardinals, who beat them in last year's NL Championship Series.
The Washington Nationals have a 1 1/2-game lead over the Dodgers for home-field advantage throughout the playoffs, while the Giants and Pirates were in position for the two Wild Card spots.
This year the Dodgers are 4-3 against St. Louis, 2-4 against Washington, 2-5 against Pittsburgh and 8-8 against San Francisco.
Ken Gurnick is a reporter for MLB.com. This story was not subject to the approval of Major League Baseball or its clubs.