Brewers handed yet another disheartening defeat
Club loses ground as Broxton allows late HR, spoils Gallardo's gem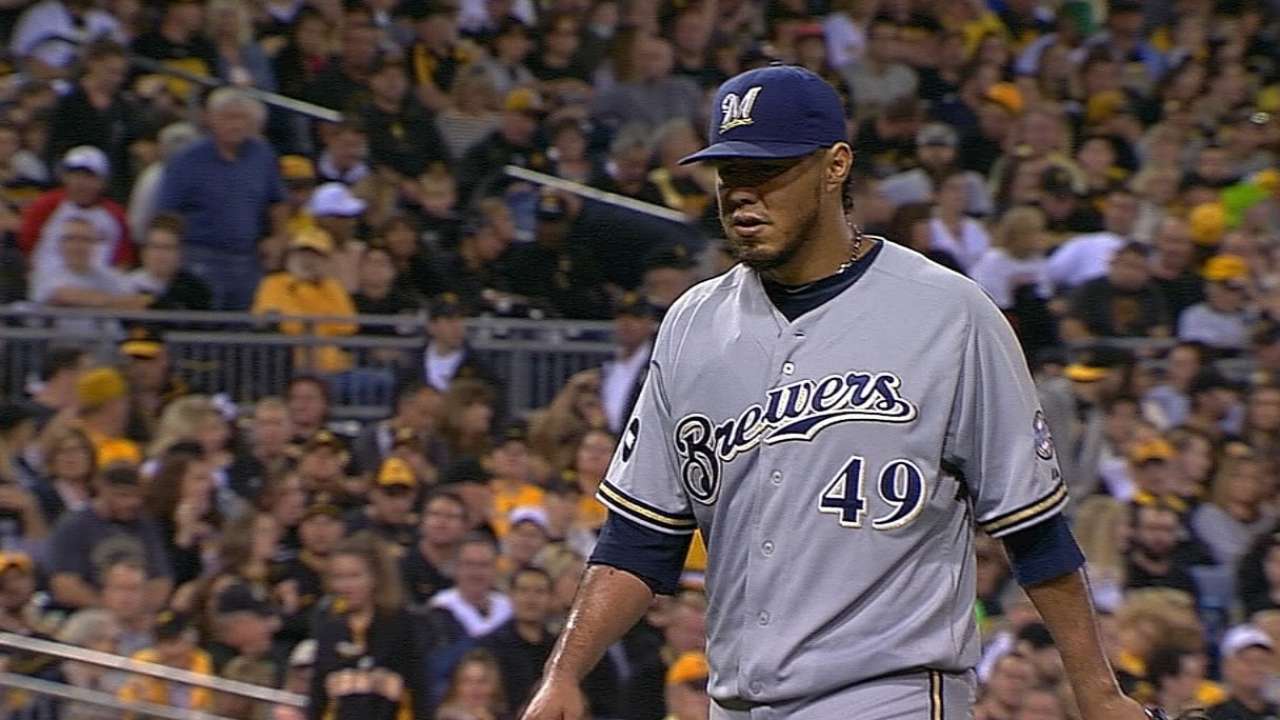 PITTSBURGH -- For the second straight night, the Brewers saw their season play out in metaphor. They controlled a game through seven innings before the entire exercise slipped away.
Pushing the Brewers to the extreme margins of the postseason picture, Russell Martin's three-run home run off suddenly-struggling reliever Jonathan Broxton sent the Pirates to a 4-2 win and erased everything Milwaukee starter Yovani Gallardo had done during seven scoreless innings. While 37,974 jumping, jubilant fans were still celebrating at sold-out PNC Park on Friday night, the Brewers returned to the clubhouse to digest a second straight crushing loss.
At 79-75, Milwaukee remains alive for a postseason berth. But a team that only three weeks ago was riding 150 straight days in first place has fallen to the point it faces a deficit of seven games with the Cardinals in the National League Central and 4 1/2 games -- five in the loss column -- with the Pirates for the league's second Wild Card. The Brewers have eight games to play.
"Mathematically, we're still in there, so in my mind, we're still in there," said Brewers catcher Jonathan Lucroy. "We've got to win. That's the bottom line. We've just got to win."
The Pirates have pushed the Brewers to the brink of elimination by winning 12 of 14 games. The Brewers' collapse has included 20 losses in 28 games.
"Obviously, the way that [the Pirates] are playing, they've got some players that know how to get after it, know how to win ballgames," Brewers manager Ron Roenicke said.
Asked whether he was suggesting his own team was not doing the same, Roenicke said, "No, I'm not saying that. I'm just saying that's why they are doing what they're doing. And they're winning them late. When you have gamers, and you understand what you need to do, that's how you win all these games late, and that's what they've been doing."
The Brewers have been doing the opposite. On Thursday night in St. Louis, Broxton walked home the tying run during a two-run Cardinals rally that included Mark Reynolds' mental mistake and a critical replay that went in the opponent's favor. A night later, Broxton committed a physical mistake when he was slow covering first base and saw replay work against him on Starling Marte's leadoff infield single, a hit that led to Martin's three-run home run to right-center field.
Broxton, acquired from the Reds on Aug. 31, had not surrendered a run in any of his first six Brewers appearances before the past two nights. Now he's been charged with five earned runs in the span of about 24 hours, including the Pirates' insurance run which scored after Jeremy Jeffress took over Friday.
"I didn't watch the video, I just know [the pitch to Martin] didn't stay in the ballpark," Broxton said. "I've always gotten him out away. I know he's got some power up and in, and he's caught me for seven years when we were in L.A. together. I have a feeling it's up. I know it's up. That's the only way he can get to it."
Martin himself characterized it as a mistake pitch. PNC Park shook as he rounded the bases.
"It's what they've been playing in the backyard since they were six to get an opportunity to do now when they're grown," Pirates manager Clint Hurdle said of Martin. "Our crowds, our fans have been fantastic throughout the game to pick us up any time anybody gets on base. Just the energy in the ballpark. Russell answered with that swing."
The defeat was no fault of Gallardo, who featured his best curveball of the season and struck out 11 over seven scoreless innings, scattering a walk and five hits. The last time he'd whiffed that many was July 15, 2012, when he set a career high with 14 strikeouts against the Pirates in Milwaukee.
Of Gallardo's 18 career 10-plus strikeout performances, four have been against the Pirates, including the first in April 2009. The matchup has long favored the loose right-hander, who remained 12-5 while lowering his ERA to 2.55 against Pittsburgh in 25 starts plus one relief appearance as a rookie in 2007.
"That's the best I've seen him all year," Lucroy said. "Absolutely. He was awesome."
The Brewers helped out by providing a first-inning lead. Ryan Braun reached on a risky double and scored when Lucroy pulled a high fastball into left field for a single. In the fifth, Rickie Weeks extended the lead with a home run to the bullpen in left-center field, his first homer on the road since Aug. 13.
Including Gallardo's outing, Brewers starters own a 1.53 ERA over the team's last nine games, with eight quality starts.
"When the starters go out there and go seven [innings], and seven-plus [Thursday]," Broxton said, "that's a hard way of losing."
Adam McCalvy is a reporter for MLB.com. Read his blog, Brew Beat, and follow him on Twitter at @AdamMcCalvy. This story was not subject to the approval of Major League Baseball or its clubs.