Martin's late blast moves Bucs even closer to playoffs
Go-ahead three-run homer in eighth pads lead for No. 2 NL Wild Card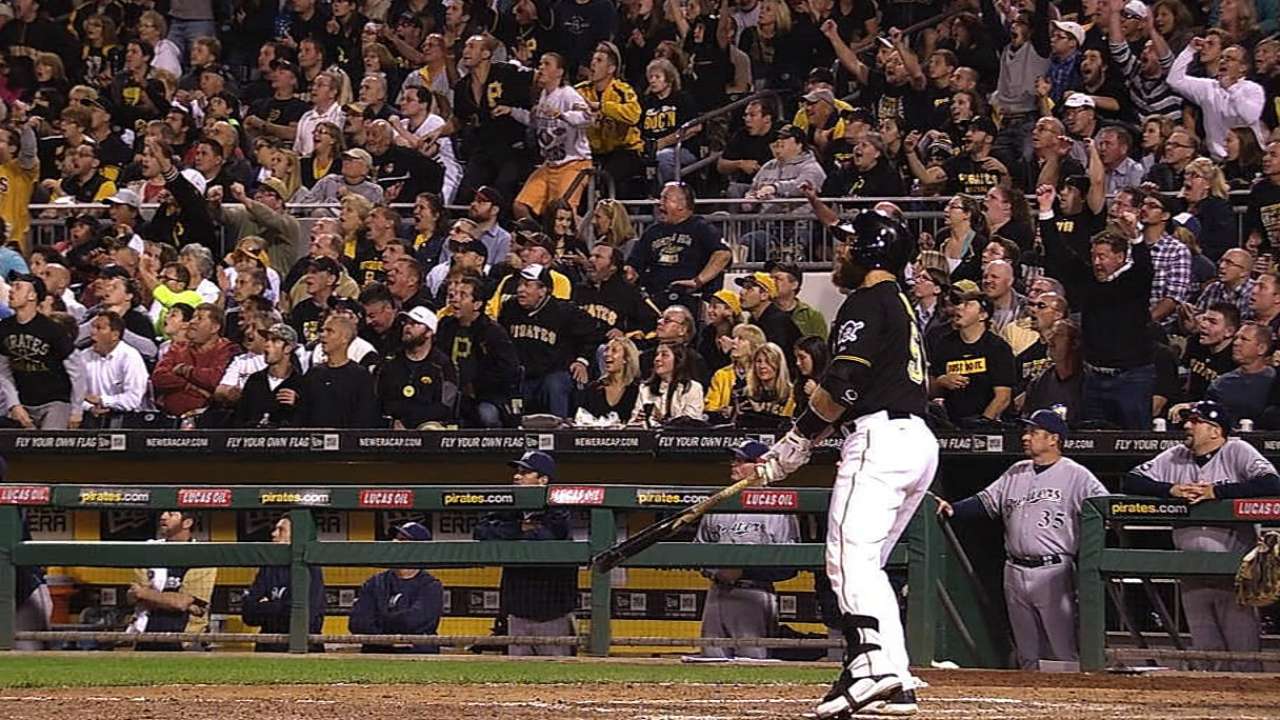 PITTSBURGH -- The North Side was pumped for the party of the year. Throngs rocked the streets around PNC Park early Friday evening, before going through the gates to cheer the Pirates closer to October nirvana.
Yovani Gallardo would not let them, but he could only delay the shindig, until Russell Martin could knock a three-run homer in the eighth inning off Jonathan Broxton to stun the Brewers, 4-2, in front of 37,974 revelers.
As the ecstatic crowd's roars drew Martin out of the dugout for a fist-pumping curtain call, October's siren song wafted over the ballpark.
"That was the sweetest right there. It doesn't get sweeter than that," Martin said after having washed the obligatory victory pie out of his substantial beard. "It's just ... hard to be happier than that."
"It's just Russ being Russ," shrugged Jeff Locke, the left-hander who had given the Bucs seven solid innings to set up a defining win.
With their fifth straight win, the Pirates reduced their magic number for clinching a postseason berth as at least the National League's No. 2 Wild Card to five. Their lead over Milwaukee grew to 4 1/2 games, and they also moved within one game of the Giants for the No. 1 Wild Card after San Francisco lost to San Diego. St. Louis beat Cincinnati, keeping Pittsburgh 2 1/2 back in the NL Central.
The Bucs' rally kept Francisco Rodriguez locked up in the Brewers' bullpen, while John Holdzkom, the Pirates reliever trying to follow in the 2002 late-season footsteps of K-Rod, earned his first Major League win after picking up for Locke with a scoreless eighth. Mark Melancon worked a 1-2-3 ninth for save No. 31.
The five-game winning streak is new ground for the Bucs, who had previously been 0-6 in opportunities to go beyond four, but the comeback was familiar. It was their 40th.
"Gallardo had his good stuff today, and it can be frustrating at times -- we're a team that has a pretty good offense, so when someone neutralizes you, it's frustrating," Martin said. "But we believe that once we get into that bullpen, we can make things happen."
Even while they could not do anything with Gallardo, who blanked them on five hits through seven, the Pirates were doing plenty. They spoiled enough pitches -- fouling off 24 in his seven innings -- to ensure he would not see the eighth.
That was doubly good for the Bucs, because it meant they would see Broxton, the Brewers' setup reliever against whom they have had great success.
It did not change. Starling Marte hit a leadoff grounder wide of first and beat Broxton to the bag for an infield single. With one away, Neil Walker singled. Martin then launched his 11th homer, and the party machine was plugged in.
"We strung some hits together," Martin said, "and Broxton made a mistake -- he left one out over the plate -- and I put a good swing on the ball."
"I was trying to go down and away," Broxton said of the pitch. "I don't know where it [wound up]. I just know it didn't stay in the ballpark."
Since the start of the 2013 season, Broxton has worked 9 2/3 innings against the Pirates and given up 15 runs and 18 hits, including five home runs.
Everyone anticipated a postseason-like atmosphere, with a blend of cooling weather, the fans' fervor, the stakes. And the game itself filled the bill; taut, every pitch meaningful.
"It was huge ... games now get looked at more importantly because of the time of the season," Locke said, "but, really, it's no more important than June or July."
The Brewers came to town in a helpless situation. Trailing by 3 1/2 games, they have to accept still being behind when they leave. But Ron Roenicke's men came to play.
None were more intent than Gallardo, who recovered from an exhausting beginning -- 74 pitches through four innings -- to work deep into the game. On his penultimate 111th pitch, he notched his 11th strikeout, then needed only one more to end the seventh.
Gallardo's only two higher pitch counts of the season, clearly not coincidentally, had also come in PNC Park. He made 121 in seven innings of a 1-0 triumph -- over Locke -- on June 8, and 114 on April 17.
"It was big to get him up where he was where he'd had enough," Pirates manager Clint Hurdle said. "There are some nights where anybody is better than the guy who is out there. If we don't get that pitch count up, there's no telling how many innings [Gallardo] could've thrown tonight."
Locke wouldn't let Gallardo relax. Both went seven innings, and allowed five hits. However, Locke's yield included Jonathan Lucroy's RBI single in the first and Rickie Weeks' long solo homer in the fifth.
This was the second time this season Locke faced the Brewers here. He still doesn't have any runs. Of course, he drew Gallardo as his mound opponent both times.
"We couldn't do a whole lot on Gallardo, and as soon as he came out of the game," Locke said, "we just jumped on it."
When his night was done and as he was walking down the dugout toward the stairs to the clubhouse, Locke was intercepted by Travis Snider.
"Nice job," Snider said, adding, "Don't worry. We're an eighth-inning team."
Tom Singer is a reporter for MLB.com and writes an MLBlog Change for a Nickel. He can also be found on Twitter @Tom_Singer. This story was not subject to the approval of Major League Baseball or its clubs.