Twins shut down Perkins for season with forearm injury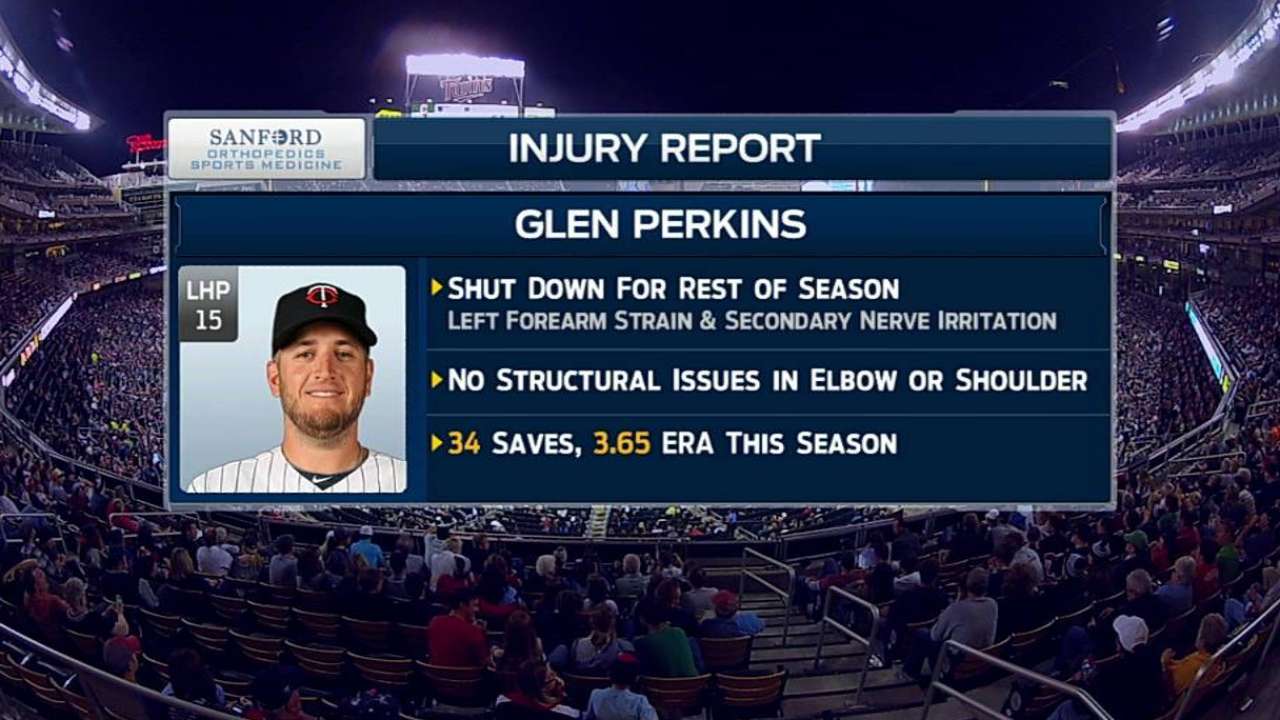 MINNEAPOLIS -- Twins closer Glen Perkins was diagnosed with a left forearm strain and secondary nerve irritation in his forearm and will be shut down for the rest of the season, Twins general manager Terry Ryan said Friday.
Perkins had his entire left arm examined by team doctors on Tuesday and Wednesday, as he underwent MRI exams on his shoulder, elbow and forearm. He was diagnosed with a forearm strain and also is suffering from nerve irritation in his forearm. But his neck and shoulder were fine, as was his ulnar collateral ligament in his left elbow.
"It's actually good news," Ryan said. "It's a very manageable situation. I'm not concerned about it right now. It seems like we're in good shape. All he needs to do is some of the maintenance and exercises and strengthening and he'll be good to go."
Perkins is scheduled to rehab his forearm over the next month or two and will be ready for the start of next season, according to Ryan. But Perkins will miss out on participating in Major League Baseball's five-game series against Japan's National Team in November. Perkins was on the preliminary roster.
Perkins, 31, finishes the season with a 3.65 ERA in 63 appearances. The left-hander struck out 66 and walked 11 while picking up 34 saves in 41 opportunities.
He struggled in September while dealing with neck stiffness and the forearm strain, as he posted a 13.50 over his last six appearances. His last outing came Tuesday, when he gave up a go-ahead three-run homer in an eventual 4-3 win over the Tigers.
With Perkins out, right-hander Jared Burton will serve as closer for the Twins.
Rhett Bollinger is a reporter for MLB.com. Read his blog, Bollinger Beat, and follow him on Twitter @RhettBollinger. This story was not subject to the approval of Major League Baseball or its clubs.