Santiago struggles, can't halt Rangers' streak
Halos drop back-to-back home games but keep pace with Orioles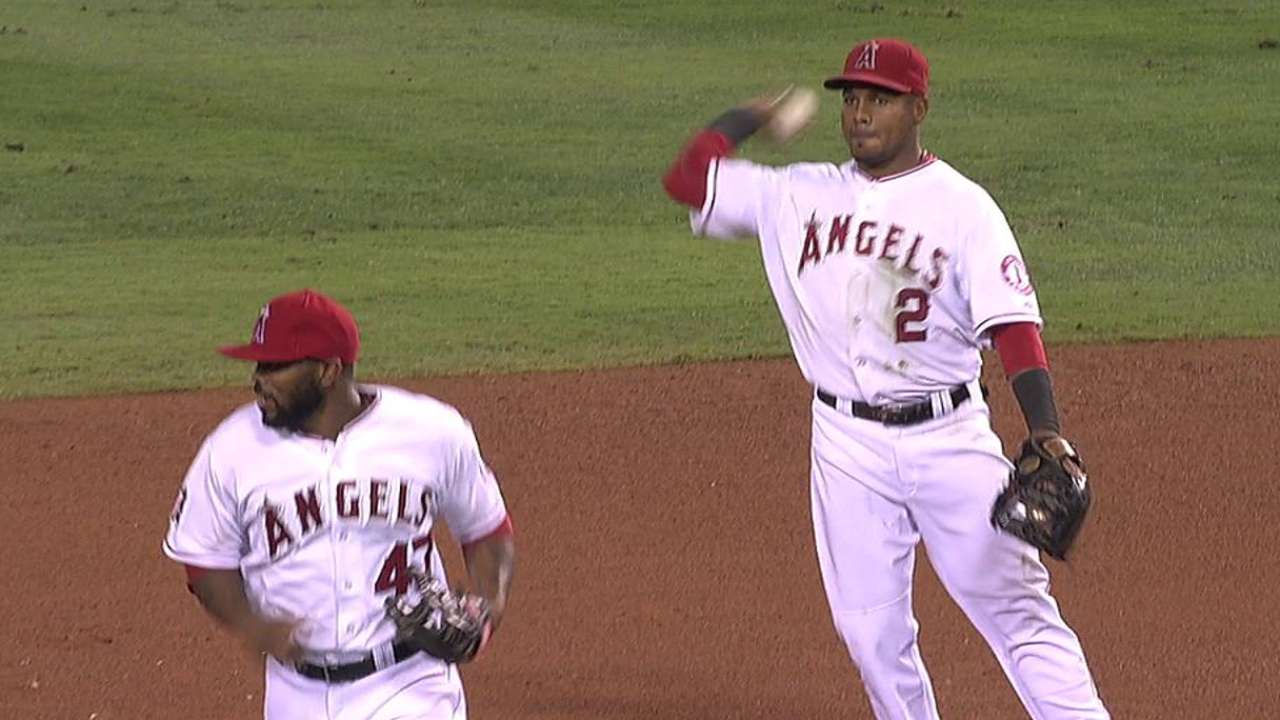 ANAHEIM -- The Hector Santiago who lasted one inning in Friday's 12-3 loss to Texas did not look like the one who stood in the Angels clubhouse after the game.
Hours after giving up seven runs on seven hits, Santiago emerged with a shaved head and his full beard sculpted into a goatee. He had already showered -- in full uniform -- and jumped in the hot tub -- in full uniform.
The haircut chopped off the night's mistakes. The shower washed them down the drain.
"Clean it out," Santiago said. "Get all the bad effects off … wash them away."
The Angels are hoping this new Santiago can be more like the old one they saw in July and August and less like the one who has shown up recently. In his last two starts -- the two shortest of his career -- Santiago has scuffled through three total innings, allowing 10 runs, 12 hits, five walks and two home runs.
"Hector has definitely showed what he can do when he's on," Angels manager Mike Scioscia said. "I think he has to get back and just exhale, had a couple of rough ones, obviously, but his arm is good, his stuff is good, he competes well. Just had a rough go of it the last couple of times and we'll keep him going and see where everything falls together here in the next week."
Santiago's downturn comes on the heels of the best stretch of his season -- an 11-game period that saw him go 4-0 with a 2.04 ERA and .223 batting average against. In the last two games, Santiago's ERA has jumped from 3.38 to 3.98.
"Outside these last two, he's been good for a long time," Scioscia said. "We hope he'll get back on the beam, our pitching is thin and he's important to us. We'll see how he does next week."
With Matt Shoemaker sidelined with a left oblique strain, Santiago is one of only three healthy Angels starting pitchers and could be pitching for a playoff start in his last regular season start on Sept. 24 at Oakland.
Prior to Friday's game, Scioscia said he would consider using a three-man rotation in the American League Division Series, possibly opting to start Jered Weaver on short rest instead of trust a No. 4 option with the ball. Depending on Shoemaker's health, Santiago could become the odd man out.
"It's not just as easy to say 'Hector's struggling, we're going to a three-man rotation,'" Scioscia said. "No. I think that we've got a lot of different branches that are mapped out and we'll see where we are after next weekend."
In the playoffs, Santiago could be the starter in a crucial Game 3 or 4, or he could morph into the long relief man out of the bullpen. While he has struggled recently, he has been good against potential ALDS opponents Oakland, Seattle, Detroit and Kansas City. In nine games and 45 innings against those teams, the left-hander owns a 2.20 ERA and 1.178 WHIP.
"I can definitely be a big part of it, depending on where's Shoe's at, whether it's coming out of the 'pen or starting," Santiago said. "I'm not going to worry about that right now."
The Rangers scored three runs in the first inning off Santiago, highlighted by Jake Smolinski's two-run home run to left field. Texas led off the second with four straight singles and Santiago exited with the Angels trailing 5-0.
Of the 10 batters Santiago faced, seven got hits off him.
"Anything they hit, whether soft or hard, it found a place to land," Santiago said. "It was soft contact. I just gotta get them on the ground and not to bloop in there somewhere. A lot of negatives but some positives to take out of it, for sure."
"I don't think he had anything," Rangers shortstop Elvis Andrus said. "He wasn't hitting any of his spots and he was missing in the middle of the plate. We're playing good baseball and we're not missing anything."
Despite the loss, the Angels remained 2 1/2 games ahead of Baltimore for the AL's best record, which would ensure home-field advantage throughout the playoffs.
Santiago's head was completely bald but he still left part of his beard. Why?
"I saved some for next start, just in case," Santiago said. "Clean it away, start fresh. Here we go."
Matthew DeFranks is an associate reporter for MLB.com. Follow him on Twitter @MDeFranks. This story was not subject to the approval of Major League Baseball or its clubs.