Ellis getting lost in Cardinals' crowded infield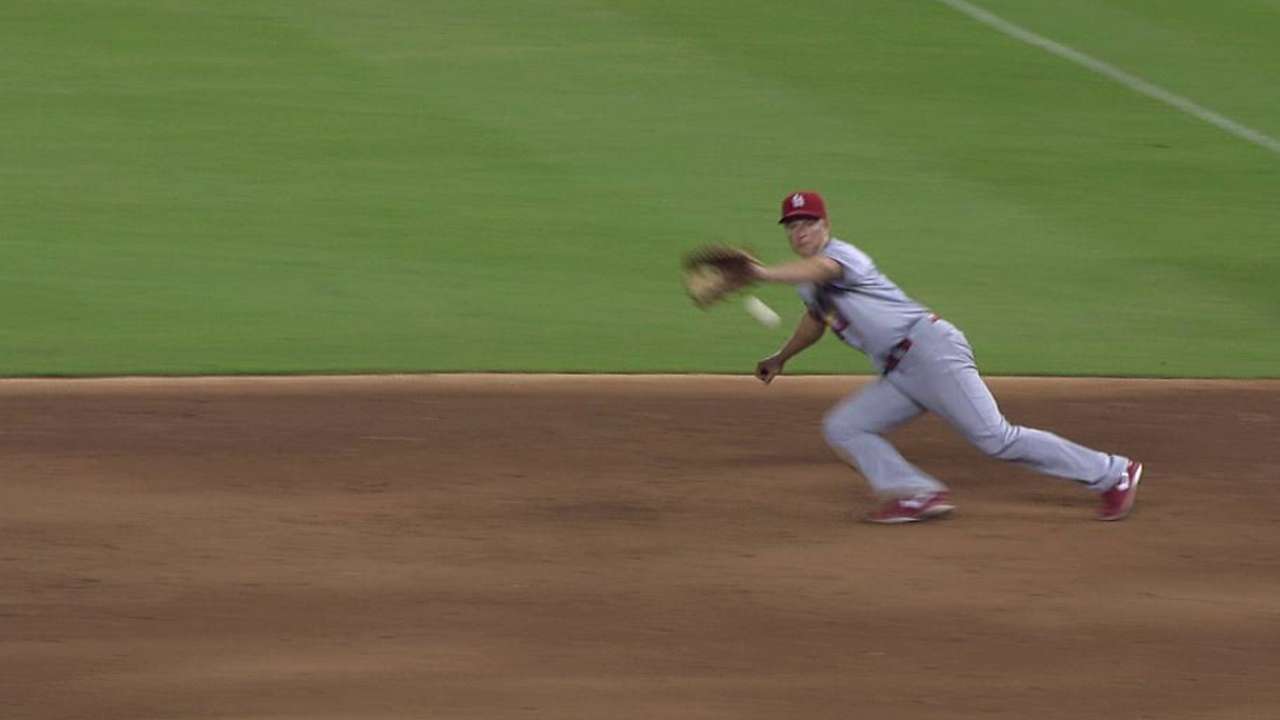 ST. LOUIS -- Much as he's done in right field over the past three weeks, Cardinals manager Mike Matheny has started a carousel of sorts at second base as he tries to maximize production from a roster that includes half a dozen players capable of handling the position.
Kolten Wong remains the most regularly used at second, though Daniel Descalso and Pete Kozma have made spot starts there over the past week. Mark Ellis, in contrast, has started at the position just twice since July 25, an indication of his drop on the depth chart and potentially a harbinger for exclusion on the Cardinals' postseason roster, should they secure a spot in the playoffs.
"You look at how Mark's season started with the DL and [an injury in] Spring Training and not really being able to get off to the kind of start he needed," Matheny said. "Then he got hurt late when we're starting to push and trying to figure out who is ready right now. It's really been a difficult season for Mark and for us to find those right fits to get him in there. I'd like to get him more, but it's tough."
Since returning from an oblique injury the first week of September, Ellis has also been used sparingly off the bench. He has four pinch-hit at-bats since Sept. 5, though three of those came in consecutive days against Reds closer Aroldis Chapman, whom Ellis had enjoyed some small-sample-size success against before this month. He went 0-for-3 against him in the last series.
If the Cardinals advance to setting a postseason roster, it is likely to include six infielders. Matt Adams, Jhonny Peralta, Matt Carpenter, Wong and Descalso are considered automatic adds. That last spot would likely be a decision between Kozma and Ellis. Though he spent most of the season in Triple-A, Kozma has started four games since his inclusion among the September callups. He would also offer more defensive versatility and speed off the bench than Ellis.
As for Wong, the Cardinals have spelled him more days off recently in hopes to get him fresh for the final September push. Wong, who was out of the starting lineup on Friday, entered the day with one hit in his last 15 at-bats. He leads the club with 94 starts at the position this year.
Worth noting
• In revisiting his usage of all three catchers in Thursday's 13-inning win, Matheny said that if the Cardinals had gotten into a spot where Tony Cruz had to be removed, he likely would have turned to reliever Jason Motte to go behind the plate. Motte was drafted as a catcher before converting positions in the Minor Leagues. Infielder Greg Garcia has been getting catching work in recently, though he still doesn't have the in-game experience that Motte does.
• With the Reds sending a left-handed starter to the mound on Friday, right fielder Randal Grichuk returned to the starting lineup for the first time since Saturday.
• Left-hander Nick Greenwood threw a long bullpen session on Friday afternoon to help him make up for the lack of recent in-game opportunities. Greenwood last appeared for the Cardinals on Sept. 9.
Jenifer Langosch is a reporter for MLB.com. Read her blog, By Gosh, It's Langosch, and follow her on Twitter @LangoschMLB. This story was not subject to the approval of Major League Baseball or its clubs.