Cuddyer's 7 RBIs help Rockies roll
Ynoa has four hits, Rosario drives in two as Colorado cruises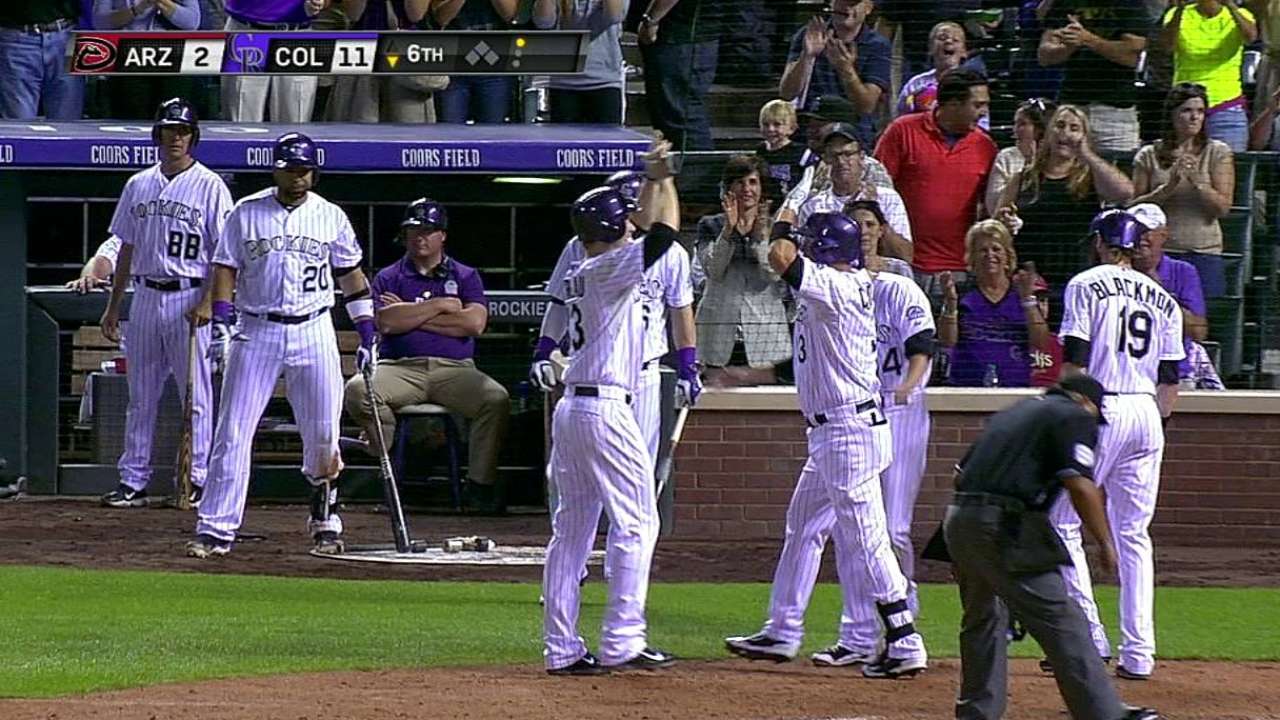 DENVER -- The Rockies may be eliminated from playoff contention, but they still have some unfinished business to take care of this September. And on Friday, they crossed two goals off their list as Michael Cuddyer reached a new personal best.
The Rockies dropped the D-backs, 15-3, Friday night at Coors Field behind Cuddyer's career-high seven RBIs to move out of last place in the National League West for the first time since July 13. The win also ensures the Rockies remain as one of the two Major League franchises -- along with the Angels -- without a 100-loss season on their resume.
All seven of Cuddyer's RBIs came on two swings: a grand slam in the sixth and a three-run double in the eighth.
"That doesn't happen without the good at-bats in front of me," Cuddyer said. "It's not very often that you come up twice with the bases loaded -- especially in back-to-back at-bats."
Cuddyer, 35, has missed more than two months this season between two hamstring injuries and a fractured left shoulder socket. But when he's been on the field, the 2013 NL Batting Champion has been a force to be reckoned with.
In his last six games including Friday's 3-for-5 performance, Cuddyer is batting 12-for-25 with six doubles, two homers, nine runs scored and nine RBI.
"He's been hurt all year but when he's been out there, he's shown he's still an elite hitter in this game," Rockies manager Walt Weiss said. "He's probably one of those guys who will be able to hit until he's 50."
After Cuddyer took Eury De La Rosa deep for the eighth grand slam of his career, he stepped to the plate against Joe Paterson looking to become only the 14th player in Major League history with two grand slams in a game. He settled for a bases-clearing double.
"I'd be lying if [I said] I didn't think about it," Cuddyer said. "Any time you come up with the bases loaded a grand slam pops up in your head ... In both cases, I was fortunate enough to get a pitch up."
D-backs right-hander Chase Anderson came into the final start of his rookie season having held the Rockies to one run over six innings in each of his three previous starts against them.
Entering with a 3-0 record against Colorado, the Rockies knocked him around for six runs on nine hits in five innings.
Rafael Ynoa ended the fifth inning -- and Anderson's night -- by just missing an inside-the-park home run on a ball that rattled around near the out-of-town scoreboard long enough to score two. Ynoa finished 4-for-5 with three RBIs.
Wilin Rosario followed up Thursday night's walk off homer with a 3-for-4, two-RBI performance, extending his hitting streak to a season-best seven games.
Rockies right-hander Jordan Lyles loaded the bases by allowing three singles in the first but buckled down to limit the D-backs to just one run in the frame. He'd end up going a full six innings for his third straight start, scattering nine hits for just two runs to push his record to 7-3.
Cody Ulm is an associate reporter for MLB.com. This story was not subject to the approval of Major League Baseball or its clubs.