Pompey gets first hit, receives congratulations from Jeter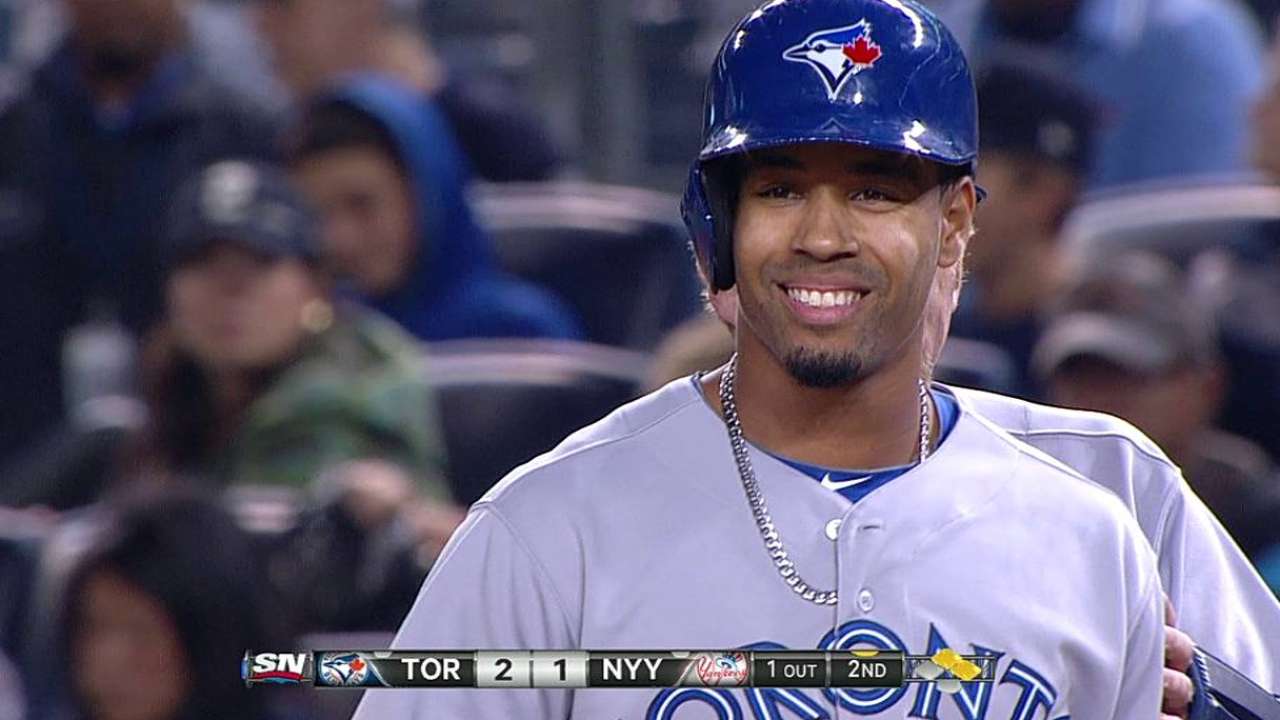 NEW YORK -- Dalton Pompey grew up rooting for the Yankees and watching Derek Jeter, so the fact that his first career Major League start came at Yankee Stadium made it that much more special to him.
Pompey promptly recorded his first career hit in the Majors with a single in the second inning of the Blue Jays' 5-3 loss on Friday night. At the end of the inning he had a brief conversation with Jeter, who told him, "Congrats, I hope for a great career for you."
"To think that I'm having my first start here is pretty surreal," Pompey said before the game. "It's an amazing feeling, and I'm excited and nervous at the same time.""
Pompey finished the game 1-for-4, but he could have collected a few more hits if not for a few impressive plays from Yankees first baseman Mark Teixeira. Pompey's manager, John Gibbons, was impressed with his performance.
"He looks like a big leaguer," Gibbons said. "You'll see a lot of him from here on out."
Pompey, who was born in Mississauga, Ontario, became the 19th Canadian-born player to appear in a game for Toronto earlier this month. He rose through the ranks of the Blue Jays' Minor League system this year after starting the season at Class A Advanced Dunedin.
From there Pompey, the Blue Jays' No. 3 prospect, rose through Double-A New Hampshire and Triple-A Buffalo and impressed at each level. His slash line from his combined Minor League season was .317/.392/.469 with nine homers, 84 runs scored, 51 RBIs and 43 stolen bases.
He was promoted to the Majors in September, made his MLB debut on Sept. 2 as a pinch-runner and picked up his first RBI on a groundout in his first big league plate appearance on Sept. 10. Not bad compared to his goal at the start of the year of just making it to Double-A.
"It's been pretty much a whirlwind," Pompey said. "I never thought that I would be in this position, but I am through my hard work and the dedication that I had, and obviously the great year that I had put me in this situation."
Pompey's best friend was in town to watch, but his family could not make it to the game -- although his parents texted him that he was in the starting lineup before even he knew. Pompey batted eighth in the order and started in left field. He had played mostly center field through the Minors, and said adjusting to a different position made him more nervous than hitting.
"I just tried to stay calm and breathe, and just knew whatever I could do, just to do it," Pompey said. "And keep doing whatever I was doing in the Minor Leagues."
Jamal Collier is an associate reporter for MLB.com. This story was not subject to the approval of Major League Baseball or its clubs.