Day after mental lapse, Reynolds gets chance to atone
Brewers first baseman lost track of outs in Thursday's costly loss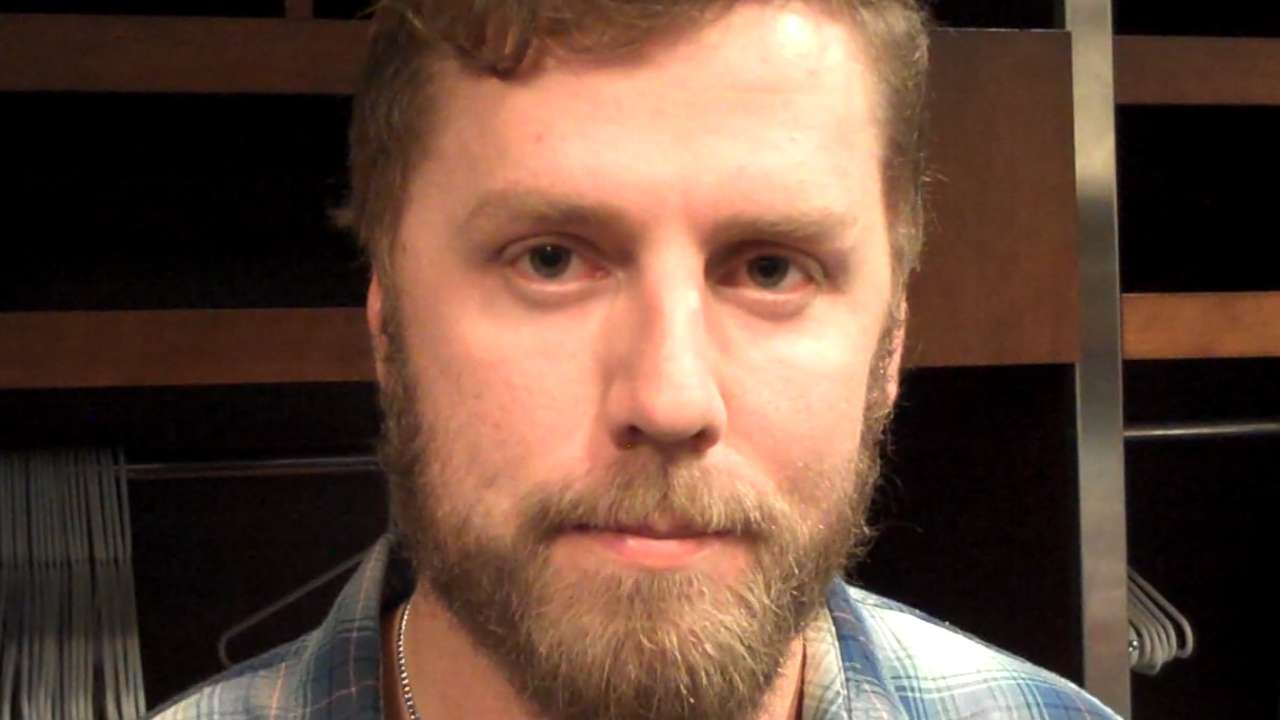 PITTSBURGH -- Brewers manager Ron Roenicke expressed no reservations Friday about reinstalling first baseman Mark Reynolds to starting duties, a day after Reynolds' mental error contributed to an extra-inning loss to the Cardinals.
"He'll bounce back," Roenicke said. "This is one of our sharpest guys out there. That's what's baffling about it. This guy, instinctually, is unbelievable. That's why when you see those things happen, it's surprising. And, you know, why couldn't you do it in a game that didn't matter? Or a month ago, when maybe we were winning 6-0 in a game and you make a mistake? It's just when he made it that was so tough."
Forgetting there was only one out in the eighth inning, Reynolds missed an opportunity to initiate what he and Roenicke agree would have been a double play to end the inning with the Brewers ahead, 2-0. Instead, the Cardinals exploited the opening, scored twice to tie the game and won in 13 innings. Instead of picking up a game on St. Louis in the division and keeping pace with the Pirates for the National League's second Wild Card, the Brewers fell further in the standings.
Reynolds has proven the Brewers' best defensive first baseman in years, and has been essentially as advertised at the plate. While producing his seventh consecutive season of 20-plus home runs, he has the second-lowest batting average (.197 entering Friday) of Major Leaguers with at least 400 plate appearances. The Mariners' Mike Zunino and Orioles' Chris Davis were each at .196. Reynolds was the pick to start Friday because the Pirates had a left-hander, Jeff Locke, on the mound. Roenicke's other option would have been starting Jonathan Lucroy at first base and Martin Maldonado at catcher.
Had Reynolds' brain cramp occurred earlier in the season, might Roenicke and his coaches have made a different choice?
"No," Roenicke said. "This guy feels worse than anybody does. Sitting him, it doesn't make you come out and say, 'Well, I'm going to concentrate better.' Concentration is something that's built up over years of playing this game and knowing, mentally, how to think about what you're doing. There's a lot of time in baseball between plays, and you've got all this time to think about everything else. Over time, you develop a pattern and a rhythm of what you do to make sure your thinking's right. It was just one of those times when it was crucial."
Roenicke added, "I'm playing the guys that we need to win this game tonight. Most of the time, that's the way I do it."
Adam McCalvy is a reporter for MLB.com. Read his blog, Brew Beat, and follow him on Twitter at @AdamMcCalvy. This story was not subject to the approval of Major League Baseball or its clubs.