Field, Snell among Rays' Minor League award winners
Outfielder named Player of the Year; lefty receives Pitcher of the Year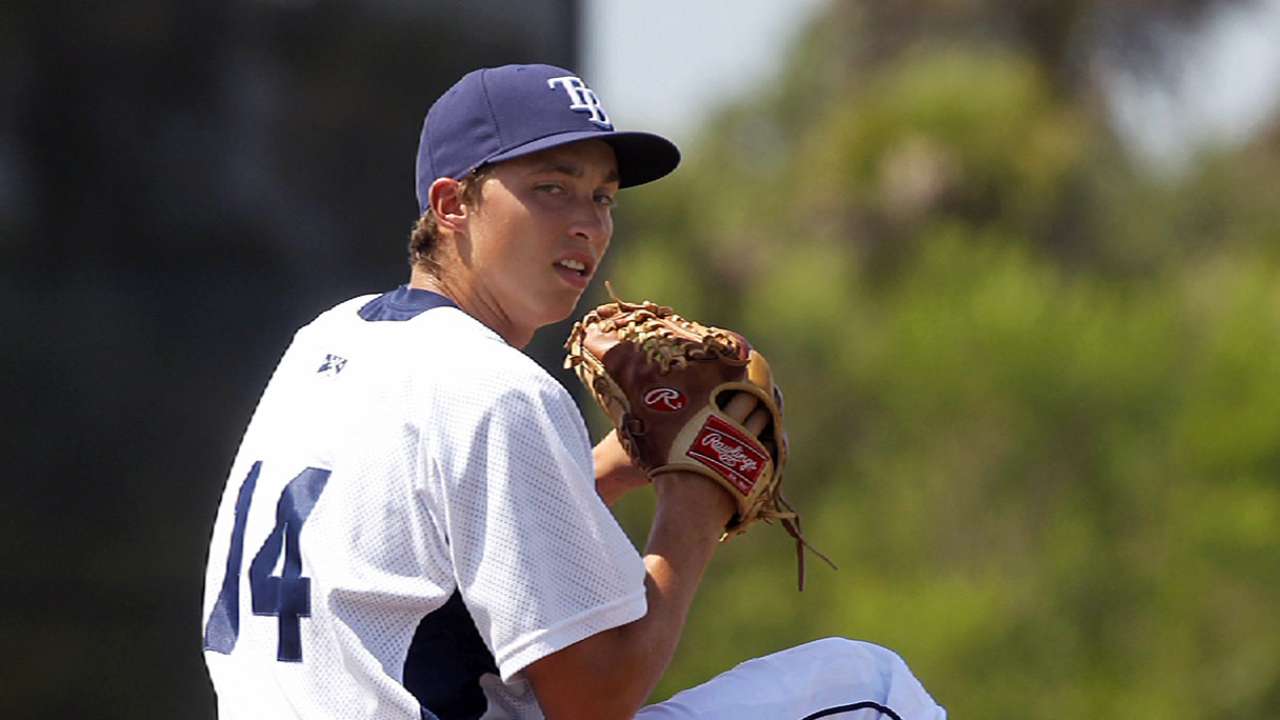 ST. PETERSBURG -- The Rays handed out their Minor League awards before Friday night's game at Tropicana Field, with outfielder Johnny Field named Player of the Year and left-hander Blake Snell the organization's Pitcher of the Year.
The winners arrived early Friday night, signing autographs down the right-field line before accepting their awards on the field from executive vice president Andrew Friedman and director of Minor League operations Mitch Lukevics.
Field, 22, hit .300/.376/.488 with 12 homers and 58 RBIs for Class A Bowling Green and Class A Advanced Charlotte, playing primarily center field. A fifth-round Draft pick in 2013, Field doesn't boast the physical gifts of many other top prospects -- he's listed at 5-foot-10 and 190 pounds -- but prides himself on his hard work, modeling himself after Rays outfielder Kevin Kiermaier.
"He's a man-made player. He really likes to play the game, works at the game very hard," Lukevics said. "You wouldn't put him in a category with some of the other players with total skill, but he's proven with heart, determination and the skill he has that he's become a really good player. ... A hustle guy, without question."
Snell, 21, went 8-8 with a 3.19 ERA and 119 strikeouts in 115 2/3 innings over 24 starts for Bowling Green and Charlotte. The 2011 first-rounder threw the first no-hitter in Charlotte history on Aug. 2, twirling 5 1/3 innings in a rain-shortened contest.
Lukevics noted how much Snell, ranked as the club's No. 13 prospect, has matured over the last year, and Snell agreed that his development has been more on the mental side than anything physical or mechanical. With an overpowering fastball to go along with a changeup and curveball, Snell compared his repertoire to that of Rays lefty Matt Moore.
"I really was just trying to learn as much as I could from my pitching coaches. I was just having fun," Snell said. "I've always had powerful stuff. I just didn't know how to use it. ... I'm more confident. I'm more comfortable with myself. When I pitch, I kind of feel bad for the hitter just because I know the kind of stuff that I have."
Infielder Tommy Coyle was named the organization's Baserunner of the Year, while lefty Adam Liberatore was named Reliever of the Year and catcher Justin O'Conner, who appeared in this year's All-Star Futures Game, was named Defensive Player of the Year. O'Connor is ranked No. 14 among the club's top 20 prospects.
Bowling Green right-hander Jake Faria was named the Erik Walker Community Champion, an award given annually to a Minor Leaguer who exemplifies teamwork, sportsmanship and community involvement.
The following players were named Most Valuable Player for their respective Minor League affiliates: Triple-A Durham outfielder Mikie Mahtook; Double-A Montgomery infielder Ryan Brett; Charlotte infielder Patrick Leonard; Bowling Green infielder Kean Wong; Short-Season Class A Hudson Valley outfielder Hunter Lockwood; Rookie-level Princeton right-hander Brent Honeywell; Gulf Coast League right-hander Henry Centeno; Dominican Summer League outfielder Angel Perez; and Venezuelan Summer League outfielder Oscar Rojas.
Adam Berry is a reporter for MLB.com. Follow him on Twitter at @adamdberry. This story was not subject to the approval of Major League Baseball or its clubs.