Yanks win third straight behind Ellsbury, Kuroda
Outfielder homers before injury; righty solid to get NY within 4 1/2 of WC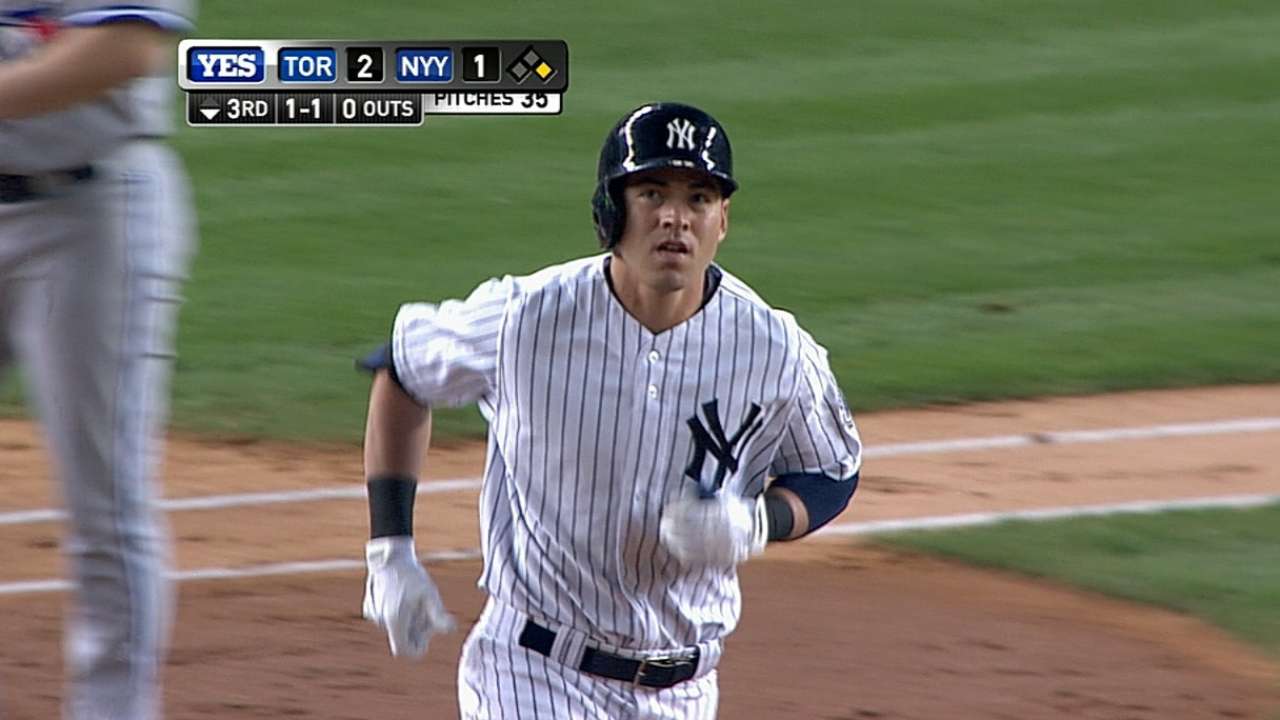 NEW YORK -- For nearly the entire season, the Yankees' pitching staff has rarely been the culprit for the team's losses. Even after four Opening Day starters saw varied time on the disabled list, others stepped up. The problem, as it has recently continued through September, has been finding offense.
On a chilly Friday night, the Yankees continued their strong effort on the mound but at least temporarily found life with their bats. Jacoby Ellsbury contributed three RBIs, and New York pelted Toronto starter Mark Buehrle for eight hits, edging out the Blue Jays in a 5-3 victory at Yankee Stadium.
It was the Yankees' third straight win at a time when they need every one they can get, pulling to within 4 1/2 games of the Royals for the second American League Wild Card spot.
The burst of early offense wasn't exactly unprecedented considering the lefty on the mound. Buehrle entered the outing having beaten the Yankees only once in 20 career starts, putting up a 1-13 record with a 6.14 ERA in that span. His 21st outing wasn't any better.
Ellsbury carried the torch for most of the night, doubling and scoring in the first and later scorching a go-ahead two-run home run in the third. With the bases loaded in the fourth, Ellsbury grounded to second but beat out a potential double play on Jose Reyes' errant throw as two runs scored. Ellsbury sustained a strained right hamstring on the play and was pulled from the game by manager Joe Girardi at the start of the fifth inning.
"Any time a guy comes out and grabs his hamstring, you're always concerned," said Girardi. "It's not what you want. We just lost [Martin] Prado and Jake swung the bat really well tonight. He's been a huge part of our offense. It's not what you want, but you've got to deal with it. That's all we can do."
On this night, though, the veteran mainstay in the Yankees' rotation, Hiroki Kuroda, provided the silver lining to Ellsbury's bitter exit.
Kuroda battled to give the Yankees 6 2/3 innings after falling into an early hole, taking a nearly identical arc to Shane Greene's outing on Thursday night. Kuroda threw 46 pitches through two innings, making a mistake in the first to Edwin Encarnacion, who plunked one off the left-field foul pole for an early two-run lead.
But Kuroda, whom Girardi called "the one constant that we've had," showed off more of that trait, limiting the damage over the next 4 2/3 innings. The Japanese hurler earned his 11th victory of the season, the fifth straight year he's reached that plateau.
"I had great support by our offense," said Kuroda. "So if I [hung] in there, I knew we had a good chance to win the game."
Hanging in there is something Kuroda has done for the majority of the year, pitching past any doubts he might have cast late last season. In August and September of 2013, he posted a 5.40 ERA, finishing those months with a 3-7 record. It's been a different narrative in 2014.
After a brief hangover effect into April, Kuroda, nearing 40, has posted just below a 3.50 ERA since May and has recorded a 4-2 record in August and September, needing nine innings in his final start to reach 200 for the fourth consecutive season.
"He's been great," said Girardi. "You look at 2013, he had a rough last month. You look at 2014, he had a rough first month, and then he's really turned it around and been outstanding for us. I don't think any of us know what Hiro's plans are. That's a discussion for the offseason, but he's pitched really well."
That discussion could potentially be difficult for the Yankees, who already have a crowded rotation for next year and have seen some younger pitching options emerge -- like Greene -- this year that would cost significantly less contract-wise. It may also not even be a decision the Yankees need to make, as Kuroda will likely ponder retirement, something he isn't ready to think about quite yet.
"I guess since I started making one-year contracts, I always take it year by year," Kuroda said. "The season is not finished yet, and the next outing ... I may end my career there so who knows."
On Friday, he could thank his bullpen, specifically Esmil Rogers and Adam Warren, who navigated several dangerous situations to close out the game and preserve Kuroda's victory. They've kept the Yankees breathing for another day.
"[It's] almost playing like [there's] nothing to lose," said Warren. [We] just go out there, not putting pressure on ourselves, and we've benefited from that. We put a little run together. ... But at least end strong, and see what happens."
Jake Kring-Schreifels is an associate reporter for MLB.com. This story was not subject to the approval of Major League Baseball or its clubs.