Buehrle can't solve Yanks as Blue Jays' skid continues
Lefty falls to 1-14 in his career against New York; losing streak at six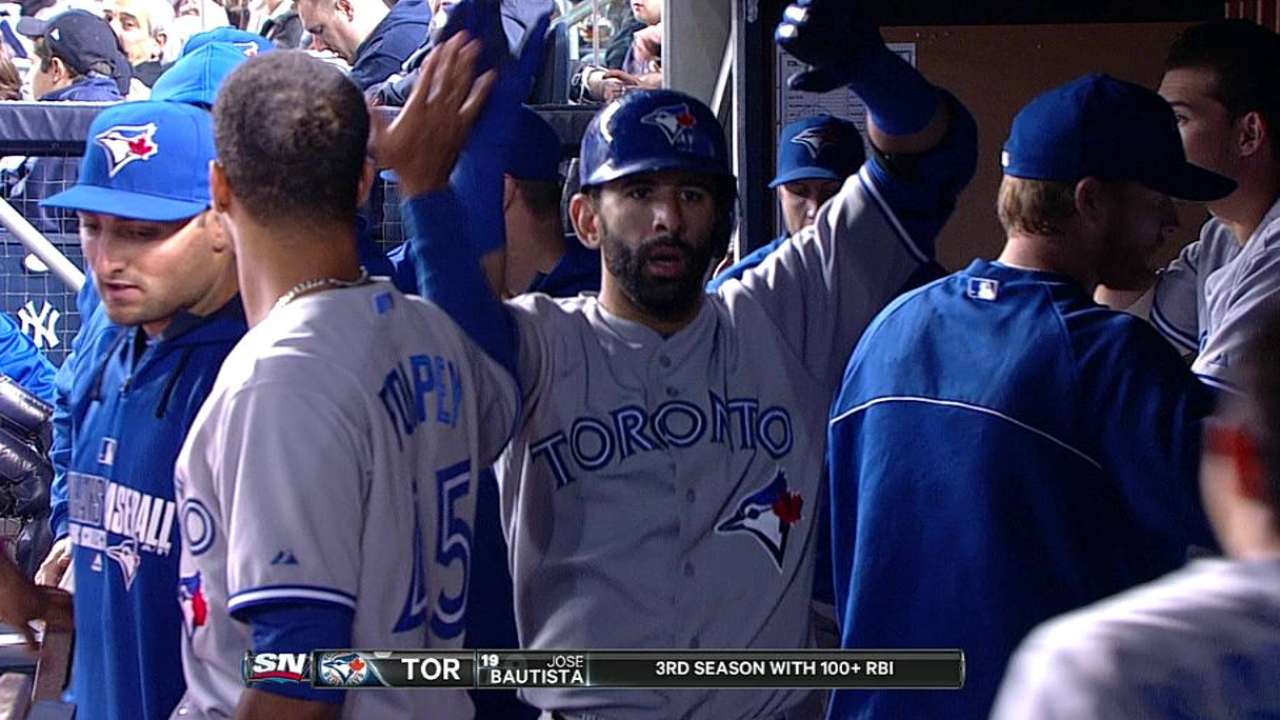 NEW YORK -- Mark Buehrle's career-long struggles against the Yankees have become nearly impossible to explain. Buehrle has changed teams. The only batter consistently in the Yankees' lineup throughout the years has been Derek Jeter. The venue -- old Yankee Stadium or new, Rogers Centre or U.S. Cellular Field -- has not changed the outcome.
Yet, for a pitcher who has had tons of success during his 15-year Major League career, he still can not figure out the Yankees. Buehrle was bested again on Friday night at Yankee Stadium, 5-3, dropping his 12th consecutive decision against New York.
That 12-game losing streak is the longest streak by a left-handed pitcher against the Yankees in 100 years. His career record fell to 1-14 against New York, and his ERA is over 6.00 against the Yankees, compared to his 3.82 ERA in his career overall.
"You almost kind of want to laugh it off, as frustrating as it can be," Buehrle said.
This seven-game road trip is off to a disastrous 0-5 start for the Blue Jays, and the club has lost a season-high six consecutive games overall.
Toronto has been maddeningly inconsistent all season long. The Blue Jays spent much of the first half in first place in the American League East, but have faded during the second half.
The Blue Jays were hanging on to slim hopes for the second American League Wild Card spot recently, but those chances are almost completely finished. They trail the Royals by 6 1/2 games with nine to play, with three other teams also ahead of them.
"We had streaks where a week or two we play outstanding and we feel like we're the best team in baseball," Buehrle said. "And then the next two weeks we're the worst team in baseball."
Now the Blue Jays are turning their attention to finishing strong to remain above .500 -- Friday's loss puts them just one game over at 77-76 -- while wrapping up individual milestones and trying to find out what role some players can fill in the future.
One bright spot that emerged for the Blue Jays was left fielder Dalton Pompey, the team's No. 3 prospect who made his first career Major League start. He collected his first career hit in the second inning and had potential for more, if not for a few good defensive plays from Yankees first baseman Mark Teixeira.
He impressed manager John Gibbons, who said after the game that "you'll see a lot of him from here on out."
The Blue Jays had an early 2-0 advantage in the first inning, courtesy of a two-run home run off the bat of Edwin Encarnacion, who had a precautionary MRI before the game as a result of back pains the past few days.
But Buehrle immediately allowed the Yankees to chip away at the lead, ignited by Jacoby Ellsbury, who began the bottom of the first with a double and then scored on a single from Brian McCann. In the third inning, Ellsbury blasted a two-run homer to right field to give the Yankees a 3-2 lead. Then his grounder to Jose Reyes in the fourth led to a pair of runs scoring after Reyes committed his 19th error on the year, the second most in the AL.
Ellsbury, however, left the game after that inning with a right hamstring strain.
Hiroki Kuroda turned in a solid outing for the Yankees -- surrendering three runs (two earned) on seven hits while striking out seven in 6 2/3 innings -- and the Blue Jays' offense continued to struggle.
Jose Bautista collected his 100th RBI on a groundout in the fifth, and Encarnacion had a chance to put the Blue Jays ahead in the seventh, with two outs and the bases loaded, but he grounded to shortstop for a forceout to end the inning.
Buehrle settled down and lasted through the sixth inning, marking the now 25th consecutive game a Blue Jays starter has worked at least six frames, which is a club record. He allowed eight hits and two walks while striking out three.
Buehrle will need another six innings in his final start of 2014, scheduled to come Wednesday against Seattle, to reach 200 innings for the 14th straight season.
Gibbons said before the game that he will do everything he can, within reason, to allow Buehrle to reach that mark, even if it means letting Buehrle toss a few innings on the final day of the year.
"I don't know how he feels, but it's important to me," Gibbons said prior to the game. "He's done it his whole career. That's not your No. 1 priority, but I think for what he's accomplished and what he's meant to this team, the kind of pitcher he is, that's important to me."
Jamal Collier is an associate reporter for MLB.com. This story was not subject to the approval of Major League Baseball or its clubs.