Plouffe deals Indians crushing loss in walk-off win
Twins rally in ninth to force extras, go home winners after clutch single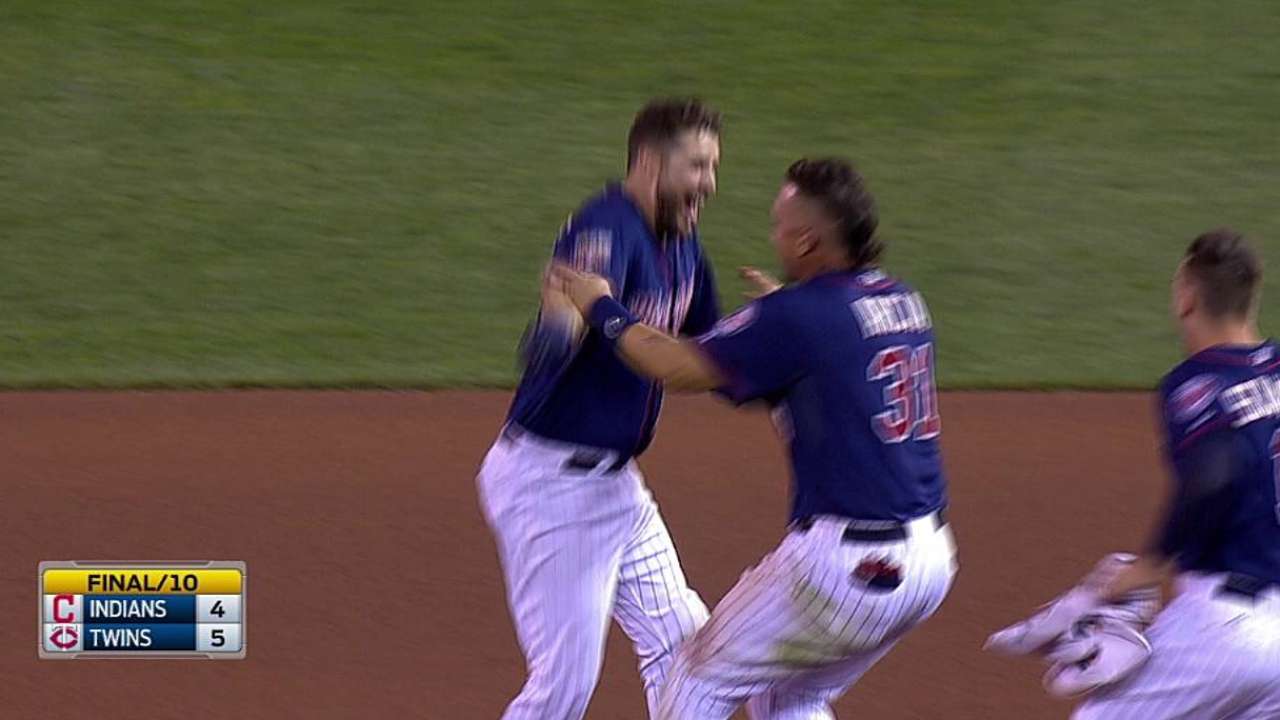 MINNEAPOLIS -- As Trevor Plouffe ran to first base while watching his bloop single drop in for a walk-off hit against the Indians, he wasn't celebrating wildly until his teammates came to mob him at first base.
It capped another late rally for the Twins, who tied the game with a run in the ninth, before Plouffe delivered a walk-off RBI single off reliever Josh Tomlin in the 10th inning in a 5-4 win at Target Field. But Plouffe said it was tough to celebrate too much knowing the Twins have to settle for playing the role of spoiler for a fourth straight year.
"We're happy to win these games, but we're not where we want to be," Plouffe said. "If we were on the other side and it was a win to get us closer to the playoffs, I'd be a lot happier. We're still working toward that goal and that can't happen for us until next year, unfortunately."
Danny Santana opened the 10th with a single off left-hander Kyle Crockett before going to third on a single from Brian Dozier. After an intentional walk to Joe Mauer and a strikeout of Kennys Vargas, Tomlin came on and Plouffe blooped an RBI single to center to give the Twins their third straight win and deal a serious blow to Cleveland's remote playoff chances.
"I don't think anybody is quitting," Indians manager Terry Francona said. "We have to show up and play every game like it's our last, and we do."
Minnesota entered the ninth down by a run, but Kurt Suzuki doubled with one out off closer Cody Allen to spark a rally. Oswaldo Arcia followed with a single to left, but pinch-runner Eduardo Nunez was held at third. Aaron Hicks tied the game with an RBI groundout on a ball that was booted by shortstop Jose Ramirez, who was able to get an out at second base, but couldn't start a potential game-ending double play.
"He had a shot," Francona said. "But that would've been a heck of a play."
It saved right-hander Phil Hughes from getting the loss after he was mostly solid, as he gave up four runs on 10 hits over seven innings. He also struck out five without issuing a walk, and has now struck out 181 and walked just 16 in a career-high 201 2/3 innings. It was also his eighth straight start of throwing at least seven innings and he has a 2.64 ERA over that span.
"I really didn't have my best stuff tonight," Hughes said. "I really had to grind it out and battle and keep us as close as I could."
The Indians didn't score until the fourth, when David Murphy started a two-out rally with a double before scoring on an RBI single from Lonnie Chisenhall, who reached second on the throw home. Mike Aviles followed with an RBI single to give the Indians their first lead.
After the Twins tied it in the fourth, Cleveland took the lead in the sixth with Michael Brantley connecting on a solo blast for his 20th homer of the year. The Indians added an insurance run in the seventh on a sacrifice fly from Michael Bourn.
Arcia opened the scoring with a solo shot off Indians right-hander Trevor Bauer in the third inning. It was Arcia's 19th of the year and his fourth off Bauer this season. An inning later, Vargas crushed a high-arcing solo blast to right field to tie the game. It was Vargas' ninth of the year.
"I just thought it was a routine fly ball," said Vargas, whose mother was in the stands to see him play in the Majors in person for the first time. "I ran to first and the ball just go. So I'll take it."
The Twins didn't score again until the seventh, when Mauer and Vargas both singled with nobody out to knock Bauer from the game. Reliever Scott Atchison struck out Plouffe and Suzuki, but Arcia came through with an RBI single off left-hander Marc Rzepczynski.
"He had great swings all night," Twins manager Ron Gardenhire said of Arcia, who had three hits and two RBIs. "He really swung the bat well. He had the big home run and a couple nice swings. He hit one off the lefty and stayed in there real nice."
Rhett Bollinger is a reporter for MLB.com. Read his blog, Bollinger Beat, and follow him on Twitter @RhettBollinger. This story was not subject to the approval of Major League Baseball or its clubs.