Zobrist named Don Zimmer Most Valuable Player
Local BBWAA chapter also honors Odorizzi, Longoria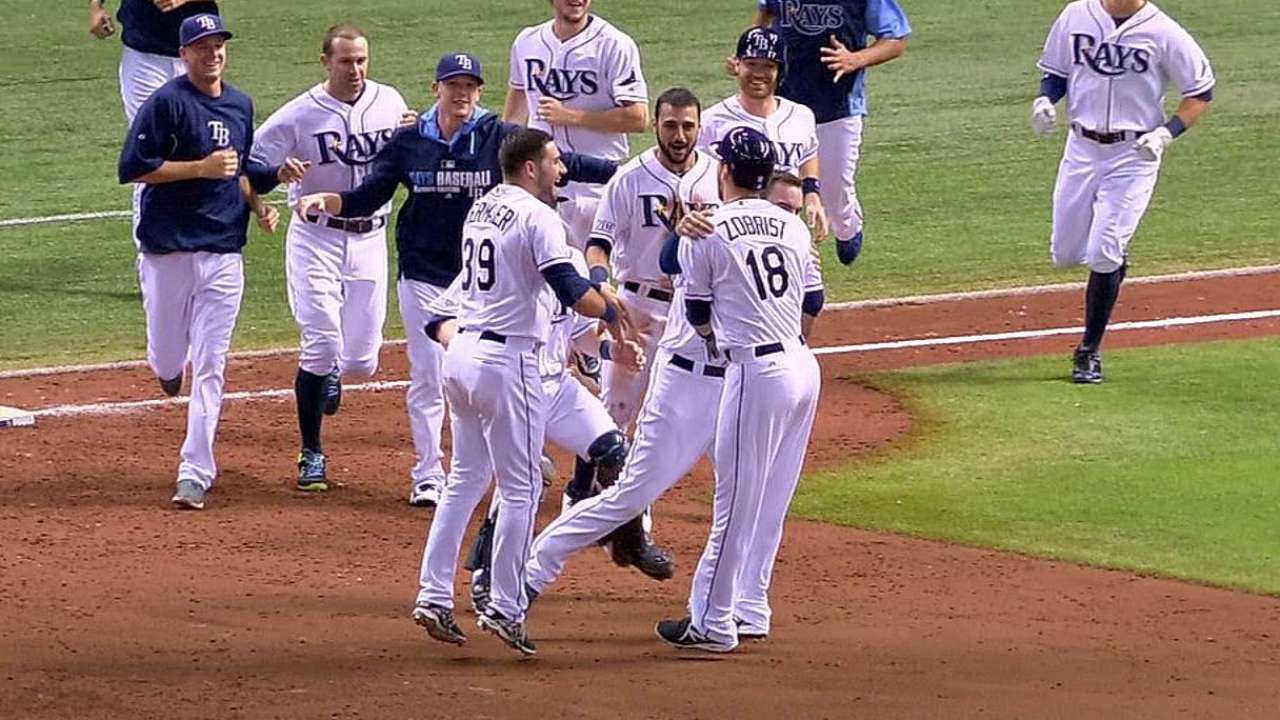 ST. PETERSBURG -- The Tampa Bay chapter of the Baseball Writers' Association of American announced its annual award winners before Friday's game at Tropicana Field, with the top individual award now honoring a late baseball legend and close friend.
Ben Zobrist, the Rays' best hitter amid their hottest stretch of the season, was named the Don Zimmer Most Valuable Player, an award that reflects the club's reverence for Zimmer, their former senior adviser who passed away June 4.
"He's such a special person to everyone around here," Zobrist said. "He always thought of the little things, and he always talked to me about those things as a ballplayer and how important those things are to making a complete ballplayer and helping the club. You don't think about ... the little things [being] that important for an MVP; it's about the big things.
"But it's pretty cool that I was able to win the award this year, and the fact that Zim always appreciated those things and I think the writers and the committee obviously saw some of those things as well."
Zobrist, who finished ahead of closer Jake McGee and third baseman Evan Longoria in the voting, entered Friday night hitting .268/.353/.394 with 10 home runs and 47 RBIs while playing solid defense all over the field. He leads the team with 5.2 Wins Above Replacement, according to FanGraphs.com.
But Zobrist was at his best when the Rays were at theirs, batting .315/.403/.477 as Tampa Bay climbed back into contention with a 37-19 stretch from June 11-Aug. 15.
"'Zobrist' in the dictionary equals consistency," Rays manager Joe Maddon said. "He started out somewhat slowly, but then he really gained momentum and has been there pretty much the whole season, offensively speaking."
Right-hander Jake Odorizzi was named Rookie of the Year, having gone 11-12 with a 3.98 ERA and 171 strikeouts in 165 innings. Odorizzi, who finished ahead of Kevin Kiermaier and Brandon Guyer, said he was looking forward to entering next season with some certainty regarding where he stands after battling for the fifth starter's job in Spring Training.
"I've had the full year. I know what to expect. I've seen every team that we're going to be playing," Odorizzi said. "It's just a comfort level going into next year that I'm going to be ready to go out of the gate. ... There's a lot of things, statistically, that I think I could've gotten better at this year."
Longoria received the Paul C. Smith Champion Award, named in honor of the late MLB.com writer and presented to the player who best exemplifies the spirit of true professionalism on and off the field. In addition to his role as the team's leader, Longoria, also the Rays' nominee for the 2014 Roberto Clemente Award, has committed to donate more than $1 million to the Rays Baseball Foundation, which supports youth and education programs.
Adam Berry is a reporter for MLB.com. Follow him on Twitter at @adamdberry. This story was not subject to the approval of Major League Baseball or its clubs.