Four homers keep Mariners in postseason hunt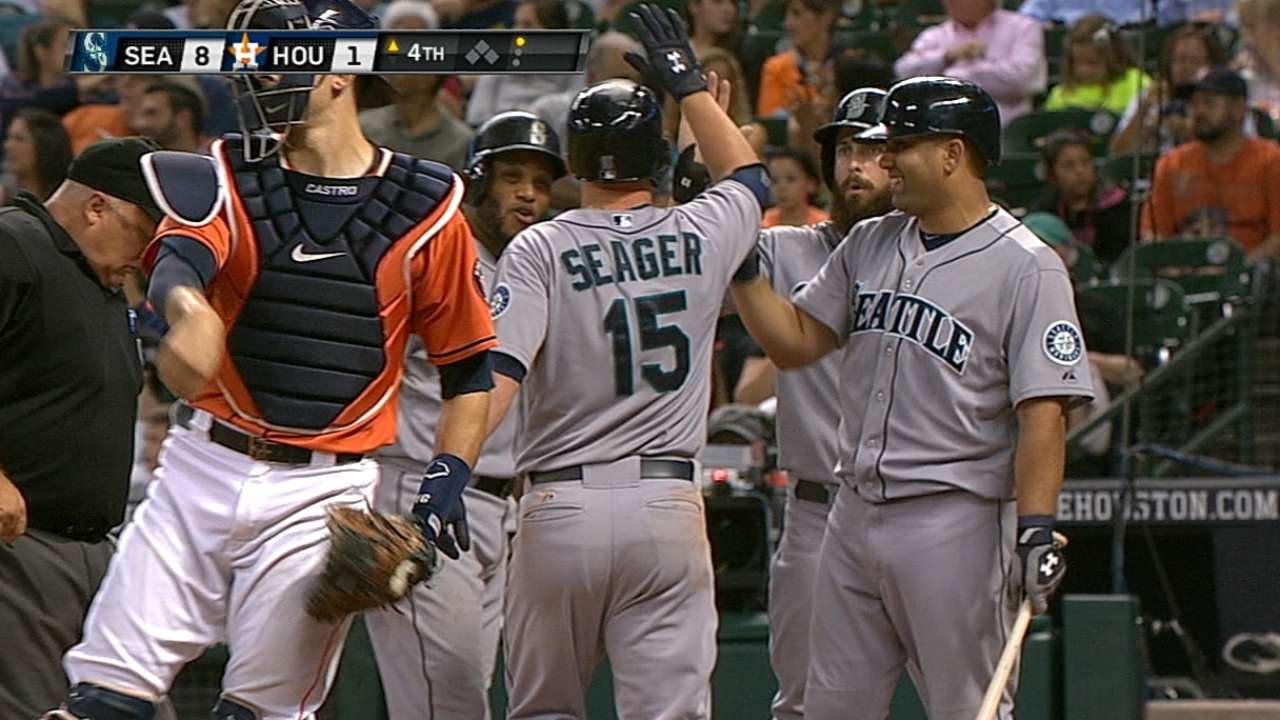 HOUSTON -- Baseball managers are fond of saying that it's the little things that make a difference for winning teams. But sometimes big things work just fine, too, such as the three-run homers by Mike Zunino and Kyle Seager that highlighted the Mariners' 10-5 victory over the Astros on Friday.
Skipper Lloyd McClendon won't turn down solo shots either, and Dustin Ackley supplied a pair of those in a four-homer night for a club that didn't arrive at its hotel until 6 a.m. on Friday after a night getaway game to close out its previous series in Anaheim.
"Yeah, that seems to work pretty good," McClendon said after his team equaled its season high for long balls. "I'll take a few more of those. It was a good night offensively."
The win keeps the Mariners hot on the heels of their first playoff berth since 2001, as they are a half-game behind the Royals for the American League's second Wild Card berth after Kansas City was blasted by Detroit, 10-1. The A's now hold the first Wild Card spot, one game ahead of the Mariners, after topping the Phillies, 3-1.
The Mariners took care of their own business in the middle of an 11-game road trip that will go a long way toward deciding their postseason fate.
"It was definitely something we needed to do," Seager said. "We're in crunch time, and every game is so magnified and so important. You have to suck it up and find a way."
Zunino found his way in the fourth inning with a monster shot that clanged up near the railroad tracks high above the left-field fence, estimated at 421 feet. After missing on a bunt attempt early in the count with runners on first and second, he was allowed to swing, and he unleashed his 21st home run of the season.
McClendon had initially wanted to move up the runners to put some pressure on the Astros, but he took off the bunt sign after Zunino got into a fastball count at 2-1. And the young catcher did the rest.
"I tried to look at the defense and see how they were playing, and it looked like they were still thinking I was bunting," Zunino said. "So I just tried to look for a fastball down the middle, and I was able to get one."
Seager added his own three-run shot later in the frame, and the Mariners rolled to another runaway at Minute Maid Park, where they've outscored the Astros, 58-33, while winning six of seven games this season.
Seager increased his team leads to 24 home runs and 92 RBIs with a 2-for-4 night, Ackley added his 12th and 13th long balls of the season, and Robinson Cano collected three hits in the lopsided win.
Ackley said that there's a comfort level at the Astros' cozy ballpark, which plays far smaller than the Mariners' home field, and he continues to benefit from a now-healthy ankle after dealing with that issue in recent weeks.
"I felt good today," Ackley said. "I don't know what it was going into the game. Sometimes you come to a park and it's just one of those places where you get a good feeling about it, and that's pretty much the way it was. And definitely my foot and ankle feeling a lot better is huge, too. I don't have to try to overcompensate for something that's not there. It was just an all-around good day for everybody."
Rookie right-hander Taijuan Walker was the beneficiary of the latest offensive outburst, winning his first start since July 23 after allowing two runs in 5 2/3 innings. The club's top prospect moved into the rotation when Roenis Elias was sidelined by an elbow issue after his last start, and he'll likely have one more regular-season outing next Wednesday in Toronto.
Walker gave up a run in the first when Jose Altuve doubled -- the first of his three hits on the night -- and scored when Dexter Fowler blooped a single to left.
Walker pitched himself in and out trouble in the third, loading the bases with two walks sandwiched around an Altuve single, then striking out Fowler and Jason Castro with 95-96-mph heat and getting Matt Dominguez to fly out to center. Walker didn't allow another run until the fifth and improved his record to 2-2 with a 3.00 ERA as he scattered eight hits with two walks and seven strikeouts.
"I thought that was pretty good," McClendon said of Walker's third-inning escape. "He showed a little fortitude there. I was very proud of him there. He never panicked and continued to execute pitches with purpose. I thought that was pretty good."
All three of the 22-year-old's career wins have come against the Astros, whom he's faced four times out of his seven Major League starts since last September.
"It wasn't great," Walker said. "I can definitely do better, but it was a good win for us. The offense scored a lot of runs. They put up that seven-run inning, and after that I was just able to go out there and attack the hitters."
Seattle improved its road record to 45-30 with six games remaining on this 11-game trek. That's the best mark in the American League and ties for the second-most road wins by a Mariners club (1997 and 2002), though it's well shy of the club-record 59, set during the 116-win season in 2001.
Greg Johns is a reporter for MLB.com. Follow him on Twitter @GregJohnsMLB as well as his Mariners Musings blog. This story was not subject to the approval of Major League Baseball or its clubs.