Royals routed by Tigers, slip in playoff races
Vargas yields five runs in 3 1/3 as KC falls 1 1/2 back in AL Central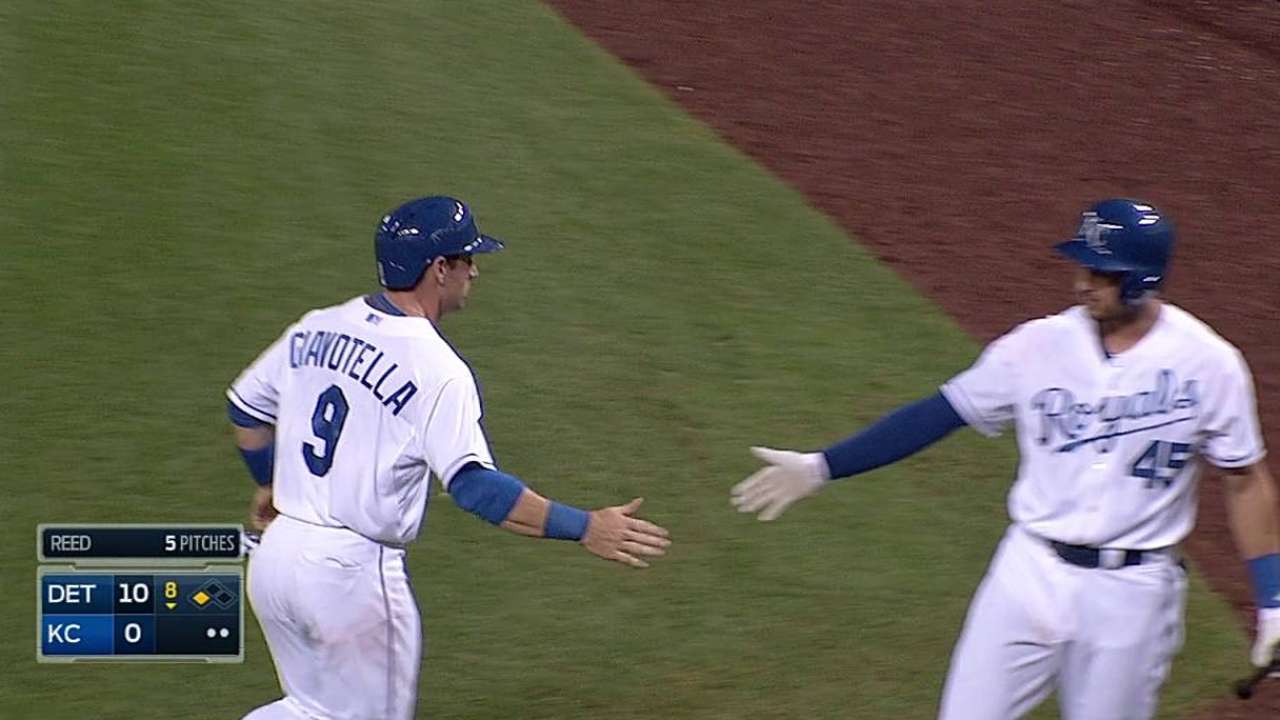 KANSAS CITY -- By the time Detroit's fifth inning was over the Tigers had a 10-run lead and the sellout crowd at Kauffman Stadium was looking for something to cheer about. Luckily, the Hot Dog Derby was launched and that drew a rousing ovation as Ketchup doggedly prevailed.
The pro-Royals assemblage of 37,945, armed with noisy ThunderStix and high hopes of a first-place standing, had to endure an unyielding Tigers attack that eventually led to a 10-1 victory in Friday night's first round of the much-anticipated showdown for first in the American League Central.
The win, the Tigers' 12th over the Royals in 17 meetings this season, increased their lead to 1 1/2 games.
"There's no carryover," Royals manager Ned Yost said. "They whooped us, they beat us, they spanked us. Whatever you want to say. We'll show up tomorrow and be ready to play."
The Royals' two rivals in the Wild Card race both won. Oakland is a half-game ahead of them, Seattle a half-game behind.
The blue-clad fans who packed the stadium never lost their enthusiasm. They stubbornly urged on the Royals the rest of the way, roaring as if their numbers could turn the tide. After all, a first postseason trip in 29 years was the fervent hope of the hungry masses.
But nothing worked.
"It's disappointing for the fans and they should be disappointed," said losing pitcher Jason Vargas. "They come out here to see us play a competitive game and we didn't do that from pitch one. So I'd be disappointed if I were them as well."
When the Royals didn't score against Justin Verlander in the sixth inning, Yost pulled four of his regulars out of the game -- Alex Gordon, Salvador Perez, Lorenzo Cain and Omar Infante. Alcides Escobar followed in the next inning.
Verlander worked 7 1/3 innings, giving up seven hits with no walks and four strikeouts. He left after Johnny Giavotella led off the eighth with a double and advanced to third on Mike Moustakas' flyout. After Evan Reed took over the mound, Jayson Nix's sacrifice fly got Giavotella home.
The win gave Verlander a 19-7 career record against the Royals.
"It felt good," Verlander said." Obviously it's a huge series for us and that's what I love about this team. We always seem to know the moment and know how to capture it, since I've been here anyway. This is a great win."
When Vargas was taken out in the fourth inning, the Tigers had a 5-0 lead and eight of the batters in their lineup had a hit off the left-hander.
There were five hits and three runs in the first inning. Miguel Cabrera's line drive got just over Gordon's glove for a double that scored Ian Kinsler. It was the type of ball that the left fielder often catches.
"The ball was probably knuckling it was hit so hard. Gordy's a three-time Gold Glove winner, you don't see him just miss that on a routine fly ball," Yost said.
It turned into a three-run inning.
"It's my responsibility as a starting pitcher to set the tone and set the tempo of the game, and what I did was exactly opposite," Vargas said.
It was 4-0 when the Royals had their best shot at Verlander in the second. Salvador Perez looped a one-out single and Eric Hosmer doubled. But they were stranded as Billy Butler flied out on a 3-0 pitch and Omar Infante grounded out.
Yost said he gave Butler the green light to swing on the 3-0 count.
"Down by four, yeah. Guy's got 40 hits off of Verlander, we're trying to get back in the game," Yost said. "It's probably gonna be the best he's gonna see in the at-bat. And it was a great pitch to hit, he just didn't get the bat head on it."
Butler is a career .405 (34-for-84) hitter against Verlander.
The Tigers doubled their lead with a five-run fifth inning against the pitching Colemans. Casey Coleman gave up four straight hits, prompting a switch to Louis Coleman. He surrendered a two-run homer to Kinsler.
The Royals' red-hot Nori Aoki had two singles off Verlander, going 2-for-3. After 11 hits in the three-game series against the White Sox, Aoki is 13 for his last 16 at-bats.
The Royals will have another shot at the Tigers before they know it. Saturday's game starts at noon CT.
"I think sleeping fast and getting back here early should help us out. Just get right back on that field and keep grinding it out," Vargas said.
"If we're going to think that this is going to get us down and this is going to decide the season, well, we've still got nine games left and we're pretty close. We need to come out and play a good ballgame tomorrow and forget about this one."
Dick Kaegel is a reporter for MLB.com. This story was not subject to the approval of Major League Baseball or its clubs.