McClendon won't overextend Felix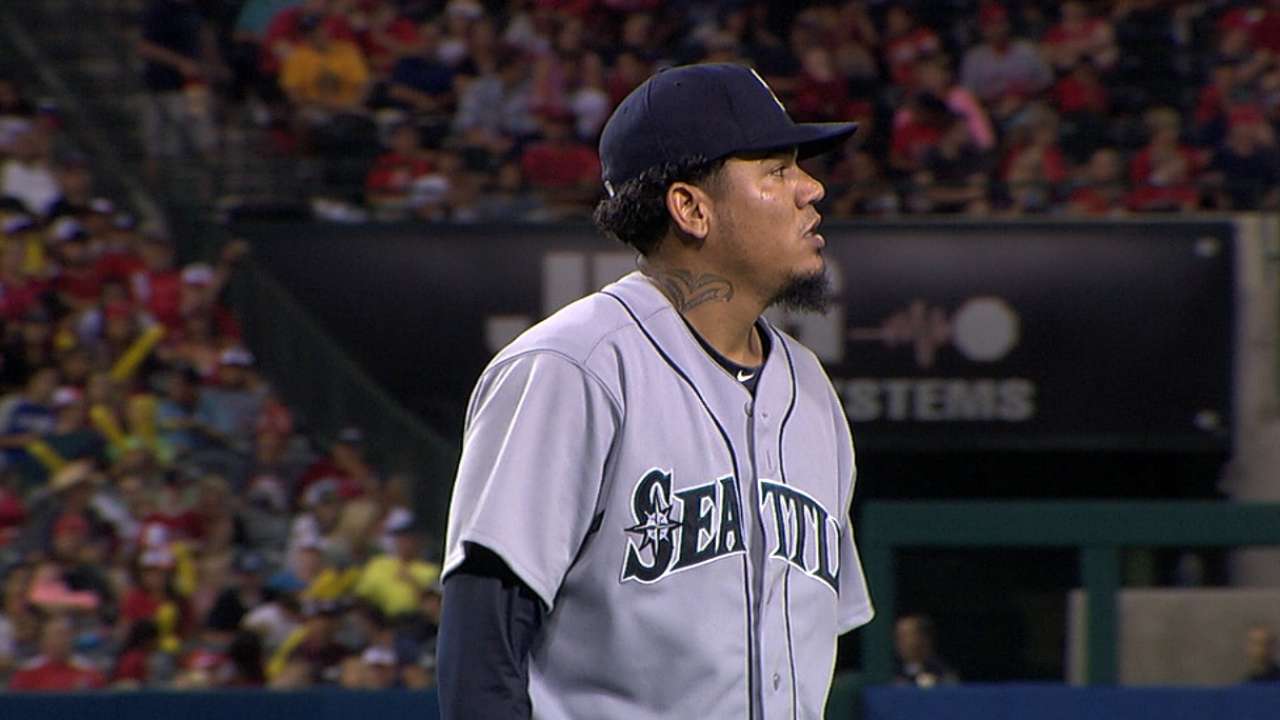 HOUSTON -- Ace Felix Hernandez has thrown fewer than 100 pitches in his last three starts, with manager Lloyd McClendon opting to remove him in the sixth or seventh inning of a trio of close games that wound up as no-decisions for the veteran.
McClendon took Hernandez out of a scoreless game after seven three-hit innings and 97 pitches on Thursday in Anaheim; Seattle eventually won, 3-1.
Hernandez has yet to throw a complete game, as McClendon has either gone to closer Fernando Rodney with a lead after eight innings or pulled Hernandez earlier if his pitch count was beyond 100.
Although fans have questioned taking one of the game's premier pitchers out of close ballgames, Hernandez has consistently said that he's fine with that strategy, smiling and saying, "Lloyd is the boss" whenever asked and concurring with the idea of keeping his arm fresh deeper into the season.
Hernandez's season high is 116 pitches, which he's reached twice, and he's gone beyond 100 in 19 of his 32 starts. But McClendon has leaned toward slightly lower numbers as the season has stretched out and says that won't change, even in Hernandez's final two regular-season starts or the postseason, should the Mariners make it that far.
"Absolutely not," McClendon said. "It won't happen. We manage for September, then we manage for October, but I'm also managing for the future. He's compiling innings, he's compiling strikeouts. He's got a career high in strikeouts. What's the use, what's the point, to have him pitch nine innings? Big deal. What does it mean? The most important thing is [winning] the game, right? Why would you stress a pitcher to go 115, 120, 125 pitches to say he went nine innings when you've got the best bullpen in baseball? I don't see it."
Hernandez actually isn't being used much differently than he was a year ago, when he also recorded no complete games for the first time since his rookie season in 2005. He's averaged 102.1 pitches in 32 starts this season compared with 102.4 in 31 starts in 2013. He averaged a career-high 109.7 pitches per game in his Cy Young season in 2010 at age 24, then 109.4 in 2011 and 103.6 in 2012.
Hernandez's accumulated wear and tear is part of the consideration, as he's thrown 200-plus innings for seven straight seasons and is up to 226 this year, with two more regular-season outings to go.
"You take all that stuff into consideration," McClendon said. "Absolutely. And I get it. I know people love to see Felix go nine innings. But on the flip side, there are people out there that, when you let him go nine and [he gives] up a two-run homer in the ninth, are saying, 'How could he leave him in there?' That's just the way it goes. We'll keep doing it the way we're doing it. I think we've done OK."
Hernandez leads the American League with a 2.07 ERA and 0.91 WHIP, is second in innings and fourth in strikeouts while posting a 14-5 record, and is a favorite to win his second Cy Young Award.
Greg Johns is a reporter for MLB.com. Follow him on Twitter @GregJohnsMLB as well as his Mariners Musings blog. This story was not subject to the approval of Major League Baseball or its clubs.